Will and Guy enjoy variety,
hence we have a varied selection of tandems, three-wheelers, trikes, unicycles and funny
wooden bikes.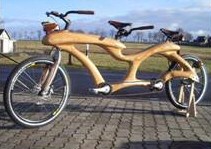 Funny
Tandem Pictures
Funny Tandem Pictures - The Perfect Bicycle Made
for Two
Learn to ride a bicycle. You will not regret it, if you live.
Mark Twain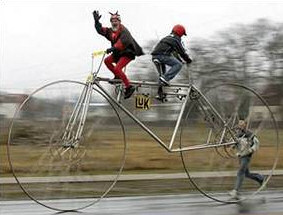 Is the above the cycle of the devil, or just the devil to pedal?
Tandem or Trick Cyclist?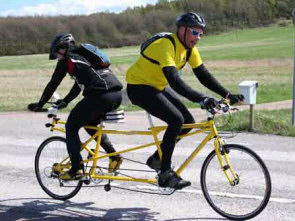 Tandem Heading in the Wrong Direction?
A man who was riding a tandem was stopped by a police. 'What's the matter officer?', asked the
rider.
'Perhaps you didn't notice sir, but your wife fell off your tandem a mile
back . . .'
'Good grief', said the rider - 'I thought I'd gone deaf!'
Tandem Heading in the Right Direction
A bicycle made for two Paul and Liz have just climbed Scafell Pike in the
English Lake District, by road, on their tandem. 'Ooooooaaargh,' wheezed Paul,
'that was a tough ride. The climb was so very hard and we were going so slowly
that I thought we were never going to make it to the top.' 'Yep,' agreed Liz
breathing heavily, 'a good thing I kept the brakes on, or we'd have slid all the
way back down the hill.'
Tandem or Bi-Cycle?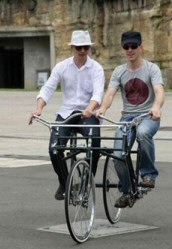 Footnote:
Please send us your funny tandem pictures and
stories.
After
Tandems and Bikes, We Have Funny Trike Pictures
A Trike to Beat Your Own Drum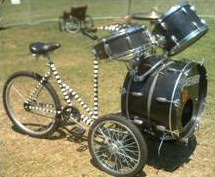 Another Trike to Transport the
Rest of the Band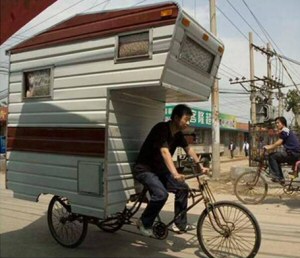 See more funny tricycle pictures.
Tally-ho on This Funny Trike!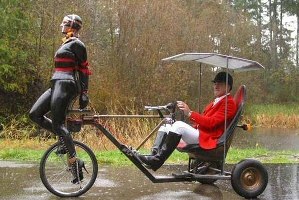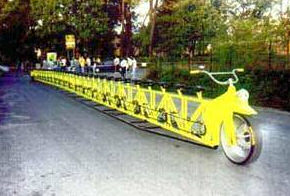 Unicycle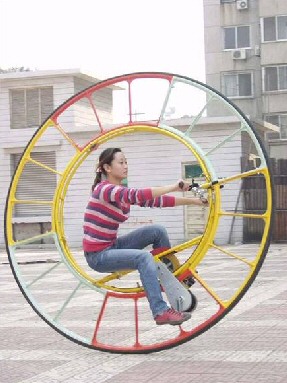 A Very Brief
History of Bone-shakers to Motorbikes
Wooden Bone-shaker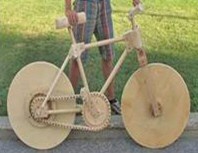 Wooden Bikes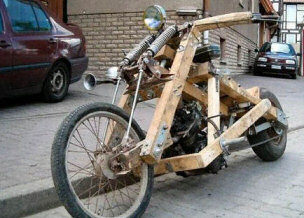 From the
Ridiculous to the Sublime - Ferrari Bike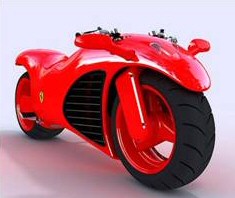 Israeli industrial designer Amir Glinik uses the engine from a Ferrari Enzo
and some drive-by-wire technology from an F-16 fighter jet to create a V4
superbike worthy of the great Italian marque.
Footnote:
Please send us your funny tandem pictures.
Joke of the Day Email
Get a clean joke delivered to your inbox every
day, no strings attached, just part of our service. Free
subscription to
our Funny Joke of the Day email.
We have over 1,500 pages of funny pictures, clean jokes, stories and amusing videos. Please use the Search below to find a topic of particular interest:
Thought of the Day Subscription
Our offer is to email you an inspirational
'Thought of the day'. Your subscription is completely free of cost and there
are no adverts. Sign up for our 'Thought of
the Day'.
See more bicycle jokes and funny cyclist videos
•
Funny bicycles •
Funny bike pictures •
When you have bike •
Funny bike signs •
Cycle jokes
•
Funny tandem pictures
• Tricycle pictures •
Tour de France pictures
• Strange bike pictures
• Unusual vehicles
•
Lawn mowers •
Cyclist winning? •
Biker •
Home •
Cyclists in trouble