Medical School
A medical professor had just finished a lecture on the subject of mental health and started to give an oral quiz to the first years. Speaking specifically about manic depression, the senior doctor asked, 'How would you diagnose a patient who walks back and forth screaming at the top of his lungs one minute, then sits in a chair weeping uncontrollably the next?' A young man in the rear of the room raised his
hand and answered, 'A Premiership football coach?'
Portsmouth v Southampton
A primary teacher starts a new job at a school in West Hampshire and, trying to make a good impression on her first day, explains to her class that she is a Southampton fan. She asks her
students to raise their hands if they, too, are Saints fans. Everyone in the class raises their hand expect one little girl.
The teacher looks at the girl with surprise and says: 'Mary, why didn't
you raise
your hand?'
'Because I'm not a Southampton fan, 'she replied.
The teacher, still shocked, asked: 'Well if you're not a Saints fan, then who are you a fan of?'
'I'm a Portsmouth fan, and proud of it, 'Mary replied.
The teacher could not believe her ears.
'Mary, why, pray tell, are you a Pompey fan?'
'Because my mum and dad are from Portsmouth, and my mum is a Pompey fan and my dad is a Pompey fan,
so I'm a Pompey fan too!'
'Well, 'said the teacher, in a obviously annoyed tone, 'that's
no reason for you to be a Portsmouth fan. You don't
have to be just like your parents all the time. What if your mum
was a prostitute and you dad was a drug dealer and car thief, what you be then?'
'Then, 'Mary smiled, 'I'd be a Southampton fan.'
(Incidentally, Will is a life long Portsmouth Supporter)
Animal Soccer Stories
Liverpool Owl
In February 2012 an owl was sighted at Anfield during Liverpool's home
game with Spurs. The Times reporter said:
'Liverpool supporters aren't used to seeing such pace and grace on the
turf at Anfield these days. Patches sprinted half the length of the pitch,
jinking left then right in a move reminiscent of Ian Rush in his pomp,
before rounding the goalkeeper and heading for the net, cheered on by the
crowd.'
Will and Guy wonder if Sheffield Wednesday will put in a transfer request
for 'Patches'. We think it would be just the thing to inspire this
team who are known as 'The Owls'.
The Helsinki Owl
Those with a good memory may recall Bubi an eagle owl disrupting a Euro 2008
qualifying match between Finland and Belgium in 2007. Actually,
Finland won 2-0, despite Bubi repeatedly saying it was 2-2.
At least Bubi moved on graciously, unlike an owl mascot, who invaded a
Colombian first division match in 2011, was hit by the ball and then punted
over the touchline by Luis Moreno, a Panamanian defender.
The Colchester hound
"Dog bites man" may not be much of a story, but "Dog invades football
match, scampers the length of the pitch and flattens the opposing team's
goalkeeper" certainly is, albeit harder to fit in a headline. Chic Brodie,
the Brentford goalkeeper, suffered a shattered left kneecap in the match
against Colchester United in 1970, so ending his career. "The dog may have
been small but it happened to be solid," Brodie said.
Footballer transferred for 15 kg of sausage meat
A Romanian football team is apparently demanding a refund after having bought a player for a transfer fee of 15 kilos of pork sausages. Defender Marius Cioara retired a day later saying he could not face any
more sausage related taunts at his expense. Cioara, who played for second division team UT Arad, was sold to fourth division Regal Hornia for the sausage meat.
After the deal a spokesman for Regal Hornia
confirmed, 'We gave up the team's
sausage allowance for a week to secure him, but we are confident it will be worth it.'However, a day after the deal was leaked to the media, Cioara announced he was giving up
football and had decided to flee the country.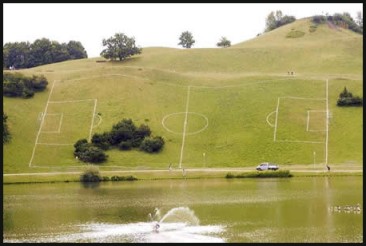 Ananova the News agency reports that he said, 'The sausage taunts all got too much. They were joking but I would have got more from the Germans and making
sausage jokes was a huge insult. I have decided to go to Spain where I have got a job on a farm.'
Wembley Stadium Latest Picture
From the new Wembley Stadium website: 'There will be 2,000 toilets in the stadium, more than any other building in Britain. Inside the bowl, fans will be pleasantly surprised by the amount of space they have.
(Lav of luxury, from the Daily Telegraph)
Footnote:
Please send us your funny football stories.
See more clean football jokes and funny stories:
• Football Home •
2014 World Cup jokes •
Stupid footballers •
Football Jokes •
Football bloopers
• Crazy football
bets •
Funny football stories •
Funny footballer quotes •
Footballer nicknames
•
Funny Referee •
Funny football pictures
• Funny football photos •
Funny Super Bowl jokes