Funny pictures and signs give us a laugh, but we wonder how much they
cost their owners in lost business, or for paying for replacement calligraphy?
Caution - No Brainer?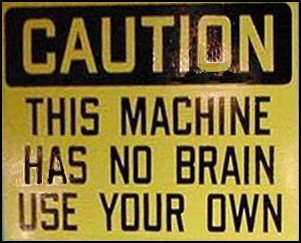 Often it's the ludicrousness of these notices that makes them so funny.
Try Dialling 999 on
This Phone (or 911 in USA)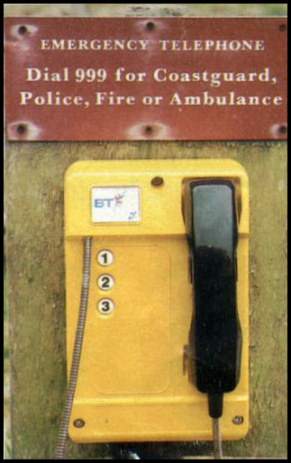 Help Push Red Button -
Or Yell!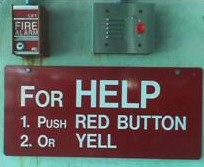 Signspotting: Explosion!
Advice to Avoid Unexpected or Possible IN JURY.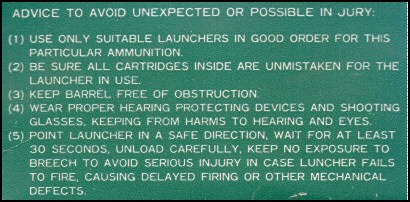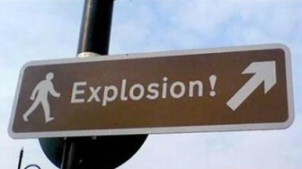 'Explosion' Photographed in Gosport, Hampshire, England
The above funny warning sign sent by Bob Harvey
The attached warning label is from a
box of ammunition made in China for
the U.S. market.
More
Funny Warning Signs
Some signs are just plain stupid, while others are merely full of their
own importance. These next two warning signs have an animal theme.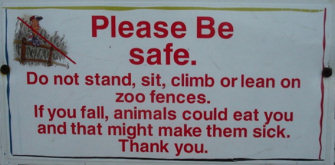 Please be safe. Do not stand, sit, climb or lean on zoo fences.
If you fall, animals could eat you and that might make them sick.
Thank you.
Warning! Alligators Can be Dangerous!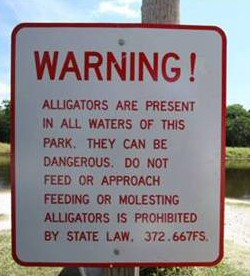 .... as if you needed telling!
Funny Warning
Signs
On a plumber's
truck: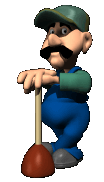 'We repair what your husband fixed.'
On another plumber's truck:
'Don't sleep with a drip. Call your plumber.'
On Devendra Singh's plumber's truck
You have tried the cowboys - now try the Indians.
In a restaurant window:
'Don't
stand there and be hungry, Come on in and get fed up.'
See more funny
warning signs.
Do Not Light with a Match!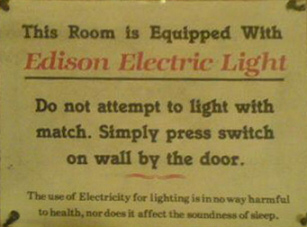 Electric light. Do not attempt to light with match.
Simply press the switch on the wall by the door. However, don't take the fire exit, see below:
Problem with Fire Exit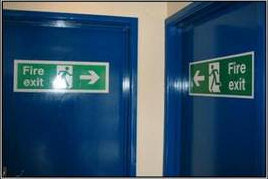 Not so much a funny warning sign,
more a fishy exit strategy.
See more
funny warning signs.
Funny Warning Sign - Unnecessary Notice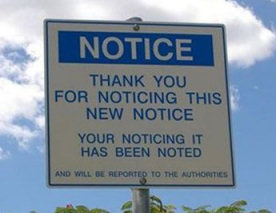 Don't Park Here - Or Else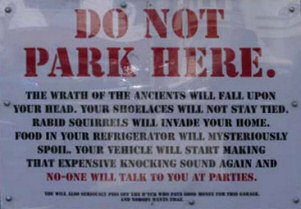 The Wrath of the ancients will fall upon your head
Rabid squirrels will invade your home
Your vehicle will start making that expensive knocking sound again
Caution advised!
Waiting will be prosecuted
I suppose we can forgive this stupid notice on the ground that it's an
Engrish problem
Funny Warning Sign Story
On a warm and mild New Year's Eve, Martha's Vineyard revelers were
generally well-behaved. Police across the Island reported the night was
quiet and three arrests made Friday night were for operating under the
influence (OUI).
Steamship Authority (SSA) employees did fish a man out of the water on
New Year's Eve; it happened this way:
Wayne Lamson, SSA general manager, said the Martha's Vineyard arrived at
the Vineyard Haven terminal at 8:15 pm and docked in the north slip. As a
result, passengers debarked on the south side of the vessel.
Michael Grekwizc of Warwick, R.I. decided to exit the ferry wearing
rollerblades. "He came down the ramp and then did a 360 [degree] turn and
lost his balance and went over the netting that was across the opening on
the elevated platform," Mr. Lamson said. "So he ended up in slip one."
Mr. Lamson said the crew reacted quickly and threw two life rings and a
life vest to Mr. Grekwizc. Another employee lowered the transfer bridge as
low as possible, allowing the man to climb up on it and out of the frigid
water. The resulting commotion led to a delay in loading the boat for her
departure. Mr. Lamson said there was about a 20-minute delay in departure.
Mr. Lamson said he was thankful no employees and the man were not
injured. He said any accident involving the water is a serious matter
particularly in the winter.
Asked if he contemplated any changes in policy, Mr. Lamson said there are
not enough signs and rules to enforce common sense.
Footnote:
Fred Roven kindly sent the above story, please send us your funny warning signs.
See more pictures of funny road signs, featuring
cars and street notices
•
Funny traffic signs •
Funny road signs
• Funny road signs UK •
Funny animal road signs
• Pictures of stupid signs •
Funny car pictures •
Dyslexic signs •
Funny garbage •
Funny signs
• Pointless signs •
Funny street signs •
Funny no parking signs •
Parking yellow lines
• 'No' signs