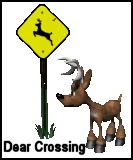 Here is our individualistic and zany look at 'Please Don't Feed the
Animals'.
Please Don't
Feed the Animals?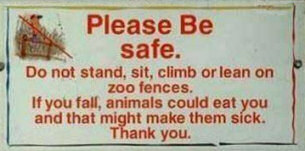 Jeremy T sent in this notice below (sadly no picture):
Please do not feed
the animals.
If you have any suitable food, please give it to the guard on duty.
Please
Don't Feed the Seagulls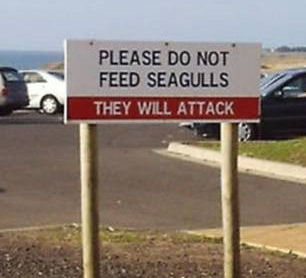 I wondered why anyone would put up a sign saying:
Please Do Not Feed Seagulls. The answer in an article from
the South Devon newspaper the Herald Express. (See underneath the picture.)
Protect Cockroaches?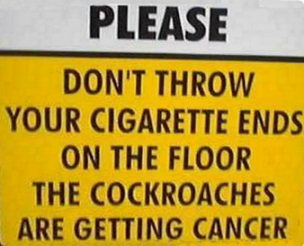 Please don't throw your cigarette ends on the floor - the cockroaches are getting cancer.
Who
Is Going To Eat Who?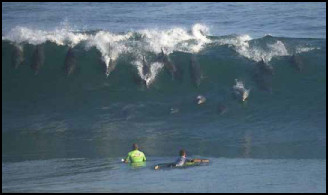 Did
You Know?
A pregnant goldfish is called a twit.
The United States has never lost a war in which mules were used.
More people are killed annually by donkeys than die in air crashes.
Duelling is legal in Paraguay as long as both parties are registered blood donors.
Seeing Pink Elephants
If a friend tells you they are "seeing pink elephants", then this is
serious. What it means is they are suffering delirium tremens.
The condition and the accompanying hallucinations are caused by alcohol
poisoning.
Don't Feed The Baboons
Spotted in Windsor Safari Park, Berkshire, UK: 'Caution Baboons - Please
stay in your car.'
[When Will and his family visited the park, the baboons sat on the roof
and the bonnet of his car; they broke the windscreen wipers and threw them
away, as well as pulling the washers out of their seating, drinking the
soapy water and throwing the pipes away. I didn't dare leave the car to
retrieve the pieces - I was not amused!].
Guy had to do a double take before I spotted the incongruous animal in
the sign to the right.
More Whacky 'Don't Feed The Animals' Pictures.
Polar Bear Eats 8 Penguins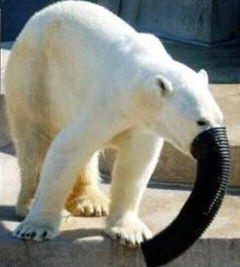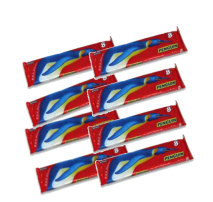 8 Bars of Penguin Chocolate!
Have You Heard This One?
Two west country yokels were on the train heading homewards through
Somerset, England when one of them noticed some cows.
'What a lovely bunch of cows.' he remarked.
'Not a bunch, herd,' his
mate replied.
'Heard of what?'
'Herd of cows.'
'Of course I've heard of cows.'
'No, a cow herd.'
'What do I care what a cow heard. I have no secrets to keep from a cow.'
Fish For Ticket!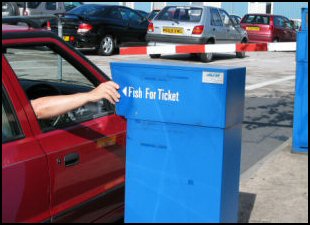 A novel way for paying for your parking?
Or an instruction to put your
hand in your pocket?
Fish for a Ticket picture kindly sent in by
Jeff Malyon.
Please send us your pictures of 'funny don't feed the animals signs'.
See more funny animal pictures and amusing videos
•
More mammals •
Ferret •
Funny cow pictures •
Cow car ride •
Funny bull stories •
Rabbit
•
Hedgehogs •
Fox •
Otter video •
Seal •
Pigs •
Mole •
Cats •
Sean the Sheep •
Rory & Millie
• Funny squirrel pictures •
Squirrel assault course
• Squirrel steals chocolate •
Animals Index