Friends and colleagues of Guy and Will have helped in the compilation of these 'signs'
which they have seen in different places in the world:
Touching Wires Causes Instant Death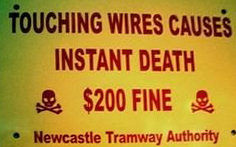 Will and Guy think that the above $200 fine is a bit steep - under the circumstances.
More Funny Signs
At a Music Store in Nottingham, UK : Out to lunch. Bach
at 12:30. Offenbach sooner.
In a dry cleaner's
shop in Portsea, Portsmouth, UK: Drop your trousers here.
In a department store in Vancouver, Canada: Bargain Basement Upstairs.
In a restaurant in
Norfolk, Virginia, USA: Customers who find our waitresses rude ought to see the manager.
In a restaurant window just outside Brixham, Devon, UK: Don't
stand there and be hungry, come in and get fed up.
In a health food shop window in Los Angeles, USA: Closed due to illness.
In a pub in West Sussex which is non-smoking: If we see smoke, we will assume you are on fire and take appropriate action.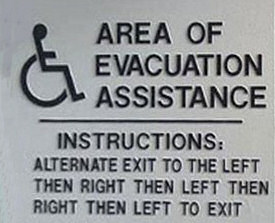 Another Tranche of Funny Signs
This
sign can be found at the front of Safeway store in Seattle, USA: For Sale: 100% Recycled Compost. [Is there any other way to produce compost?]
Adult Literacy leaflet in Chelmsford, Essex, UK: If you cannot
read, this leaflet will tell you how to get lessons.
On a Music Teacher's
door in Halifax, Nova Scotia, USA: Out Chopin, back in a min-u-et.
The Ram Inn Hotel's
restaurant, Newark, UK: Try
our fish just for the halibut.
Written on the trucks of a local plumbing company in San Francisco: Don't
sleep with a drip call your plumber.
Seen in a vet's
waiting room, Walton-on-Thames, UK: Be back in 5 minutes. Sit! Stay!
In an Ottowa, Canada, clothing store:
Wonderful bargains for men with 18 and 19 necks.
At an Optician's in Fareham, UK: If you don't see what you're looking for, You've come to the right place.
In a Laundromat, seen in Portland, Oregon, USA:
Automatic Washing Machines: Please remove all your clothes when the light goes out.
Ever seen hot snow?
More Funny Signs
Sighted at a towing company in Sacramento, California, 'We don't
charge an arm and a leg . We want tows.'
Written
on the door of the Delivery Room in the Maternity Suite at St Mary's
Hospital, Newcastle, UK, 'Push. Push. Push.'
Wet Paint. This is a warning, not an instruction. Sign next to a fence seen in Bradford, UK
Seen outside a second hand shop in Glasgow, Scotland, 'We exchange anything - bicycles, washing machines etc. Why not bring your wife along and get a wonderful bargain.'
Spotted in Windsor Safari Park,
Berkshire, UK: 'Baboons - Please stay in your car.'
[When Will and his family visited the park, the baboons sat on the roof and the bonnet of his car; they broke the windscreen wipers and threw them away, as
well as pulling the washers out of their seating, drinking the soapy water and throwing the pipes away. I didn't
dare leave the car to retrieve the pieces - I was not amused!].
More clean jokes for June
See more pictures of funny road signs, featuring
cars and street notices
•
Funny traffic signs •
Funny road signs
• Funny road signs UK •
Funny animal road signs
• Pictures of stupid signs •
Funny car pictures •
Dyslexic signs •
Funny garbage •
Funny signs
• Pointless signs •
Funny street signs •
Funny no parking signs •
Parking yellow lines
• 'No' signs