One by-product of reading these funny signs,
is that you will begin to see similar amusing or unintentional writing on the wall near where you live, or when you travel to work.
Funny Shop Signs. One-liners
1) SIGN IN A LONDON DEPARTMENT
STORE:
Bargain basement upstairs
2) NOTICE SENT TO RESIDENTS OF A WILTSHIRE PARISH:
Due to increasing problems with
litter louts and vandals we must ask anyone with relatives buried in the graveyard to do their best to keep them in order.
3) NOTICE IN A DRY CLEANER's
WINDOW:
Anyone leaving their garments
here for more than 30 days will be disposed of.
4) SIGN IN A LAUNDROMAT:
Automatic washing machines: please remove all your clothes when the light goes out.
5) IN AN OFFICE:
After tea break staff should empty the teapot and stand upside down on the draining board
6) Sign on motorway garage:

PLEASE DO NOT SMOKE NEAR OUR PETROL PUMPS.
YOUR
LIFE MAY NOT BE WORTH MUCH BUT OUR PETROL IS
7) Spotted in a safari park:
ELEPHANTS PLEASE STAY IN YOUR CAR
8) Seen during a
conference:
FOR ANYONE WHO HAS CHILDREN AND DOESN'T
KNOW IT, THERE IS A DAY CARE ON THE FIRST FLOOR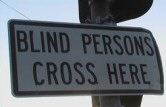 9) Notice in a field:
THE FARMER ALLOWS WALKERS TO CROSS THE FIELD FOR FREE, BUT THE BULL
CHARGES
10) Message on a leaflet:
IF YOU CANNOT READ, THIS LEAFLET WILL TELL YOU HOW TO GET LESSONS
11) Sign on a repair shop door:
WE CAN REPAIR ANYTHING. (PLEASE KNOCK HARD ON THE DOOR - THE BELL
DOESN'T
WORK)
12) Spotted in a toilet in a London office block:
TOILET OUT OF ORDER. PLEASE
USE FLOOR BELOW
See more Toilet Humour - we have pictures!
Another Type of Funny Shop Sign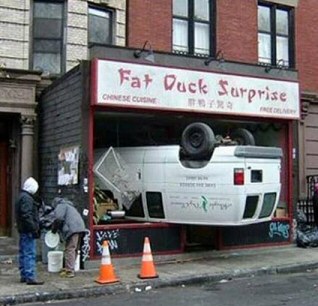 Albert Einstein, 1879 - 1955
'Put your hand on a hot stove for a minute, and it seems like an hour. Sit with a pretty girl for an hour, and it seems like a minute. That's relativity.'
'Two things are infinite: the universe and human
stupidity; and I'm not sure about the universe.'
Good Deal?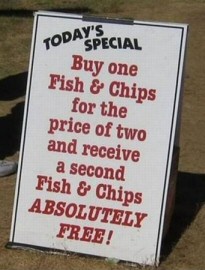 Footnote:
Please send us your pictures of funny
signs, like the above One for the price of two!!
See more pictures of funny road signs, featuring
cars and street notices
•
Funny traffic signs •
Funny road signs
• Funny road signs UK •
Funny animal road signs
• Pictures of stupid signs •
Funny car pictures •
Dyslexic signs •
Funny garbage •
Funny signs
• Pointless signs •
Funny street signs •
Funny no parking signs •
Parking yellow lines
• 'No' signs