If you opened a shop what would you call it?  It is a brave shop holder who chooses a funny shop title such as those featured on this page.  It could make your shop famous, or a laughing stock. We thank Guy Swillingham, author of 'Shop Horror: The Best of the Worst in British Shop Names', see more at Shop Horror
 Drunk and Disorderly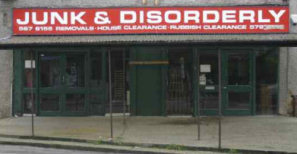 Walk This Way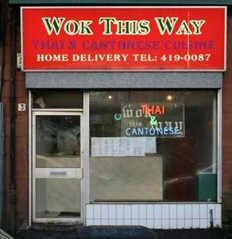 Right Hair - Right Now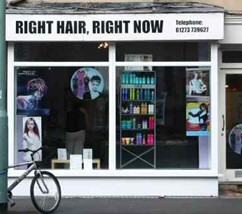 Watch Out For These Funny Shop Names - See PowerPoint Presentation Below
Austin Flowers.  (Austin Powers)
Curtains for You
Directors Cut
Brief Moments
Battersea Cod's Home (Battersea Dogs Home)
Wok This Way (Walk this Way.  Work this Way?)
The Bitter End
Right Hair, Right Now (Right here, right now)
The Frying Scotsman (The Flying Scotsman Steam Train)
Junk & Disorderly (Drunk and Disorderly)
Pizza The Action (Piece of the action)
Funny PowerPoint Presentation - Shop Horror Names
Shop Horror
We thank Guy Swillingham, author of 'Shop Horror: The Best of the Worst in British Shop Names', see more at Shop Horror.
Bread of Heaven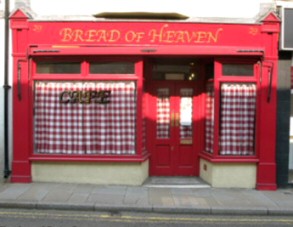 This is the most marvellous cafe in Pontypool, Wales.   Great name, great food, see my review of the Bread of Heaven
How to Create a Funny PowerPoint Presentation
Making presentations in PowerPoint is satisfying, moreover, it's easy to get started. The PowerPoint program is intuitive to learn and easy to create your own PPT slides and build them into a slide show.  If you have Microsoft Office you may find that you already have PowerPoint along with Word and Excel. One way to begin is simply to open any example presentation.  Just download one of our free PPT files and open it with PowerPoint.  As you examine the slides, so it will become obvious how to add pictures and titles, if you do get stuck, ask the wonderful built-in 'Help'.  To make a funny slide show requires these skills;
Imagination - Think of an funny idea, then build a themed slide set
Artistic - An eye for a good picture
Wordsmith - Choose a catchy title for each slide
Humour - Your viewers will appreciate a funny PowerPoint Presentation
PowerPoint mechanics - Actually, this is the easiest skill of them all, the program is so intuitive.
Good luck with creating your funny PowerPoint Presentation Will and Guy
Footnote:
Please send us pictures of your favorite Funny Shop Names. For example, a beauty salon named "Kurl Up and Dye"
See more pictures of funny road signs, featuring cars and street notices
• Funny traffic signs   • Funny road signs • Funny road signs UK   • Funny animal road signs • Pictures of stupid signs   • Funny car pictures   • Dyslexic signs   • Funny garbage   • Funny signs • Pointless signs   • Funny street signs   • Funny no parking signs   • Parking yellow lines • 'No' signs