Seal
With Trainer - Who is Training Who?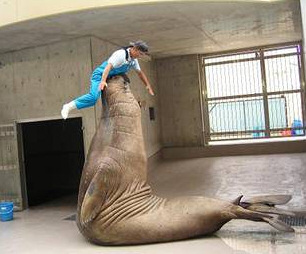 Seal Gets His Reward - Tasty
Fish Supper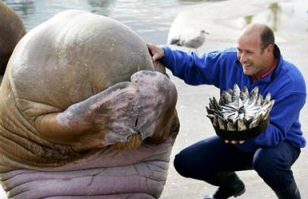 More Funny Seal Pictures -
Here is a different seal
with different people
Seal on the Beach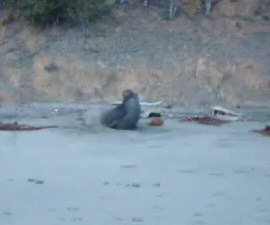 Man Approaches Seal
Check out the seal video and see what happened next.
N.B. Click the Play arrow

twice to start the video
Funny Seal Picture - Just Messing
About In a Boat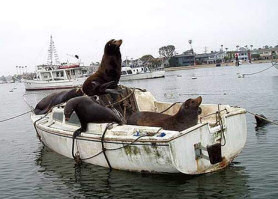 Exxon Valdez Seals
The average cost of rehabilitating a seal after the Exxon Valdez oil spill,
[March 23, 1989] in Alaska, was $80,000 [£39,000]. At a special ceremony, two of
the most expensively saved animals were released back into the wild amid cheers
and applause from the crowd of onlookers. A minute later, in full view of the
audience, a killer whale ate them both!
Happy Seal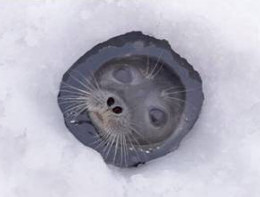 Like a pig in muck, a seal in a hole.
Pictures of the Funny Ribbon Seal
The Ribbon Seal, found in the Arctic regions of the North Pacific,
notably in the Bering Sea and Sea of Okhotsk.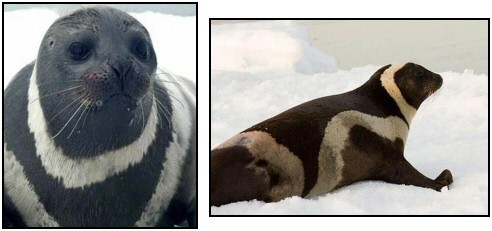 The 'Ribbon' seal is distinguished by its striking patterns in fur.
There is One in Every Photo!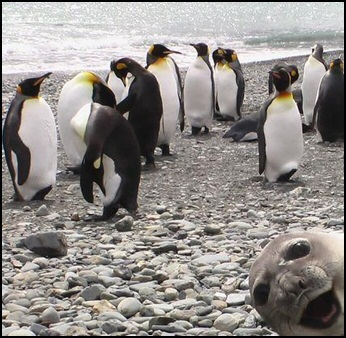 This Seal Has the Last Laugh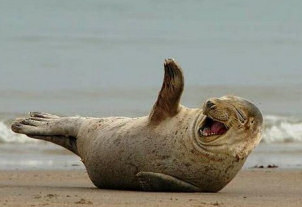 Footnote:
Please send us your funny seal pictures.
See more aquatic mammals
•
Whales •
Seals •
Dolphins •
Otters •
(Polar Bear) •
(Hippo) •
Home - Clean jokes
• Exotic mammals
• UK mammals •
Interesting mammal facts • Animals Index