St Andrew is the Patron Saint of Scotland, this page outlines his
history, and also takes the opportunity to showcase Scottish humour.
Scottish Humour
Old Archie had served the Railway Company as Guard on the local railway for nearly fifty years, and when his time to retire arrived he found the parting a severe wrench. Hearing how
keenly their old employee felt leaving the service, the Company arranged to present him with an old coach to keep at the bottom of his garden to serve as a daily reminder of his active days on the line.
One very wet day some of his friends called to see Archie and were informed by his wife that he would be 'on the train.' Going down the garden they found Archie sitting on the step of the carriage, smoking
furiously at his pipe and with an old sack over his shoulders to protect him from the downpour.
'Hello, Archie,' his friends greeted him, 'why are ye no inside in a day like this?'
'Can ye no see?'
replied Archie with a nod towards the windows, 'they only sent me a non-smoker.'
A Scotsman, Welshman and Irishman
A Scotsman, a Welshman and an Irishman were chatting about their
children.
The Scotsman says' meet my son Andrew, we called him Andrew because he
was born on 30th of November'.
The Welshman says' That's a coincidence, meet my son David. He was born
on St David's day'.
The Irishman said, fancy that, would you believe that's amazing. Paddy
calls over to his son'
'Oi Pancake! come over here..'
Where Might I Get a Mail?
Some years ago, Will's wife, Steve, then a child, was on holiday with her parents in the Scottish Highlands. They arrived in a village in the late afternoon and Steve's mother, Elsie, popped into a local
grocery store and inquired where they might get a meal.
This is what followed: 'A meal you say? A meal? Och aye, best you try the newsagents shop.' [Accent: meal = mail as in Daily Mail].
What's Worse Than a Barking Dog?
I bought s Scottish shepherd dog yesterday and he's scared all my
neighbours already!
Is he barking too loud?
No, he doesn't bark at all! But his kilt and bagpipes ....
Normal
Service Will Be Resumed
At the
morning service in a Presbyterian Kirk in the North, a visitor from the South had made his appearance. It was soon evident that he was accustomed to a less severe atmosphere during worship, and from time to
time disturbed the normal calm by exclaiming 'Hallelujah! Hallelujah! Praise the Lord!'
This went on for some time until an old Elder moved forward to the interrupter, tapped him on the shoulder and
warned him, 'Luik here, ma mannie, we dinna praise the Lord here.'
Funny Scottish Jokes and One
liners
Here are 7 short examples of Scottish Humour which are Funny and Based on
Stereotypes: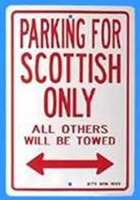 Did you hear about the thoughtful Scotsman who was heading out to
the pub? He turned to his wee wife before leaving and said, 'Jackie -
put your hat and coat on lassie.'She replied, 'Awe Iain that's
nice - are you taking me to the pub with you?'

'Nah, just
switching the central heating off while I'm oot.'

Do you know the first people in the UK to have double glazing were
the Scots?...It was so their bairns couldn't hear the ice cream vans.
How many Scotsmen does it take to change a light bulb?...Och! it's
no that dark!
Have you heard about the lecherous Scotsman who lured a girl up to
his attic to see his etchings? .... He sold her four of them.
A Scotsman took a girl for a romantic ride in his taxi...She was so
beautiful he could hardly keep his eye on the meter.
Did you know about the suicidal Scotsman who went next door to his
neighbour's house to gas himself?
A very popular man dies in Aberdeen and his old widow wishes to tell
all his friends at once, so she goes to the Aberdeen Evening Express and
says, 'I'd like tae place an obituary fur ma late husband.'The
man at the desk says, 'OK, how much money dae ye have?'

The old
woman replies, '£5' to which the man says, 'Ye won't get many words for
that but write something and we'll see if it's ok.'
So the old woman
writes something and hands it over the counter.

The man reads
'Peter Reid, fae Kincorth, deid.' He feels sad at the abruptness of the
statement and encourages the old woman to write a few more things,
saying, 'I think we cud allow 3 or 4 more words fer ye money.'

The old woman ponders and then adds a few more words and hand the paper
over the counter again. The man then reads - 'Peter Reid, fae Kincorth,
deid. Ford Escort for sale.'
One more funny Scottish Joke
At an art auction in Edinburgh, Scotland, a wealthy American lost his
wallet containing £20,000 [$45,000]. He announced to the gathering
that that he would give a reward of £200 to the person who found it.
From
the back of the hall a Scottish voice shouted, 'I'll give £250.'
See also more funny Scottish
jokes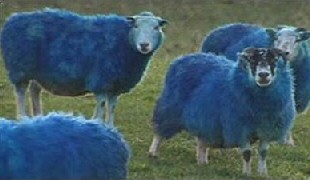 St Andrew's Day Sheep
A flock of splendid blue sheep has appeared in central Scotland as part
of events to mark St Andrew's Day, Will and Guy have learned. Celebrations
of the nation's patron saint have been taking place across the country on
30th November.
The farmer who owns the flock, Andrew Jack, coloured the sheep with
animal-friendly blue dye as blue is Scotland's national colour. 'They're
always a great talking point and we were pleased to help out to celebrate St
Andrew's Day,' he said. The sheep live in a field near a motorway in
West Lothian and Mr Jack said they were making a lot of people smile on
their way to work.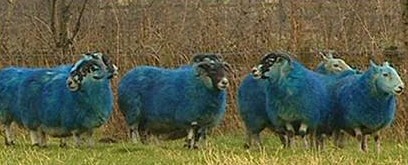 History of St Andrew
St Andrew, the patron saint of Scotland, is the same Andrew who was one of Jesus' twelve disciples. Andrew was the younger brother of Simon Peter (Saint Peter). Both were originally fishermen of Galilee.
The
association of St Andrew with Scotland begins in the 4th century. According to a contemporary legend, the Emperor Constantine the Great, decided to move Andrew's bones from Patras to Constantinople.
In this version Emperor Constantine told a Greek monk to take St Andrew's remains to the northernmost outpost of his empire. Thus the Greek monk called St Regulus came to Muckross on the Fife coast of
Scotland, where he founded the settlement of St. Andrew.
Little concrete evidence survives of this period of history. When the saga was retold in the 13th Century, Angus, King of the Picts is claimed
to have seen St Andrew in a premonition. The upshot was that King Angus gave credit to St Andrew for his victory over the Saxon Athelstan, however, this was later in the 9th century.
What ever
happened in the first millennium, it was Robert the Bruce who declared that St Andrew would be the patron saint of Scotland after the Battle of Bannockburn in 1314. Later in 1320 Robert the Bruce
formalised this pronouncement in the Declaration of Arbroath.
Other countries who have St Andrew amongst their Patron Saints include Russia, Greece and Romania.
St Andrew's Flag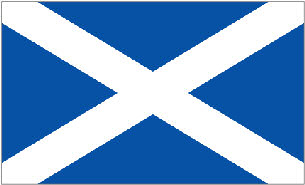 The Scottish flag is the definitive example of a Saltire, where the cross extends to the corners of the flag. The term Saltire is also used in heraldry to describe a design where the points of the cross
reach into the corners.
The flags of all countries vary slightly when you see them at different times. Weathering may also play a part - particularly in Scotland. Nevertheless, it seems to me as a Welshman, that the
Scottish flag varies more than most in both colour and shape. This variation is also borne out in the Scottish national teams, while their first choice strip is invariably blue, the shade seems to vary
greatly from year to year.
St Andrew's Day 30th November
An erudite UK citizen would know that St George's Day is 23rd of April, and that St Patrick's Day is 17th of March. Even an average UK citizen would guess that St George's Day is April the twenty
something, or that St Patrick's day falls on the 13th, 15th, or 17th of April. My point is the average UK citizen has no idea when St Andrew's Day falls.
For the average Scotsman, Hogmanay or even Burns
night is more memorable the St Andrew's Day. However, redress is at hand, and in 2007, the Scottish Regional Government have taken the initiative and managed to decree that in future St Andrew's day
will be a bank holiday.
Footnote:
Please send us your best examples of
Scottish humour.
See more Saints Days and other examples of special
events:
•
Special Day Events
•
St David's Day •
St Patrick's Day •
St George's Day •
St Andrew's Day
• 4th July • Welsh humour •
Scottish jokes • Burns Night •
Shrove Tue •
Candlemas
• Special day today
•
Bastille Day •
St Swithin's •
Lammas •
Lady Day •
May Day