We have collected funny
pictures of Santa Claus in variety costumes at different locations.
Santa Claus Pictures and Jokes
Poisoned Santa
Dear Santa
If you leave a new bike under the tree, I will give you the antidote to the poison I put in the milk.
Timmy.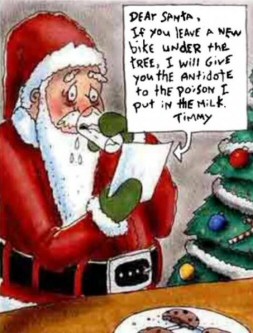 Santa and The Train Set
While working in a store as Santa Claus, I had lots of boys ask me for an
electric train set. "If you get your train," I would tell each one, "you
know your dad is going to want to play with it too. Is that okay?"
The usual answer was a quick yes, but after I asked one boy this
question, he became very quiet. Trying to move the conversation along,
I asked what else he would like Santa to bring him.
He promptly replied, "Another train."
Dear Father Christmas,
My mother told me to write to you and say thanks for the train set. My
dad plays with it all the time.
John
See more Funny Santa letters.
General Funny Santa Claus Pics
'The stockings were hung by the chimney with care
In hopes that Saint
Nicholas soon would be there'
Photos of Santas IN
Training for Christmas Day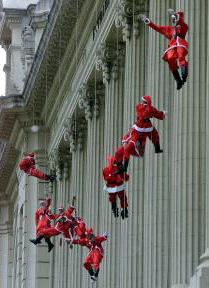 Santa OUT of Training
Why does Santa go down the chimney?
Because it soots him!
The Santa Brand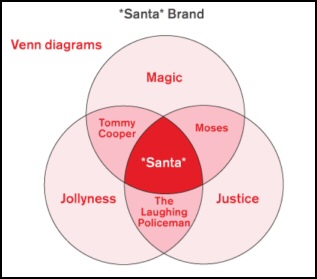 More Funny Santa Claus Pictures - Skiing and Also Waterskiing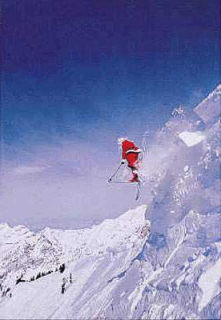 See more snow pictures
See more funny Santa pictures
and cartoons
Santa Claus and Coca
Cola - The Urban Myth
A popular urban myth is that back in 1928 Coca Cola invented Santa Claus.
What fuels this myth is that his red coat matches perfectly the Coca Cola
livery.
The truth is that while early Santa Claus often wore green, Santa Claus
in red was established by the 1860s, long before Coca Cola was invented.
Other Names for Santa Claus
While it is true that the name Santa Claus was an American 'invention' sometime before 1870. The
original name for the 'figure' associated with the mid-winter festival was
Saint Nicholas, or St. Nick. Other languages have variations or
translations of Saint Nicolas, for example, Père Noël, Papa Noel, Babbo
Natale, Papai Noel, Father Christmas, and Kris Kringle.
See more on the
origins of Santa Claus
Santa Claus has the right idea. Visit people only once a year.
Victor Borge
Santa Sparks Romance
It's not only kids who make their way onto Santa's lap. There's something
about the jolly man in the red suit that sparks a bit of romance in certain
couples.
One Santa says that he sees about two or three young men every season who
use Santa to help propose to their girlfriends. Sometimes it works like a
charm. Other times, not so much.
In one case, the suitor was positive that his girlfriend would ask Santa
for an engagement ring. But when Santa asked the young lady what she wanted,
her reply was, 'A refrigerator for our new condo.'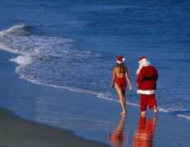 Her boyfriend stood nearby, perplexed. Santa seeing the sweat beginning
to form on his forehead asked,'"Are you sure there isn't anything else you
want?'
'No, I think that's it,' she replied.
Santa asked her if she wanted something else one more time, not for her
sake, but for the boyfriend's.
The boyfriend finally took the hint, got down on one knee and proposed.
This time, she said 'yes'. How's that for good will toward men?
Santa Sacked for Smacking Boy
A Santa Claus is facing the sack from a Dutch shopping centre after he smacked a young boy for pulling his beard.
Peter Hendriks hit the boy on the backside in front of dozens of shoppers in the town of
Rijswijk. Defending his actions, he said: 'If I hadn't
done that, he would have pulled off my beard and dozens of children would have been traumatised.'
Good Santa - Bad Santa?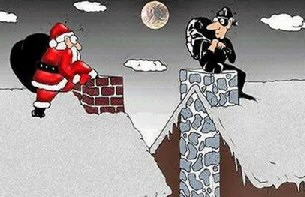 Man Rescued
from Chimney Denies Being Santa Claus
Fire officials from Lubbock have informed Will and Guy that a Texas man who
had to be rescued from the chimney of his house was not trying to be Santa
Claus. Apparently he was just locked out of his house.
Fire officials told us they had to hoist the 22-year-old man by rope from
the chimney of his house in southwest Lubbock, Texas, USA recently.
Deputy Fire Marshal Robert Loveless tells the Lubbock Avalanche-Journal
that the man and his family were locked out of their house. Loveless says
the man, wanting to save the price of a locksmith, decided to enter the
house through the chimney as his wife and child waited outside around 1 am.
He added that the man's wife called 911 after he became stuck.
Fire-fighters hauled him out about an hour later.
He was not injured.
Santas Nicked? - We Have Their Mugshots!
A website called 'The Smoking Gun' has rounded up images of real felons
who look like Saint Nick.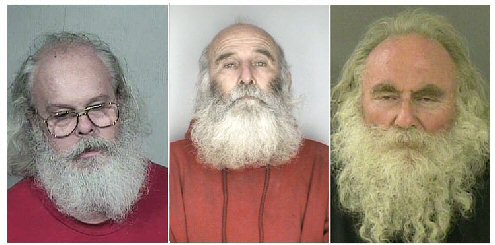 Yes There Is A Santa Claus
If you want the great gift giver
To come on his sleigh and deliver
Then remember this simple rhyme
And recall it at Christmas time
"If in
Santa you do not believe
Christmas gifts you will not receive"
Santa Claus Movies
Bad Santa (2003) A screwball dark comedy Directed and co-written by Terry
Zwigoff. Starring Billy Bob Thornton as the title character and Tony
Cox his partner.
Santa Claus (1959) Directed by René Cardona.
Santa Claus (1985) Starring Dudley Moore.
Here are the more recent Santa Clause 1, 2 and 3 trilogy.
The Santa Clause (1994)
The Santa Clause 2: The Mrs. Clause (2002)
The Santa Clause 3: The Escape Clause (2006)
Santa Claws (1996) is a poor film, one to avoid.
A Few More Amusing Santa Pictures
Golden Santa
This pure gold
statue of Santa Claus weights 20 kilos, Santa even has 10 gold coins in his belt. It was created by Ginza Tanaka and is offered on sale for 200 million yen ($1.8 million).
Tanaka's company took 3 months to
fashion the statue. Rumour has it that he created 2 or even 3 of these pure gold Santas. It is difficult to judge its size from the picture, but
Santa stands about 40 centimetres, those lucky enough to live in
Tokyo can see the statue in the Shinsaibashi district of Osaka.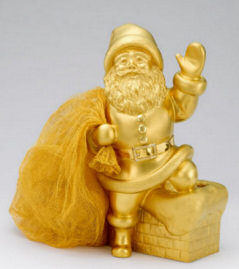 See more Father Christmas
pictures
Santa Banned from
Markets in Austria and Germany
The move in Vienna has been followed by Christmas markets across Austria and Germany where St Nicholas is the traditional bearer of Christmas gifts. Bettina
Schade, from the Frankfurter Nicholas Initiative in Germany commented, 'We object to the material things, the hectic rush to buy gifts, and the ubiquity of the bearded man in the red suit that are taking away
from the core meaning of Christmas.
A Vienna city hall spokesman added that Santa
Claus is an English language creation, people who want to see him should go to America where I am sure Coca Cola will be happy to
oblige. 'The Christian origins of Christmas, like the birth of Jesus, have receded into the background. It's becoming more and more a festival that is reduced to simply worldly gifts and commerce.'

Footnote: In Europe, New Year seems to be more important than Christmas.
The Boy Who Laughed at Santa Claus by Ogden Nash
In Baltimore there lived a boy,
He wasn't
anybody's
joy.
Although his name was Jabez Dawes,
His character was full of flaws.
In school he never led his classes,
He hid old ladies'
reading
glasses,
His mouth was open when he chewed,
And elbows to the table glued.
He stole the milk of hungry kittens,
And walked through doors marked '
No Admittance'
.
He said he acted thus because
There wasn't
any Santa Claus.
Another trick that tickled Jabez
Was crying '
Boo!'
at little babies.
He brushed his teeth, they said in town,
Sideways instead of up and down.
Yet people pardoned
every sin,
And viewed his antics with a grin,
Till they were told by Jabez Dawes, 'There isn't
any Santa Claus!'
Deploring how he did behave,
His parents swiftly sought their grave.
They
hurried through the portals pearly,
And Jabez left the funeral early.
Like whooping cough, from child to child,
He sped to spread the rumor wild: 'Sure as my name is Jabez Dawes
There isn't
any
Santa Claus!'
Slunk like a weasel or a marten
Through nursery and kindergarten,
Whispering low to every tot, 'There isn't
any, no there's
not!'
The children wept all Christmas Eve
And Jabez
chortled up his sleeve.
No infant dared to hang up his stocking
For fear of Jabez'
ribald mocking.
He sprawled on his untidy bed,
Fresh malice dancing in his head,
When presently with scalp
a-tingling,
Jabez heard a distant jingling;
He heard the crunch of sleigh and hoof
Crisply alighting on the roof.
What good to rise and bar the door?
A shower of soot was on the floor.
What
was beheld by Jabez Dawes?
The fireplace full of Santa Claus!
Then Jabez fell upon his knees
With cries of '
Don't
, 'and '
Pretty please.'
He howled, 'I don't
know where you read it,
But anyhow, I
never said it!'
'Jabez, 'replied the angry saint, 'It isn't
I, it's
you that ain't
.
Although there is a Santa Claus,
There isn't
any Jabez Dawes!'
Said Jabez with impudent vim, 'Oh, yes there
is; and I am him!
Your magic don't
scare me, it doesn't '
And suddenly he found he wasn't!
From grimy feet to grimy locks,
Jabez became a Jack-in-the-box,
An ugly toy with springs unsprung,
Forever sticking out his tongue.
The neighbors heard his mournful squeal;
They searched for him, but not with zeal.
No trace was found of Jabez Dawes,
Which led to thunderous applause,
And people
drank a loving cup
And went and hung their stockings up.
All you who sneer at Santa Claus,
Beware the fate of Jabez Dawes,
The saucy boy who mocked the saint.
Donner and Blitzen licked off his
paint.
Alternative Ending to Santa Claus by Ogden Nash
......After
And went and hung their stockings up.
All you who sneer at Santa Claus, beware the fate of Jabez Dawes,
The
saucy boy who told the saint off; the child who got him, licked his paint off.
Footnote:
Please send us your funny Santa Claus pictures.
See more funny Santa jokes and funny pictures.
Also snowman pics
∗ Funny Santa Claus
pictures
∗ Father Christmas
∗ Funny Santa cartoons
∗ Funny Santa sleigh
∗ Children with Santa ∗
Santa Shot
∗ Snowman jokes
∗ Santa Claus history
∗ Kids jokes
∗ Santa pictures kids ∗ Santa Banta jokes
∗ Funny snowmen
∗ Santa sculpture
∗ Santa quotes