John Cleese was one of the funniest men of the 1960s. I was pleasantly
surprised to see him in funny health and safety pictures and videos. While he does
not feature in any of these pictures, the spirit of Cleese lives on in their comic
situations.
Safety PowerPoint
Presentation
Safety in the Workplace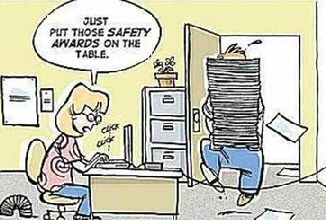 Amusing cartoon by Clay Bennett
Reform the Safety Committee!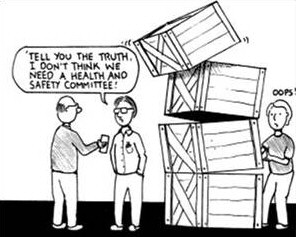 What do you get if you put 100 Safety Managers in your basement?
- A
whine cellar.
Understand Workplace Health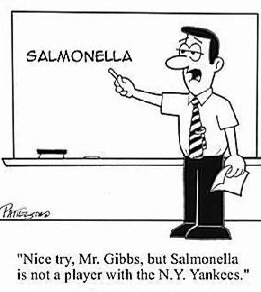 Check Your First Aid Cupboard!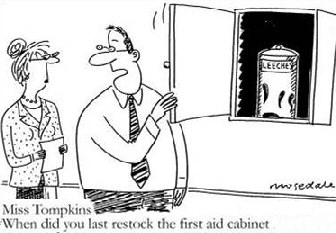 On a more serious note... get advice from the experts for
safety, liability and property risk
More Funny Health and Safety Pictures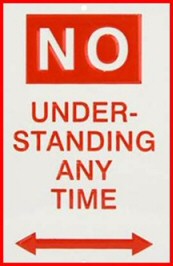 Dangerous Ladders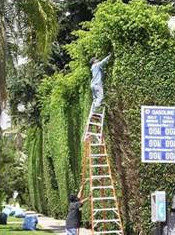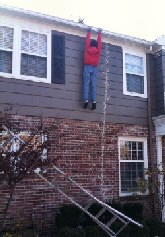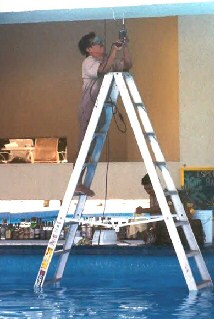 Humour makes the point so much more forcibly than a dead-pan delivery of the
plain health and safety facts about dangerous ladders.
On a more serious note... get advice from the experts for
safety, liability and property risk
Will and Guy's Selection of Funny Health and Safety Tales
A bus carrying five passengers was hit by a car in Boston,
Massachusetts, but by the time police arrived on the scene, fourteen
pedestrians had boarded the bus and had begun to complain of
whiplash injuries and back pain.
Safety Managers: persons who write a 10,000 word document
and call it a brief - Franz Kafka.
What do you get if you put 100 Safety Managers in your
basement? - A whine cellar.
Safety is a major concern at the manufacturing company
where I work. So I'm constantly preaching caution to the workers I
supervise. 'Does anyone know,' I asked a few guys, 'what the speed
limit is in our parking lot?'The long silence that followed
was interrupted when one of them piped up. 'That depends. Do you
mean coming to work or leaving?' Below is an interesting oxymoron.
Humorous safety signs
really do work.
A police protection officer was visiting a primary school in
a particularly rough area of Manchester, England.'Why
shouldn't you touch the oven door or the kettle?' he asked the
assembled class.

A young girls hand shot into the air.
'Because you might leave fingerprints,' she answered.

A crowd gathered around at a woodworking trade show held
at Fort Purbrook, Portsmouth and were watching a sales
demonstration.The demonstrator had an ordinary saw next to
another which had a saw stopping safety device. He showed how each
might work when it hit an operator's finger.

For simulation
purposes he used a sausage as a substitute. Intrigued, a curious
spectator stepped up for a closer look and was struck in the eye by
a flying piece of debris.
Bob's Hard Hat Saga
Bob, a new health and safety officer went into the works canteen on the
construction site for the first time for a cuppa, he hung his coat and hard
hat in the cloakroom and sat down. Unfortunately, the scaffolders always had
a habit of picking on new employees, which he was. When he finished his
drink, he found his hard hat had been stolen.
Bob strolled back into the
canteen, handily flipped his clip board into the air, caught it above his
head without even looking and slapped it down hard onto the table, 'Bang!'
'Which one of you pole jumpers stole my hat?' he yelled with surprising
forcefulness.
No one answered.
'Alright, I'm gonna have another cuppa, and if my hat ain't back outside
by the time I finish, I'm gonna do what I did in London! And I don't
like to have to do what I did in London!'
Some of the scaffolders shifted restlessly. Bob, true to his word, had
another cuppa, walked outside, and his hard hat has been returned to the
cloakroom.
He started to go back to his office. The site foreman wandered out of the
canteen and asked, 'Oi mate, before you go... tell me, what happened in
London?'
Bob, the safety officer, turned back and said, 'I had to buy a new hat.'
Electrical Safety Image -
Lightning Nearly Strikes Man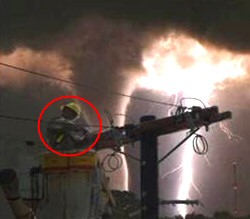 Joking aside... If you have suffered an
accident at work then help may be at hand.
Wacky Health and Safety Warnings Contest
On a child's buggy: 'Remove Child Before Folding' (see image right.)
Other funny health and
safety mentions were:
Warning label on a letter opener that says: 'Caution: Safety goggles recommended.'
Fuel Tank Cap: 'Never use a lit match or open flame to check the fuel level.'
A cartridge for a laser printer warns, 'Do not eat toner'.
The label on a bottle of drain cleaner warns: 'If you do not understand, or cannot read, all directions, cautions and warnings, do not use this product.'
A warning on an electric drill made for carpenters cautions: 'This product not intended for use as a dental drill.'
A dishwasher carries this warning: 'Do not allow children to play in the dishwasher.'
'The Vanishing Fabric Marker should not be used as a writing instrument for signing checks or any legal documents.'
Mental Health At Work -
Funny Safety Quotes:
There's a fine line between genius and insanity. I have erased this line.
Oscar Levant
People often write me and ask how I keep my wood floors so clean when I live
with a child and a dog, and my answer is that I use a technique called, 'Suffering
From a Mental Illness'. Heather Armstrong
I've wrestled with reality for 35 years, Doctor, and I'm happy to state I
finally won out over it.
Mary Chase
Anyone who goes to a psychiatrist ought to have his head examined.
Samuel Goldwyn
When we remember we are all mad, the mysteries disappear and life stands
explained.
Mark Twain
I quit therapy because my analyst was trying to help me behind my back.
Richard Lewis
See more funny quotes.
Footnote
None of the above
mental health
quotes are completely, true. What is disturbing, is that each has a grain of truth. Will and Guy
If All Else Fails -
Read The Manual - Or Not!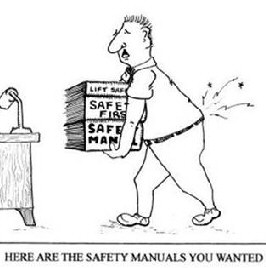 Health & Safety
in the Afterlife?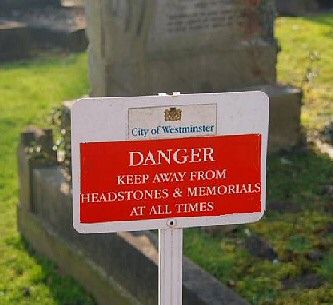 Graveyard Humour? Or Health and Safety gone mad?
Footnote:
Please send us your funny health and safety pictures.