Ian Robertson and the Malt
Whisky

On BBC Radio 5 Live, Will heard Ian Robertson* recount this true tale.
When England were in Scotland to play the Calcutta Cup it is
always difficult to find somewhere to stay and impossible to book a table in any restaurant. This particular year Ian was entertaining some journalists and former players before the 'big match'. He knew of a
small place just outside Edinburgh to which he hadn't
been for more than 30 years.
On arrival at the pub he was greeted by the owner who said, 'How marvellous to see you again, Mr Robertson. I imagine
you have come to pay the 1s/6d [approx. 8p] you owe us for the single malt whisky you drank when you were last here and forgot to pay for?'
*Note: Ian Roberston was former Scotland Rugby Union International; BBC Rugby commentator and
correspondent. Interestingly Ian was also a former English teacher to Tony Blair at Fettes College, Edinburgh.
Mr Indestructible
After JPR Williams was involved in a road traffic accident: Typical,
isn't it? The car's a write-off. The tanker's a write-off. But JPR
comes out of it all in one piece. - Gareth Edwards
Andrew Craig and the Curry

As with so many jokes and stories one often leads on to another. Will is reminded of this
true tale about an ex-Royal Navy Officer, Scotsman and friend: the late Lieutenant-Commander Andrew Craig.
In the 1970's
Andrew was often away from Portsmouth on board one ship or another. These trips
took him away for quite long periods of time. When at home he would frequent Shariff's
Curry Restaurant in Albert Road, Southsea. [Now The Golden Curry, next to the King's
Theatre.] He omitted, by mistake, to
pay for one meal before going away on a cruise that kept him away for some 18 months and on his return he visited the restaurant only to be met by Mr Sharrif at the door who promptly asked him, with a beaming
smile on his face, 'Is it convenient for you to pay the bill now, Commander Craig'.
True Story: Rugby Player Saves Lives
Fourteen-year-old Conor McGrath caught a boy of his age and a girl of six
after their mother lowered them and dropped them 10ft into his arms from an
upstairs bedroom window after their home was hit by a gas explosion.
Conor, a rugby player for Lancashire and also the British under-16
wrestling champion, said, 'I am a rugby player so I've got quite good hands;
I knew that I just had to catch them. I am a strong lad for my age and the
rugby definitely helped.'
The accident happened after Conor had returned home from a jog in Great
Lever, Bolton, Lancashire, England with his dad on Monday morning. Both ran
across the road to the semi-detached house and saw the woman screaming for
help as smoke engulfed the bedroom.
'I just sprinted around and heard her screaming,' he added. 'I was
shouting up at her, asking if she had a mattress so they could jump. They
dangled the boy down first and I caught him, then I caught the girl. I could
see the flames and I did not want to go into the house. All the windows had
been blown out and it was a good job they had or else they would have been
trapped upstairs. My heart was racing and there was a lot of adrenalin. I
could see the fear in their eyes but there was nothing else to do other than
help.'
Thanks to David Johnson for this story
Will and Guy's
Top Ten Funny Rugby Quotations
These quotes may be old but we think you will smile because to a true
rugby lover each tale defines that era.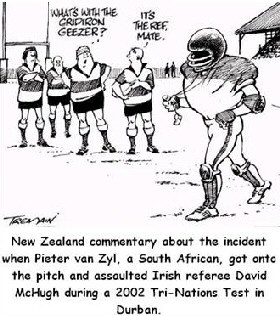 Remember that rugby is a team game; all 14 of you make sure you pass
the ball to Jonah. FAX to the All Blacks before the 1995 World Cup
semi-final.
I think Brian Moore's gnashers [teeth]are the kind you get from a
DIY shop and hammer in yourself. He is the only player we have who looks
like a French forward. Former England prop Paul Rendall on his front row
colleague.
You've got to get your first tackle in early, even if it's late.
Welsh hard man Ray Gravell explains his rugby philosophy.
I played ten injury-free years between the ages of 12 and 22. Then,
suddenly, it seemed like I was allergic to the twentieth century. Former
England scrum-half Nigel Melville who spent most of the 1980s injured.
We're going to tear those boys apart. Message pinned up on the
changing room wall by England skipper Will Carling before his team ran
out to face the All Blacks in the 1995 World Cup semi-final in Cape
Town. It took at least 70 seconds for New Zealand to score their first
try as they demolished England 45-29.
Don't ask me about emotions in the Welsh dressing room. I'm someone
who cries when he watches "Little House on the Prairie". Former Welsh
second row Bob Norster remembers that special Dragons' atmosphere.
'There's no doubt about it, he's a big b****rd,' Gavin Hastings,
master of the obvious, on Jonah Lomu.
The relationship between the Welsh and the English is based on trust
and understanding. They don't trust us and we don't understand them.
Former RFU supremo Dudley Wood on Anglo-Welsh relations.
If you can't take a punch, you should play table tennis. Former
French skipper and coach Pierre Berbizier illustrates his nation's
attitude to on-pitch violence.
'A player of ours has been proven guilty of biting. That's a scar
that will never heal. Bath coach Andy Robinson after his prop Kevin
Yates was suspended for taking a chunk out of an opposing flanker's ear.
Some Clean, Funny, Rugby Shorts


Rugby is a good occasion for keeping thirty bullies far from the centre
of the city. - Oscar Wilde
I'm still an amateur, of course, but I became
rugby's first millionaire five years ago. - David Campese [1991]
A major
rugby tour by the British Isles to New Zealand is a cross between a medieval
crusade and a prep school outing. - John Hopkins
On playing for Wales at Lansdowne Road, Dublin: I didn't know what was
going on at the start in the swirling wind. The flags were all pointing in
different directions and I thought the Irish had starched them just to fool
us. - Mike Watkins [1984]
On Jonah Lomu: I've seen a lot people like him, but they weren't playing
on the wing. - Colin Meads [1995].
Ray Gravell Eats Soft Centres. - Banner seen at Cardiff Arms Park.
Perfect Woman Competition in New Zealand
The owner of a bar in Wanaka is holding a competition to find the 'perfect woman', the prize is $NZ 1,000 and tickets for a rugby game.
Amongst the tasks the aspirants will be expected to undertake
are:
Back a trailer load of hay
Change a car tyre
Clear a pool table
Darn a sock
Lift a ram into shearing position
As reported in the 'Sun'
in Australia.
Footnote
Please send us your funny rugby stories and
jokes.
See more sports jokes and funny stories:
• Colemanballs •
Basketball • Soccer
• Tennis jokes •
Baseball jokes •
Funny sport quotes
• Clean cricket jokes •
Funny cricket stories • Cricket nicknames • Sports nicknames
• Sports Home •
Clean golf jokes • Funny golf pictures
• Rugby
nicknames • Rugby stories