Will and Guy's Collection of Religious One-liners and clean jokes.
1)
Funny Religious Jokes


Some clever and amusing thoughts on being a Christian.
Under same management for over 2,000 years.
Soul food
served here.
Tithe if you love Jesus! Anyone can honk.
You can give without loving, but you cannot love without giving.
Beat the Christmas rush, come to church this Sunday!
Don't wait for
the hearse to take you to church.
We should be more concerned with the Rock Of Ages, instead of the age of rock.
Don't give up. Moses was once a basket case!
Come early for a good seat in the
back.
Life has many choices, Eternity has two. What's yours?
Worry is interest paid on trouble before it is due.
The best vitamin for a Christian is B1.
A man's character is like a fence. It cannot be strengthened by whitewash. Wal-mart/Asda
isn't the only saving place.
I Was Walking Across the
Bridge One Day ...
I was walking across a bridge one day and I saw a man standing on a ledge, about to jump off. So I ran over and said, "Stop! Don't do it!"
"Why shouldn't I?" he said.
"Well, there's so
much to live for." "Like what?" "Well, are you religious?" He said yes. I said, "Me too! Are you Christian or Buddhist?" "Christian." "Me too! Are you Catholic or Protestant?"
"Protestant." "Me
too! Are you Episcopalian or Baptist?"
"Baptist." "Wow, me too! Are you Baptist Church of God or are you Reformed Baptist Church of God?"
"Reformed Baptist Church of God." "Me too. Are you
Reformed Baptist Church of God, Reformation of 1789 or Reformed Baptist Church of God, 1915?"
He said, "Reformed Baptist Church of God, Reformation of 1915."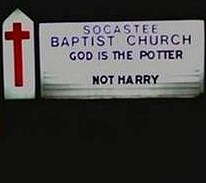 I said, "Die, heretic scum!!"
And pushed him off the bridge.
Footnote:
Fritz Steinkuhl kindly research this funny religious joke. It was voted as 44th out of the 'Best 75 Jokes' in by American comedians.
More Examples of Church Signs
Check out the Great American Book of
Church Signs. It captures modern day faith on the road. Each
sign reflects the enthusiasm of the local Church. The book - and the
signs themselves - encourage us to live better lives.
Furthermore, Will and Guy
love the way each Church sign reminds us to laugh along life's journey.
Reverend Billy Graham Makes Big Impression on Small Boy
This story is allegedly true:
Reverend Billy Graham tells of a time early in his ministry when he arrived in a small town to preach a sermon. Wanting to post a letter, he asked a young boy where the post office was. When the boy had
told him, Dr. Graham thanked him and said, 'If you'll come to the Baptist Church this evening, you can hear me telling everyone how to get to heaven.'
The boy replied, 'I don't think I'll be there... You don't even know your way to the post office.'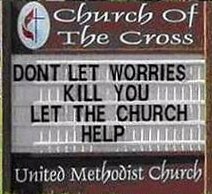 Take No Offence
'I hope you didn't take it personally, Father', an embarrassed woman said after a church service,
'when my husband walked out during your sermon.' 'I did find it rather disconcerting,' the vicar replied.
'It's not a reflection on you, Father' insisted the church goer. 'Christopher has been walking in
his sleep ever since he was a child.'
Something Missing - Missing Something?
Going over our church finances I found a receipt from a local paint store
signed by someone named Christian. I wasn't aware of anyone buying paint, so
I called the store to point out its mistake
'I'm sorry,' I told the manager, 'but there are no Christians here at St
Mary's Church.'
Answer My Prayer - Please
Jonathan, the Vicar's very young son asked his father,
'Daddy, I notice every Sunday morning when you first climb into the pulpit
to give your sermon, you bow your head for a moment. What are you doing?'
The father answered,
'I'm asking the Lord to give me a good sermon.'
Jonathan inquired, 'Then why doesn't he?'
See more

religious jokes »
Footnote:
Please write to Will and Guy if you have any funny religious jokes
See more clean religious jokes and funny
stories:
•
Funny Christian jokes
•
Clean religious jokes •
Funny religious stories •
Things God won't ask
•
Christian jokes •
Church Times & Pews News •
Adam jokes •
God and Eve •
Funny Bible jokes
• Short Christian jokes
•
Clean Christian jokes •
Children's religious
stories •
Funny Church signs