Funny Police
Car Stuck in Concrete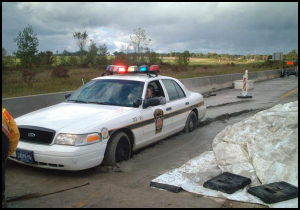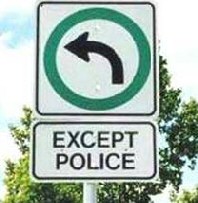 We have heard of laws been set in concrete
- but never
police cars.
Can you imagine what the police officer (our informant believes it's
a woman?) would say to the duty sergeant?
'A little
brown dog suddenly came out in front of me and I swerved to miss him'.
Or 'I was following a suspect who tip-toed across the concrete and gave pursuit.'
Funny Police Picture - Bike in Concrete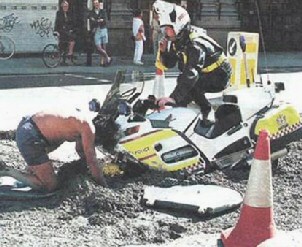 It seems that police driving into wet cement is not confined to America.
Here is UK patrolman on his way to a 999 (911) emergency call when he got
stuck in the setting concrete. Passers-by were too creased up with
laughter to help. Eventually an AA rescue truck stopped and freed the
embarrassed policeman.
This Picture Shows an
Even Unluckier Police Car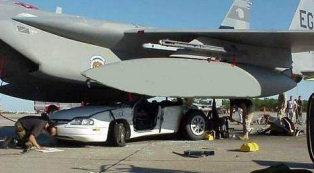 Police Car Stolen
A high tech, theft-proof £75,000 [$ 146,000 USD] police car was stolen in
Berlin, Germany - after officers left it unlocked with the key in the ignition.
The special BMW, which features high-tech surveillance equipment and
sophisticated electronic locks and immobilisers to make it theft proof, was the
pride of the Berlin police force.
It was stolen in the city's Wedding district
when two officers jumped out to chase a joy-rider on foot after he had abandoned
a stolen car.
The criminal got away and when the officers went back they found the
expensive BMW gone.
Police Park In
Not One, But Two Disabled Spaces
Police Keeping Watch!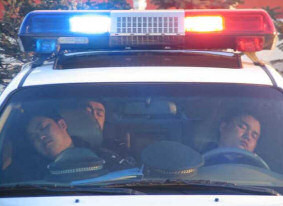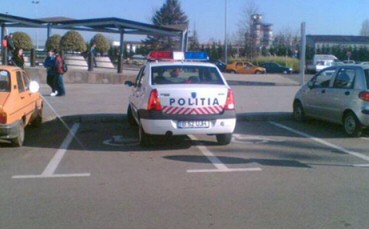 Police Send For Reinforcements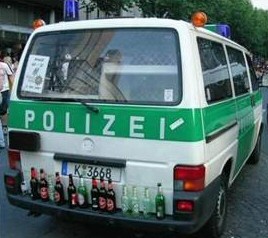 And later... sleeping policemen
No Good - Police Lose Their Tyres

The Police cars all have their wheels missing - Will and Guy have the funny
police pics
Police Round-up Suspects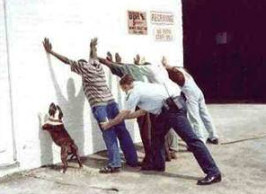 Looks like the dog's next!
Off 2 Jail!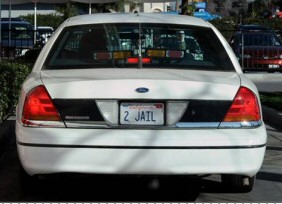 An unmarked police car, allegedly, with the license plate "2 Jail" is
parked at a fast food drive through in the town of Bakersfield, California,
USA.
Podgy Plump Policemen Warned
Some police officers are so overweight they can only transport one
suspect in their squad cars. Tests found some police vehicles carrying two
large officers are within 14 stone of legal weight limits, Will and Guy have
learned from the Daily Telegraph. That means they can only carry one suspect
in the back of the car and if two people are arrested the officers would
have to radio for another vehicle.
Overweight police cars may not be insured if they are involved in an
accident and officers could be left open to legal action by suspects injured
in an a crash. Officers could also be fined for driving an overloaded
vehicle on the roads and there are concerns that the weight burden could
affect the handling and stopping distances of patrol cars.
One force, Lothian and Borders, Scotland, has already decided that only
one passenger can be carried in the back of some of its vehicles because
they are close to legal weight limits. T he standard patrol car is a
1.6-litre Ford Focus or a 1.3-litre Vauxhall Astra. As well as police
officers they carry computers, cameras, fire extinguishers, stingers, metal
road signs and body armour.
Perhaps police forces all over the world should regularly exercise and
have their fitness tested.
Funny Police Car?
Or New Police Chariot!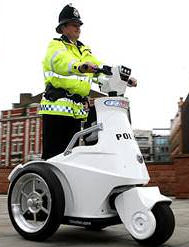 Coup De Grass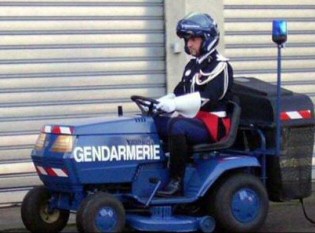 Understatement of the Year - Police Slow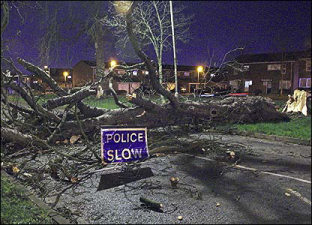 Classic funny police pic.
Young Police Officer in
Need of a Drink?
Thanks to Hugh Muir who writes in The Guardian Diary column about a probationary police officer who found a message requesting him to call a Detective Inspector Dration. The keen,
young policeman picked up the phone and asked to speak to D I Dration. (Dehydration)
Dozy Complaint
Peter Rickard marched into the police station at Corsham, Wiltshire,
England, and demanded that he be allowed to speak to the man who had broken
into his house the previous night.
'You'll get your chance in court, Mr
Rickard,' explained the desk sergeant.
'But you don't understand,'
pleaded Peter. 'I want to know how he got into my house without waking my
wife. I've been trying to do that for years.'
The female police officer reported to the desk sergeant about having no
luck with the witness.
'Did you browbeat him, yell at him, and ask him
every question you could come up with?' asked the sergeant.
'I certainly
did.'
'And?'
'And he said, "Yes, dear, you're right," and dozed off!'
New Dodgem Practise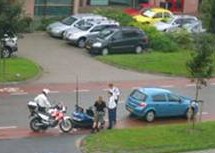 Dodge City, Kansas. The police announced a new revolutionary measure
to reduce traffic citations in November 2008. Instead of fining
motorists convicted of traffic violations, Dodge City Police Department now
force the driver to trade-in their car for a dodgem.
Funny Police Pics - Live Alligator in Car
'It was like Crocodile Dundee, Brazoria style,' Brazoria Police Chief Neal
Longbotham said.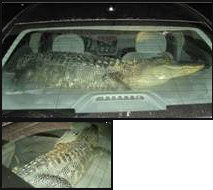 Many car drivers are happy to carry their pets by car; dogs are
commonplace as passengers all over the world. Recently, however, Will and Guy
have established from 'The Facts' newspaper in Brazoria, Texas, USA that police
who stopped William Eric Johnson for performing an illegal u-turn got a mild surprise
when they found that the driver was, in fact, a felon wanted for burglary.
What surprised the police even more was the ferocious alligator roaming free in
the car: a live alligator some six feet long. They took this photograph of the
reptile, at rest, on the rear window ledge.
A warden took the alligator into care, while the police took Johnson into
custody.
Police Practice New
Umbrella Tactics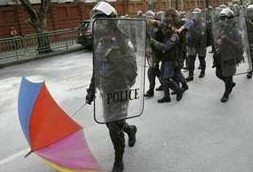 Come on lads, let's hope the rain stays away
Win a Free Ride in a
Police Car

Won't Mom be so proud?
Footnote:
Please send us your funny police pics, especially any funny police cars.
See more funny police jokes and pictures featuring cars.
•
Funny police cars •
Police humour •
Funny speeding pictures •
Italian Court Cases •
Road signs
•
Funny car pictures •
Funny driving jokes •
Petrol prices •
Speed limit USA •
Car jokes
•
Funny parking tickets •
Ferrari? •
Car fans •
Funny police numbers •
Home - Clean jokes