The Irish are famed for their love of animals in general and dogs in
particular. Here are funny pictures of dogs taken on St Patrick's day.
Classic St Patrick's Day Dog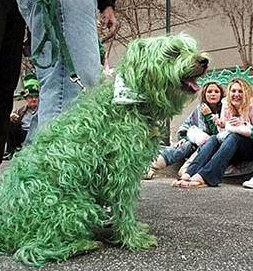 The green rinse is all the rage for dogs on St Patrick's day. By the way, did you spot the leprechaun with his St Patrick's day hat?
Green Poodle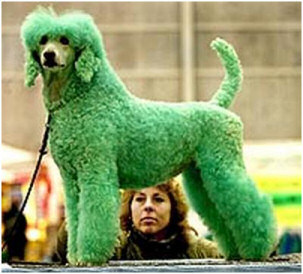 When March the 17th is over, it's back to normal.
Let's wash off that green rinse.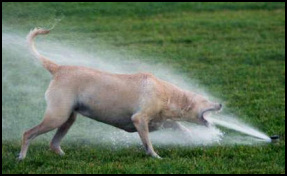 Faithful St Patrick's Day
Dog with Shamrock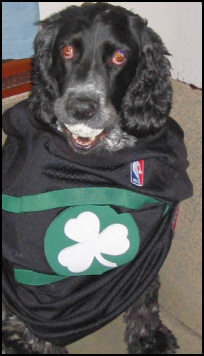 O'Connor and the Fierce Dog
O'Connor was sitting in Ward's Irish bar, Piccadilly, London with a large
Rottweiler at his feet.
'Does your dog bite?' asks Murphy.
'No,' replies O'Connor.
So
Murphy pats the dog who almost rips his arm off completely.
'Hey!'
screams Murphy, 'you said your dog didn't bite, O'Connor.'
'That's not
my dog Murphy,' concludes O'Connor.
See more jokes for St Patrick's Day
Tricolour balloons released on St Patrick's Day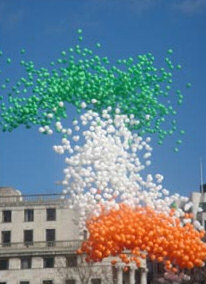 We believe that the tricolour balloons were released in Trafalgar sq, London.
St Patrick 'Greening' Celebrations
One of Italy's iconic sites will be turned a shade of green on Saturday
to mark St Patrick's Day.
Greening famous attractions is part of a promotional campaign that
Tourism Ireland has been involved in over the past three years; the leaning
tower of Pisa and Niagara Falls are new additions to this year's campaign.
Irish
Engineers on Site
Dermot and Patrick are standing at the base of a flagpole looking up. Rita walks by and asks them what they are doing.
Patrick answers, 'We're supposed to be finding the height of this flagpole, but we
don't have a ladder.'
Rita takes out an adjustable spanner from her handbag, loosens a few bolts and lays the flagpole down. She finds a tape measure in her pocket, takes a few measurements, and announces
that its length is 18 feet 6 inches.
Then, Rita walks off.
Dermot says to Patrick, 'Isn't that just typical. We ask for the height and she gives us the length.'
See our clean Irish jokes »
Footnote:
Please
send us your Funny St Patrick's day dogs
See more funny Irish jokes and clean Irish stories :
•
Funny Irish jokes •
Clean Irish jokes •
Good Irish jokes •
Best Irish jokes •
Classic Irish jokes
•
Funny Irish stories •
Irish drinking stories •
Short Irish stories
• Irish toasts •
Irish sausages
•
Irish one liners •
Funny Irish phrases •
Leprechaun pictures •
Funny Murphy's Law
• Irish Logic