A Routine Accident?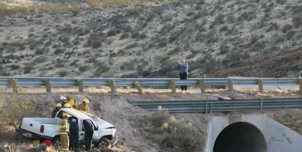 Hang on a minute, let us look at the BIG picture - scroll down.
Phew, of all the lucky escapes, that takes some beating. Unless you know of
a luckier dice with death?
Amusing, Funny and Lucky Escapes
A German teenager accidentally climbed out of a fourth-floor window and
fell 10 metres to the ground where he continued sleeping, albeit with a
broken arm and leg. The 17-year-old had just moved into a new flat in the
town of Demmin, Germany, with his sister.
He went "walking" on Sunday night and climbed out of the window after
stepping on a cardboard box, police said.
2) Could Have Been Worse
At the scene of a road accident in Thailand, a Silver Toyota Van had
driven into the front of a restaurant causing minor injuries to two
customers eating there.
The driver of the van, Khun Giti, aged 40, remained at the scene and
explained that he was travelling from Bangkok to Pattaya alone and fell
asleep at the wheel. Amazingly, Will and Guy have established he crossed
over the central reservation, across three lanes of traffic and slammed into
the restaurant.
Others who saw the van approaching managed to jump out of the way in
time. Khun Giti was arrested and charged with reckless driving causing
injury
3) Funny Fishy Escape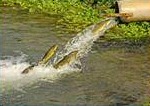 The owners of a trout farm were amazed a photographer caught their fish
making an extraordinary escape on camera.
Wildlife photographer Dennis Bright, 59, captured the aerobatic fish. He
pictured the trout making giant leaps out of their pond into a metal feed
pipe three feet above the water level.
They then fought against the current for 30ft to the end of the eight
inch wide pipe, which emerges underwater in a tributary of the River Itchen
near Alresford, Hampshire, England. He remarked, 'It was an incredible
sight. Swimming against the current is instinctive for trout as they head
upstream to spawn but they are doing a remarkable job getting through that
pipe.'
4) Happy Ending
In the aftermath of yet another devastating car bomb in Iraq, one
bystander stumbled upon this amazing sight: a baby boy lying unhurt in the
wreckage.
Two people were killed and six wounded when the driver exploded his
vehicle near an Iraqi army checkpoint in Mahmudiya, 20 miles south of
Baghdad.
The child, who has not been identified and thought to be about a year
old, was dazed and covered in soot but otherwise unharmed.
Footnote:
Please send us your pictures of lucky escapes.
See more funny warnings and lucky escapes:
•
Funny warnings •
Funny safety pictures •
Safety at work •
Funny health & safety •
Shoot self
•
Funny warning labels •
Silly Labels •
Funny product labels •
Silly Christmas warnings •
Home
• Lucky escapes •
Lucky escape •
Safety PowerPoint •
Funny warning signs •
Accident video clips