Dreaming permits each and every one of us to be quietly and safely insane every night of our lives.

William Dement
Funny Pictures for January
Arctic Winter Wonderland
Cat and Dog Feeding Who Wins? - Free video clip
Children's Letters to God
Cockatoo Video - Head-banger
Dogs Look Like Their Owners
Eagle Rebirth - Inspirational Presentation
Franglais
Funny phrases
Geographic Pictures - Beautiful
How to Clear Snow from Your Car
How to Push Start Your Car - Funny Car Video
Mari Lwyd - Welsh white horse
Ostrich Escapes - Funny photo
Perspective - Interesting photo
Police
Slow - Storm Damage
Shoot Self - Beware AR-50 Rifle!
Willard Wigan Tiny Art
Origin of January
January is named after the Roman god - Janus. Doors and gateways are associated with Janus, hence January is a gateway to the year ahead. It was only in 1752 that January was officially
recognised as the start of the year in England. Before then other dates such as March 25th were used.
While January can be colder than December and the daylight hours are just as
restricted, January days bring hope and expectation, whereas December days
bring only dispair.
Will and Guy have selected pictures that remind us of the New Year and the weeks that follow.
Examples of Our January Pictures
Our aim is to capture the essence of each month with our pictures; in a word January means 'Snow'.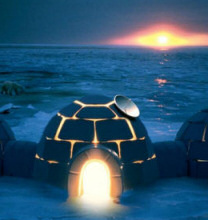 Arctic wonderland at the North Pole. Can you spot the polar bear
in the above wintry picture?
Maeshowe Orkney Isles (Scotland) Cairn built 5,500 years ago

At the winter solstice, the sun is so low in the Orkney islands that it's rays light up the back wall of the cairn. This only happens once a year on the shortest day - weather permitting.
It's fascinating to think how our ancestors not only calculated what would happen, but had the time and patience to construct the aperture.
January Traditions - Mari Lwyd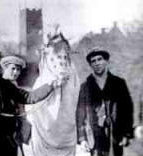 A Welsh tradition with a difference. In a nutshell the Mari Lwyd tradition
is wassail singing par excellence, with mummer animal head costumes, coupled with trick-or-treat menace.
Cat and Dog Fight Over Supper - Who Wins?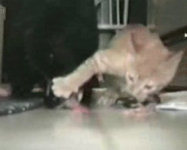 Dogs Look Like Their Owners

See what you
think
Franglais Examples
Parke le char - My tea is cold.
Suivez la piste - Never mind, follow that drunk!
January Special Day Events
1st New Year's Day
1st Kwanzee ends
3rd Festival of Sleep
5th Twelfth Night
5th National Bird Day
6th Epiphany
11th National Milk Day
13th St Hilary's Day (Coldest Day?)
14th Magh Mela and
Kumbh Mela (Indian
festivals)
14/15th Kite Festival India
15th Martin Luther King Day
15th Chosun Gul Day or Korean
Alphabet Day - (North Korea)
19th Popcorn Day
Blue Monday
20th Festival of San Sebastian Spain
26th Australia Day
26th Republic Day India
27th Holocaust Memorial Day
28th Cullinan Diamond discovered (1905)
World Religion Day - Third Sunday in January
Jan Up Helly Aa
See other interesting events that happened in January back
down the years.
See more funny pictures, also jokes and one-liners
•
January • February •
March • April
• May • June • Months • Special
day today
•
July • August
• September • October •
November • December • Pictures Home