Christmas Pictures
Christmas Snow
Christmas Turkey
Funny Christmas Stuff
Global Warming?
Horses Snowball Video
Ice Skating?
New slant on Christmas Reindeer
Santa Claus Pictures
Right
Present?
Rudolph's Red Nose
Snowmen - What are they doing?
Xmas Animation
Examples of Will and Guy's Christmas Humor
True Story - Rudolph loses his sparkle
A plastic reindeer in a South African shopping mall's
display lost the shiny golden Christmas tree baubles hanging between its hind legs after complaints from shoppers.
Stages of Christmas
When you consider Christmas, there are four stages in your life:-
1) You believe in Santa
2) You don't
believe in Santa
3) You are Santa
4) You look like Santa
Funny Christmas Cartoon Picture
Christmas Warnings
19 people have died in the last 3 years believing that Christmas decorations were chocolate.
31 people have died since 1996 by watering their Christmas tree while the fairy lights were plugged in.
Two Funny Looking Christmas
Trees From Moscow (Left) and Venice (Right)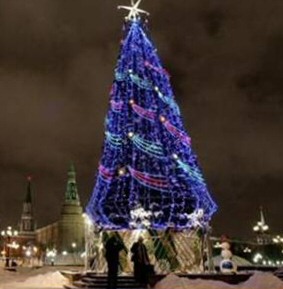 Santa Claus, the Tooth Fairy and an Honest Lawyer
Santa Claus, the tooth fairy, an honest lawyer and an old drunk are walking down the street together when they simultaneously spot a hundred dollar bill. Who gets it? The old drunk, of
course, the other three are mythological creatures.
Christmas Humor - Cracker Riddle
What did the reindeer say before launching into his comedy routine?
This will sleigh you.
Q. What's
Christmas called in England?
A. Yule Britannia! (English Christmas Humor!)
Disappointment
f his
s Your Neigbourhood
See more funny pictures of Santa's sleigh
School Nativity - Urban Myth
The boy who was playing the Inn Keeper was fed up of his insignificant role, so when Joseph knocked and asked if there was any room in the inn. Instead of saying '
No'
as he was
supposed to, the young prima donna said, 'Come in Joseph and Mary, there is plenty of room in my inn.'
Sketch of Santa's Footprint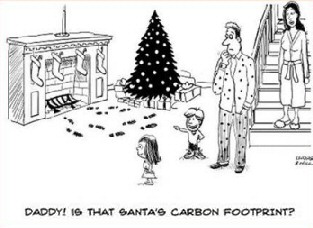 P.S. Please write to Will and Guy if you have any funny Christmas pictures.
See more funny Christmas pictures of trees and snow:
∗ Snow pictures
∗ Funny snowmen ∗
More snowmen pictures
∗ Snowballs
∗ Santa sculptures
∗
Cute Christmas trees
∗ Funny Christmas trees
∗ Unusual Christmas
trees ∗ Snow plough
∗ Funny Christmas pictures ∗ Animated Christmas
Cards ∗
Funny Christmas cartoons
∗ Home