Funny Sheep Video
Chinese New Year
2015 - Year of the Sheep
Shaun the Sheep
Shaun the Sheep is a cult TV programme that is sweeping the UK. It is rare that program, which is ostensibly designed for children, is loved by adults. Such programs only come around once in a
generation.
For me, the first T.V. programme designed for kids but loved by grown-ups was the legendary Magic Roundabout. The 1960's original was in French and starred Dylan, Florence and
Zebedee. However, Shaun the Sheep matches the Magic Roundabout as a programme guaranteed to put you in a good mood, yet leave you with something to think about.
Let us get into shape with Shaun
- (Also featured on ewe tube).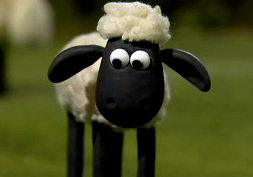 If you live in the UK, then set your TV to BBC. Else, check out Shaun's site
The Sheep That Thinks She's
a Dog
A Welsh farmer says
that his pet sheep thinks she's
a sheepdog. Emlyn Roberts saved Rolo from death as a lamb and has since raised her at home with his
sheep dogs.
Rolo enjoys being taken for a walk on the lead, and also watching TV with her master, reports the North Wales Daily Post. She has even started herding with her sheep dog mates, although so far she's
only
been let loose on ducks.
Emlyn, of Pentir, Bangor, Wales, said, 'She is growing up exactly like a dog. You can tell she thinks of herself as a dog. You could have some real fun with her at Crufts
dog show. She can jump
through hoops and slide down a ramp just like the dogs. She's a very intelligent sheep - not like any other sheep at all. She sometimes comes into the house and sits there watching TV with us. She eats
absolutely anything you put in front of her. What she really likes is nuts. But anything you put down for the dogs, she'll help herself. She's
more than happy to eat dog food.'
I Bet This Sheep is Heavy
When it Rains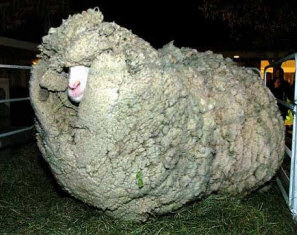 If someone wants a sheep, then that means that he exists. Antoine de
Saint-Exupery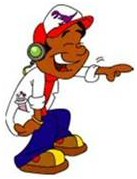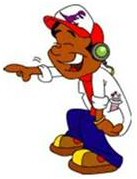 What did one sheep say to the other sheep?.....................
'After ewe.'
An Hilarious and Funny Sheep Story from Will and Guy
Martha and the Vicar:
The Reverend Maurice Bowler, a children's minister, was talking in Sunday
School at St Jude's, Southsea, about the 23rd Psalm.
Maurice told the children about sheep, that they weren't clever and
needed lots of guidance, and that a shepherd's job was to stay close to the
sheep, protect them from wild animals and keep them from wandering off and
doing dumb things that would get them hurt or killed.
Maurice pointed to the little children in the room and said that they
were the sheep and needed lots of guidance. Then Maurice put his hands out
to the side, palms up in a dramatic gesture, and with raised eyebrows said
to the children, 'If you are the sheep then who is the shepherd?' He was
pretty obviously indicating himself.
A silence of a few seconds followed. Then Martha, a young pupil,
exclaimed, 'Jesus! Jesus is the shepherd!'
Maurice, obviously caught by surprise, said to the youngster, 'Well then,
who am I?'
Martha frowned, thinking hard, and then said with a shrug, 'Well, I guess
you must be a sheep dog.'
Funny Old Goat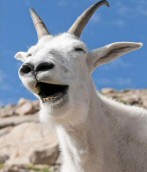 Fly The Sheepdog: A Short Funny Tale
Jerry the shepherd sent Fly, his trusty sheep-dog, out to gather and
count the flock to make sure none were missing.
Fly returns twenty minutes later and tells Jerry and says that there are
40 sheep.
Jerry splutters, '40? I only had 38 to begin with.'
Quick as a flash, Fly answers, 'Yep, but you told me to round
them up.'
Sheep takes a drink; notice that it appears to be standing on a box!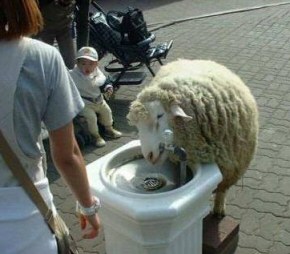 Why did Bo-Peep lose her sheep?
She had a crook
with her.
Footnote:
Please send us your funny sheep pictures.
See more funny animal pictures and amusing videos
•
More mammals •
Ferret •
Funny cow pictures •
Cow car ride •
Funny bull stories •
Rabbit
•
Hedgehogs •
Fox •
Otter video •
Seal pictures •
Mole •
Cats •
Rory & Millie
• Funny sheep pictures •
Sean the Sheep •
Goat stories and jokes •
Funny pigs •
Animals Index