It takes hundreds of nuts to hold a car together, but it takes only one
of them to scatter it all over the highway. Evan Esar
Black Humour - Funny
Accident Picture of Car Crash
Perhaps the car should have been a black model. I guess this was literally an accident waiting to happen. A car just had to crash into one of those 'Thank you for driving carefully'
signs.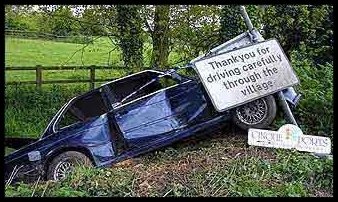 James McGregor writes in saying the
car is a BMW 325i Coupe (otherwise known as the 'Individual'), manufactured
between 1992 and 1993.
The eagle eyed amongst you may also spot CinQue Ports on the signpost. The original CinQuePorts were, Sandwich, Dover, Hythe, Romney and Hastings. Two more towns, Rye and Winchelsea were later added.
Naturally, the country is England.
What To Do About Cars Speeding
In Your Village?
The local council could not
afford a speed camera, so they put up a sign saying:
Slow down Old People's
Home. - It had no effect.
At the next meeting the decided to play on the paternal instincts and put up a sign:
Danger - Children at Play. - No discernable reduction in traffic speed.
Then the chairman had a brain-wave and suggested they try a sign with:
Nudist Colony. - As a result of the Nudist
Colony notice, white vans and lorries crawl
thought the village.
Signs
Like This Cause Accidents Like the Above
Ambiguous signs may be more common than you think - keep
your eyes open for confusing signs on your driving routes.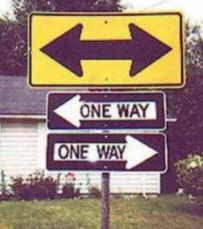 Confusion In Any Language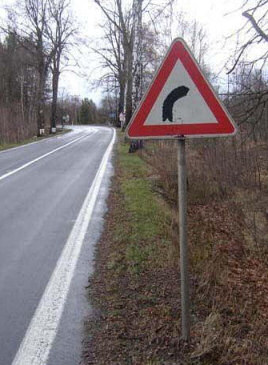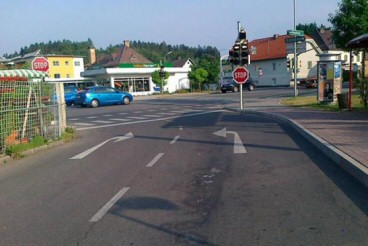 See more funny road signs
Accident - Twinned
With Calamity?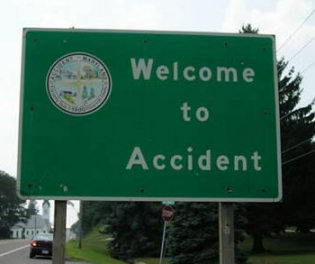 Welcome to Accident!
Chancers - Drivers Who
Go for the Impossible Gap
There always those motorists who take a chance, go for a gap. Sometimes the gap disappears with disastrous consequences. I do believe that this photograph is taken in Manchester. Moreover, the
car is caught between two trams, hence neither tram driver could swerve to avoid the collision.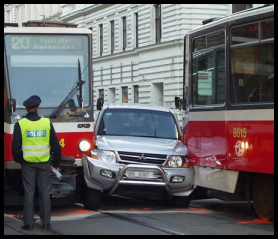 Pauline and Guy have recently returned from a holiday in Prague and
therefore we can identify this picture as being from near the centre of
this most interesting city. Once again, there is an indication
that it's a woman driver. Incidentally, Prague is the only place
where we have been on holiday where Pauline said, 'Guy please don't hire
a car'.
Footnote:
Please send us your funny car crash
picture.

Hilarious Tale of a Woman Driver: With a Happy Ending
A woman driver ended up parking her car in the roof of this Italian house
after she forgot to put on the handbrake. Maria Rizzo, 34, stopped to
admire the spectacular view from the street above the house in Alassio, on
the Gulf of Genoa in northern Italy.
Will and Guy heard that she was so intent on taking a photograph that she
forgot to put on the handbrake, and her car rolled away, smashing through a
barrier and plunging down the hill onto the house below.
The Fiat Panda broke through the roof and landed in the bathroom, with
the front end wedged in an iron bath which broke the fall and stopped the
red car plunging further into the house.
A police spokesman remarked to us, 'Luckily no one was home at the time,
so nobody was hurt, but the owner of the property did have a surprise when
they arrived home.'
No doubt we say. Picture: CEN
Not Speeding Fast Enough?

Don't
Swear at Other Drivers
Eddie was driving down the road and a met a car coming the other way.
Although there was room to pass easily, Eddie forced the oncoming car to slow down and wound down his window and shouted '
Pig'. The other driver looked in his rear view mirror and swore at Eddie.
Then his car hit the pig.
Strange But True Tale
About a Truck Driver
A Chinese lorry driver, whose vehicle was wrecked in an accident, bought a
crash helmet and attempted to carry on his journey. A police patrol stopped the
badly damaged, speeding, truck as it weaved from side-to-side on a motorway
outside Wuhan city. Officers were flabbergasted when they saw the driver wearing
his crash helmet in the crushed shell of his cab. A police spokesman commented,
'We signalled the driver to stop immediately, and he told us he had to continue,
since he was under contract and had a very tight
schedule.'
The driver, Mr Zhao, of Wuhan city, told them he had an accident not long
after setting off to deliver vegetables to Hunan province, 'I found the truck
was still functional, so I bought myself a helmet and continued,' he told the
Changjiang Business Daily.
Footnote:
Please send us your funny picture of a car
crash
See more funny car pictures, also car jokes
•
Funny car pictures •
Accident Pictures •
Rocket car •
Car crash •
Car safety •
Funny police cars
•
Ferrari? •
Phone? •
Road signs •
Car fans •
Car wash •
Driving Joke •
Funny speeding pictures
•
Funny driving jokes •
Car jokes •
Petrol pump •
Funny car insurance claims •
Petrol prices