Will and Guy have discovered that more than 200 people are killed at work
in the United Kingdom each year.
In 2011, 33 million working days were lost in the UK to occupational ill
health and injury, imposing an annual cost to society of £37bn [more than 3%
of GDP]. These are financial 'Health and Safety Executive' figures.
However, we also should be concerned with the personal effects poor safety
has on people and their families.
The Pictures of
This Painters 'Go Through' Me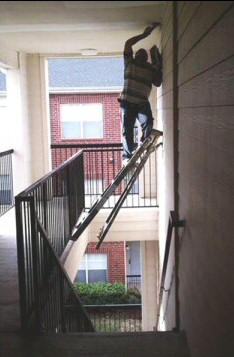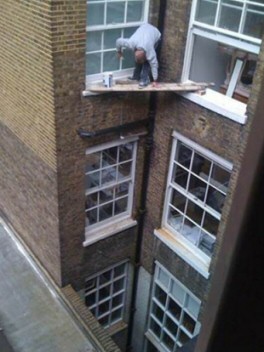 While I am a bit of a chancer, I always like to have a way out if
disaster strikes. However, the above pictures makes my flesh creep.
It is estimated that in Ireland that workplace accidents now cost the
Irish economy €1.6 billion every year.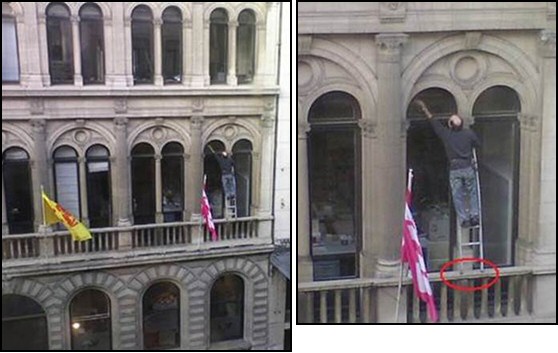 Painter or Tight-rope Walker?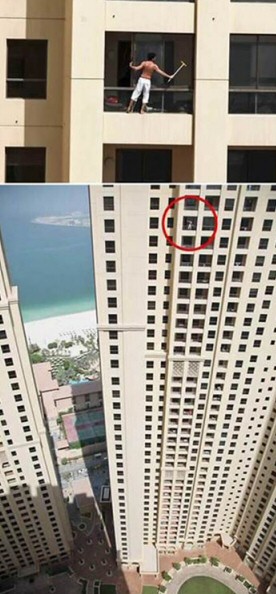 Kindly sent to us by John Reeves and by David Foley. Our thanks to them
both.
How to Wear Your Safety Helmet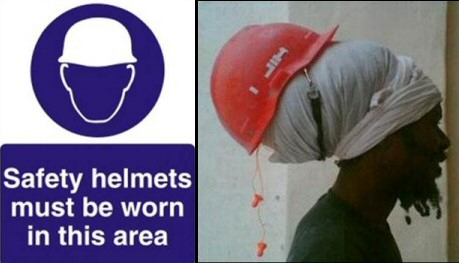 Bob's Hard Hat Saga
Bob, a new health and safety officer went into the works canteen on the
construction site for the first time for a cuppa, he hung his coat and hard
hat in the cloakroom and sat down. Unfortunately, the scaffolders always had
a habit of picking on new employees, which he was. When he finished his
drink, he found his hard hat had been stolen.
Bob strolled back into the
canteen, handily flipped his clip board into the air, caught it above his
head without even looking and slapped it down hard onto the table, 'Bang!'
'Which one of you pole jumpers stole my hat?' he yelled with surprising
forcefulness.
No one answered.
'Alright, I'm gonna have another cuppa, and if my hat ain't back outside
by the time I finish, I'm gonna do what I did in London! And I don't
like to have to do what I did in London!'
Some of the scaffolders shifted restlessly. Bob, true to his word, had
another cuppa, walked outside, and his hard hat has been returned to the
cloakroom.
He started to go back to his office. The site foreman wandered out of the
canteen and asked, 'Oi mate, before you go... tell me, what happened in
London?'
Bob, the safety officer, turned back and said, 'I had to buy a new hat.'
Woops!
A warning on an electric drill made for carpenters cautions:
'This product not intended for use as a dental drill.'
Footnote:
Please send us your funny painter and
decorator pictures.