We have a collection of funny
no parking signs from streets, lanes, and even on the water!
The Last Word in No Parking Signs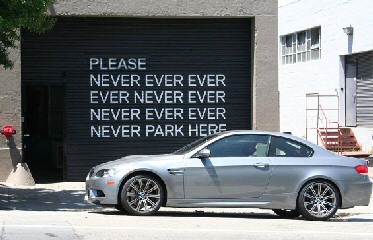 New, Improved Parking Lot
With the high rate of attacks on women in secluded parking lots,
especially during evening hours, the Melbourne City Council, Australia has
established a "Women Only" parking lot.
Even the parking lot attendants are exclusively female so that a
comfortable and safe environment is created for patrons.
Please see below for the first picture available of this world-first
parking lot in Australia: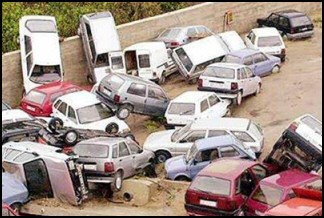 Funny Parking Signs - For
Boats!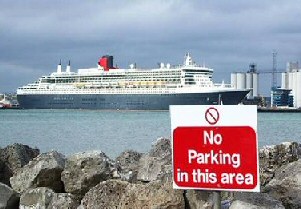 What do you do if you see a space man?
Park in it - man!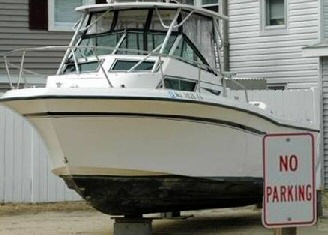 Absolutely No Bottom Washing Permitted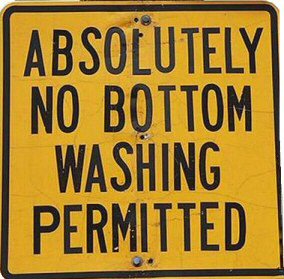 Where did the above notice really come from? A laundrette? A street in
Washington?
The truth: This sign was seen at a boat launching ramp in Hingham, Massachusetts,
USA.
Whitebeam 'No Parking' Tree
A newly discovered species of tree has been named 'No Parking'. What
happened was the National Museum of Wales set about finding new species, or
sub-species of trees. They discovered a new whitebeam and named it 'Sorbus
no parking'.
The team did not confine their search to Wales and they found this new
tree growing in a layby at Watersmeet in North Devon, UK. As this was
a layby, a local official had once nailed a 'No Parking' sign to the trunk
of this particular tree.
When they listed the no parking whitebeam in Watsonia, the official
journal of the Botanical Society of the British Isles, they chickened out
and called it Sorbus admonitor (Admonish tell-off).
Two anniversaries coincided with this search for new species in March
2009, the bicentenary of Charles Darwin's birth and the 150th anniversary of
the publication of his seminal work 'Origin of the Species' in 1859.
Parking - For Trees?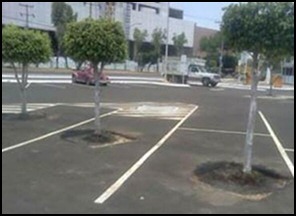 Incongruous Flood and No Footway
Sign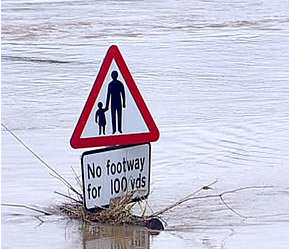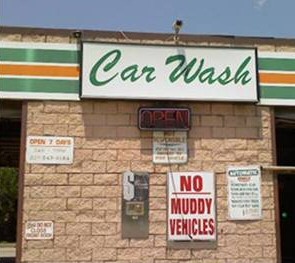 It never rains, but it pours.
Not So Funny Parking Notices
All give and no take.
As nurses in a National Blood Service van were taking blood from volunteer blood
donors, so a jobsworth was issuing a parking. The parking attendant informed the
amazed driver that he did
not have permission to be in a parking bay. One anonymous donors said
he had been giving blood in the same spot for 4 years without trouble.
Zero public spirit.
Yellow Line Fever.
Mike Fox of Salisbury Road, West Ealing, London, kindly agreed that contractors
could move his car so that they could paint yellow lines. A waiting
traffic warden pounced and issued a parking ticket in the spot where the
contractors had parked Mike's car.
One morning
Michael Dickinson of Hendon, parked his car perfectly legally. The road
had never had any parking restrictions. However, when he returned in
the afternoon, he could see that a yellow line had been painted up to his car,
and furthermore a warden had slapped a parking ticket
on his windscreen.
Zero sense of natural justice.
Would Parking Be The Only Thing You CAN Do?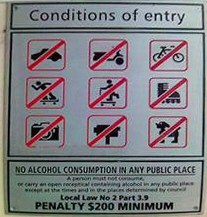 See more funny church signs.
No Parking Yourself on The Floor!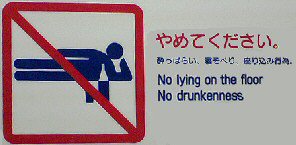 Will and Guy's Top Ten Fun Quotes About Parking which Set You
Thinking
A real patriot is the fellow who gets a parking ticket and rejoices
that the system works. - Bill Vaughan
I don't believe in angels, no. But I do have a wee parking angel.
It's on my dashboard and you wind it up. The wings flap and I''s
supposed to give you a parking space. It's worked so far. - Billy
Connolly
I don't even know how to use a parking meter, let alone a phone box.
- Princess Diana
Probably the single most important thing about the Nobel Prize for
most people is whether they get the coveted parking space on campus.
- Saul Perlmutter
I love eating in it, brushing my teeth and swallowing the toothpaste
in it. I love punching the ceiling with my fists when I'm lost or I
can't find a parking space. - Laura Kightlinger
Restore human legs as a means of travel. Pedestrians rely on food
for fuel and need no special parking facilities. - Lewis Mumford
Too many children are being parked in substandard day care with
workers who make little more than a parking attendant. - Bill Nelson
When Solomon said there was a time and a place for everything he had
not encountered the problem of parking his automobile. - Bob Edwards
You know, somebody actually complimented me on my driving today.
They left a little note on the windscreen; it said 'Parking Fine.' -
Tommy Cooper
In some Chicago neighbourhoods, looking for a parking space is not
unlike panning for gold.- Gary Washburn
Parking Meter - Funny Joke
On a visit to Boston, I noticed a parking meter with a paper sack over it
upon which was written: "Broken."
A sceptical parking officer removed the bag, inserted a quarter in the
meter and turned the dial. It worked perfectly. As the officer began to
write a parking ticket, the car's owner rushed out of a nearby building.
'What are you doing?' he yelled after a quick glance at the meter.
'There's plenty of time left!'
Original written by Thomas Ellsworth
Bollards!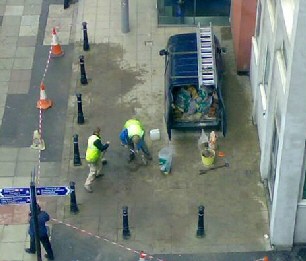 Picture kindly sent in by Maurice O'Brien. We would love to see how
those busy workmen moved that parked van!
No Trespassing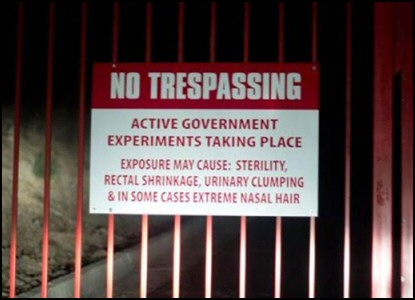 Exposure may cause: Sterility, rectal shrinkage, urinary clumping and in
some cases, EXTREME NASAL HAIR!
Footnote:
Please send us your funny no parking signs.
See more pictures of funny road signs, featuring
cars and street notices
•
Funny traffic signs •
Funny road signs
• Funny road signs UK •
Funny animal road signs
• Pictures of stupid signs •
Funny car pictures •
Dyslexic signs •
Funny garbage •
Funny signs
• Pointless signs •
Funny street signs •
Funny no parking signs •
Parking yellow lines
• 'No' signs