Some people who have kittens go on to lead normal lives.
Funny Kitten Pictures, Stories and Jokes
Kitten Boxing
Close Shave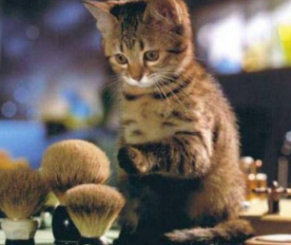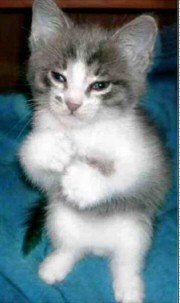 Close shave, or shadow boxing?
Lovely Kittens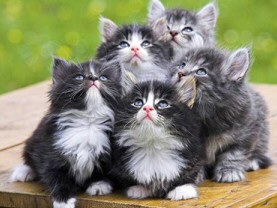 Kitten - Just Hanging Around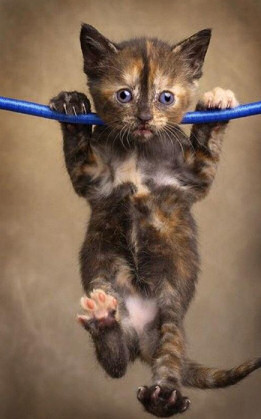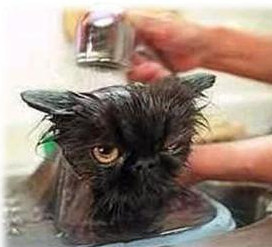 My What a Big Tongue You Have!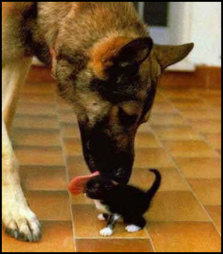 Peek-a-Boo Kittens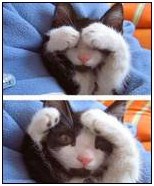 Snow Kitten!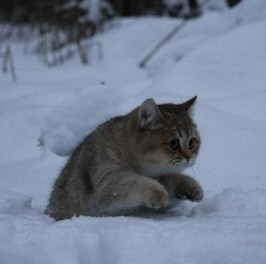 More
Funny Kitten Pictures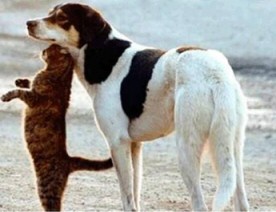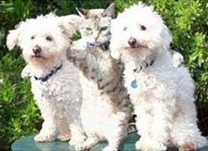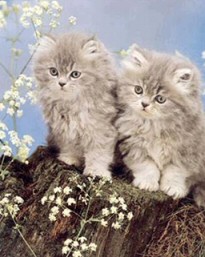 What Have We Here? Puppies or Kittens?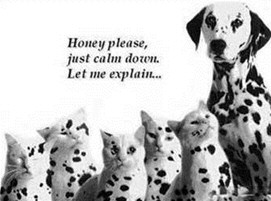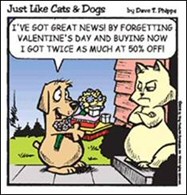 More Amusing Pictures of Kitties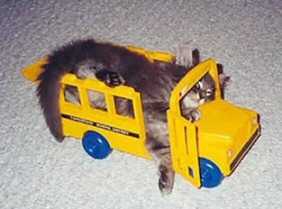 Funny Swimming
Cat

Will and Guy are able to bring you a cat which enjoys a dip
in the pool.
A cat in Australia is defying its species' famous dread of water by
taking regular dips in a swimming pool. This one, which has the unusual
name of Prinny, is a Persian cat and regularly joins canine friend Bandit,
the blue heeler, at the "Doggy Paddle Swim Centre" in Rosebud, Melbourne.
The paddling pooch has regular swimming sessions in order to help treat
a bad back. Prinny, however, has no such ailment and apparently takes to
the water simply for the fun of it.
Doggy Paddle owner Jacque Olsen told us, 'I've never seen a cat swim
before. Bandit came here with a bad back and his owner said the cat swims
with him at home, so Prinny hopped in the pool with him next time he
came.'
Jacque originally set up her unique swim centre, which boasts a
8m x 2m lap pool, for her Staffy cross ridgeback Ubud, whose back legs
became paralysed after he suffered an embolism. 'After six months of
swimming Ubud was walking again,' she said.
Today, the Doggy Paddle swim centre has 150 dogs on its books and, of
course, one cat.
Bug-eyed Kitten?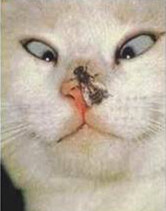 Footnote:
Please write to Will and Guy if you have funny
kitten pictures.
Joke of the Day Email
Get a clean joke delivered to your inbox every
day, no strings attached, just part of our service. Free
subscription to
our Funny Joke of the Day email.
We have over 1,500 pages of funny pictures, clean jokes, stories and amusing videos. Please use the Search below to find a topic of particular interest:
Thought of the Day Subscription
Our offer is to email you an inspirational
'Thought of the day'. Your subscription is completely free of cost and there
are no adverts. Sign up for our 'Thought of
the Day'.
See more funny cat stories, pictures and videos
• Funny cat pictures •
Funny cats video •
Funny Christmas cats •
Funny Halloween cats
•
Funny cat stories •
Cat flush •
Funny kitten pictures •
Dog & cat play •
Cat gets cream
•
Funny cat sayings •
Funny lolcat pictures •
Funny cat dog pictures •
Cats party •
Cat Nap