A notice on a carpenter's electric drill:
'This bit is not intended
for use in a dental drill.'
Funny Health and Safety Pictures
Safety PowerPoint
Presentation
Health and Safety -
Some Funny Anomalies
Good health and safety practice was all about 'exercising judgement',
safety adviser said.
'People in authority such as councillors and managers need to be much
more "risk literate" or "risk intelligent". And third partiers such as
clients, funders or insurers need to avoid requiring people to do things in
the name of "elf 'n' safety" which are not actually required by the law.'
Having been told this; Will and Guy decided to seek out some unusual and
strange examples for your enjoyment. We think that these examples show a
certain lack of ability in the risk assessment area.
Our Top
10 "Bizarre Bans" for Health and Safety Reasons
Wimbledon's "Henman Hill" closed because it was wet.
Dodgem cars bumping into each other at Butlins pleasure park in
Skegness.
Royal wedding street parties.
Removal of an unwanted TV from a pensioner's home for recycling.
Carnivals with fancy dress parades.
Kite flying on a popular tourist beach in east Yorkshire.
Pupils playing on playground monkey bars in Oxfordshire.
Using pins to secure commemorative poppies.
School football games - unless the ball is made of sponge.
Children taking part in a sack race on sports day.
Source: Health and Safety Executive
Amusing Health and Safety
Snippets
A dishwasher displays this warning:
'Do not allow kids to play inside
this dishwasher.'
A tram carrying 3 passengers in Cleveland Ohio was hit by a lorry.
However by the time a police car arrived, 12 pedestrians had boarded the
tram and had begun to complain of whiplash injuries.
What do you get if you put down a dozen Safety Officers in your basement? - A
whine cellar.
Sign on the back of an electrician's van:
Let Us Get
Rid of Your Shorts.
Funny Health and Safety Pictures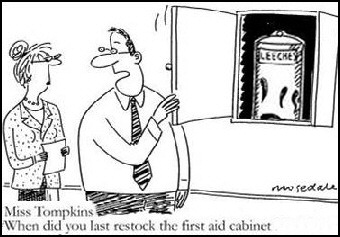 Don't Miss Electrical Safety Day!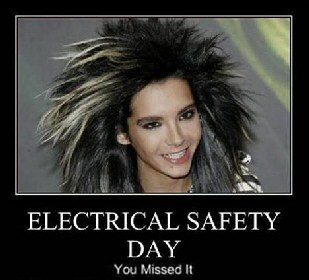 We have to scotch a rumour that the next health and safety day is on
Friday 13th September 2013, actually it's April the 28th every year.
Health and Safety: Reasons Kids' Don't Play Hide'n Seek Anymore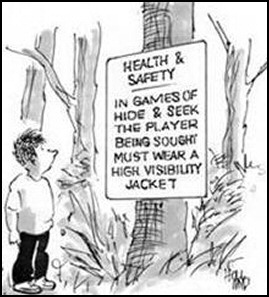 Reasoning of Health and Safety Expert
One health and safety expert told us that the law required people to
approach risks in a balanced and proportionate manner.
'Overzealousness about trivial risks gives health and safety a bad name
but there are actually many more cases where people are under-hitting,' we
were told by an occupational safety adviser for the Royal Society for the
Prevention of Accidents. [RSPA –UK]
Elf'n Safety - Not Just For Christmas?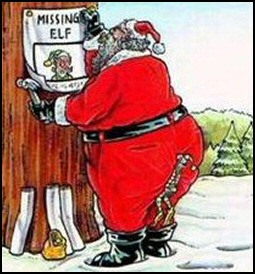 Footnote:
Please send us your funny health and safety
reasons.