Jewish jokes for Hanukkah, which is also known as Chanukkah
or Menorah.
Clean and Funny Jokes for Hanukka
The Grandmother: a Funny Story
Last year, just before Hanukkah, Miriam, a grandmother was giving
directions to her grown up grandson who was coming to visit with his wife.
'You come to the front door of the condominium complex. I am in apartment
2B.'
Miriam continued, 'There is a big panel at the door. With your elbow push
button 2B. I will buzz you in. Come inside, the elevator is on the right. Get in, and with your elbow hit 2. When you get out I am on the left. With
your elbow, hit my doorbell.'
'Grandma, that sounds easy,' replied Jonathan, the grandson, 'but why am
I hitting all these buttons with my elbow.'
To which she answered, 'You're coming to visit empty handed?'
Stamps At Hanukkah: A Droll Tale
Mary goes to the post office to buy stamps for her Hanukkah cards and she
says to the cashier, 'May I have 50 Hanukkah stamps?'
The cashier says, 'What denomination?'
Miriam says, 'Oy vey, has it come to this? OK, give me 6 Orthodox, 12
Conservative, and 32 Reform.'

The Amusing Story of the 2 Sweaters
My mother once gave me two sweaters for Hanukkah. The next time we
visited, I made sure to wear one.
As we entered her home, instead of the expected smile, she said, 'Aaron,
what's the matter? You didn't like the other one?'
Rudi, The Village Rabbi: A Short Joke to Laugh At
It was Hanukkah and the tiny village outside Budapest in Hungary was
frightened that they may not have any latkes [pancakes] because they had run
out of flour.


Rudi, the Rabbi, was called upon to help solve the problem. He said,
'Don't worry, you can substitute matzo meal for the flour, and the latkes
will be just as delicious.'
Sarah looks to her husband and says, 'Samuel, you think it'll work?'
'Of course,' Samuel replies, 'Everybody knows Rudolph the Rab knows
grain, dear.'
If Your Computer were Jewish
Your "Start" button would be replaced with a "Let's go. I'm not getting
any younger" button.
Year 2000 problems are replaced by "Year 6000" problems.
Hanukkah
screen savers will have "Flying Dreidels".
Your PC shuts down
automatically at sundown on Friday evenings.
After your computer dies,
you would dispose of it within 24 hours.
Internet Explorer would now have a spinning "Star of David" in the upper
right corner.
See more clean but funny
Jewish jokes.
Funny Hanukkah One-liners
Most Texans think Hanukkah is some sort of duck call.
- Richard Lewis
I once wanted to become an atheist but I gave up ...
they have no holidays. - Henny Youngman
My father never lived to see his dream come true of an
all-Yiddish-speaking Canada. - David Steinberg
God, I know we are your chosen people, but couldn't you
choose somebody else for a change? - Shalom Aleichem
The remarkable thing about my mother is that for 30
years she served us nothing but leftovers. The original meal has never
been found. - Calvin Trillin
Let me tell you the one thing I have against Moses.
He took us 40 years into the desert in order to bring us to the one
place in the Middle East that has no oil. - Golda Meir
Even a secret agent can't lie to a Jewish mother. -
Peter Malkin
Don't be humble; you are not that great. - Golda
Meir
Bankruptcy is a legal proceeding in which you put your
money in your pants pocket and give your coat to your creditors. -
Sam Goldwyn
God will pardon me.
It's His business. -
Heinrich Heine
A Tree for Christmas
Admiring the Christmas trees displayed in his neighbour's windows, Nathan
asks his father, 'Daddy, can we have a Hanukkah Tree?'
'What? No, of course not.' says his father.
'Why not?' asks Nathan again.
Bewildered, his father replies, 'Well, Nathan, because the last time we
had dealings with a lighted bush we spent 40 years in the wilderness.'
See more funny
religious Christmas jokes.
Hanukkah - A Jewish Special Occasion
Hanukkah is a Jewish holiday celebrated for eight days and nights. It
starts on the 25th of the Jewish month of Kislev, which coincides with late
November - late December on the secular calendar.
In Hebrew, the word "hanukkah" means "dedication." The name reminds us
that this holiday commemorates the rededication of the holy Temple in
Jerusalem following the Jewish victory over the Syrian-Greeks in 165 BCE
[Before the Christian Era]
Menorahs Cause 10% More Fires in Jerusalem
Many Jews light menorahs, but sometimes too close to the drapes. Fire
department spokesman Asaf Avres says the menorahs children make in
kindergarten often topple over, posing another fire threat.
He says Hanukkah is typified by a jump of 10 to 15 percent in house
fires.
Firefighters released safety guidelines for the eight-day holiday, which
began Wednesday. They recommend keeping fire extinguishers or buckets of
water close at hand.
Here Are the Secular Dates for Hanukkah
2010 December 1st to December 9th
2011 December 20th to December 28th
2012 December 8th to December 16th
2013 November 27th to December
5th
2014 December 16th December 24th
NB. The Jewish calendar date begins at sundown of the night beforehand,
Will and Guy have learned. Thus all holiday observances begin at sundown on
the secular dates listed, with the following day being the first full day of
the holiday. Jewish calendar dates conclude at nightfall.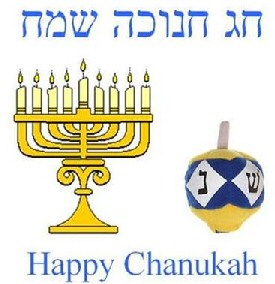 Footnote
Will and Guy are keen to learn more about
Hanukkah, so please send us your stories and interesting information.
See examples of international jokes, humour and funny pictures ....
•
Ramadan Humour •
Diwali jokes •
Jewish jokes •
Rosh Hashanah •
Yom Kippur •
Hanukkah
•
World-wide jokes •
French jokes •
Franglais examples •
Speak Chinese •
Funny Chinese jokes
•
Speak New Zealand •
Australian jokes •
Funny Australian stories •
Canadian jokes •
Clean joke