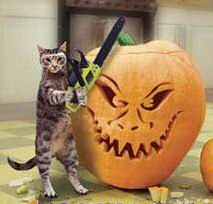 Funny Haloween Pictures -
Witches
Don't Drink and Fly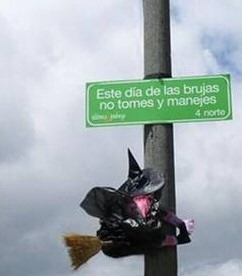 School Logo - Witch on a Broomstick
The flying witch appears on the pupils' sports kit and uniforms of Warboys
Community Primary School and has been used for the last 60 years. However, Will
and Guy have discovered that some pupils and even some teachers have avoided the
school because of this 'scary' logo. Opinions in the village are running high
and over 1000 signatures have been obtained on a petition to keep the historic
emblem.
The historical background to the witch motif is that Warboys is the last
recorded place in England where witches were hanged. Apparently Alice Samuels,
her husband John and her daughter Agnes were executed in 1593 after being
accused by a 10-year-old girl, her four sisters and servants of causing them to
have fits.
A spokesperson has stated, 'Witchcraft and Haloween does not form part of
the school curriculum and is something schools go out of their way to avoid. The
school is aware that some parents choose not to send their children to Warboys
and cite the witch as one of the reasons why.'
Martin Kelsey, the head teacher responsible for improving standards at the
school, admitted, 'From the villagers' point of view, it's an emotive issue,
because they are very, very proud of their history.'
However, we have learned that the school governors seem determined to get rid of
the logo as part of measures to give it a "fresh start" after poor inspection
reports.
Funny Haloween Ghost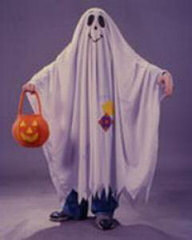 Recession Hits Haunted Houses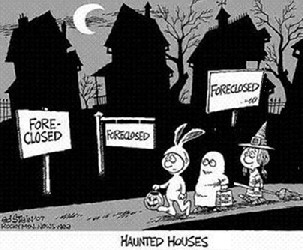 A Motley Collection of Haloween Characters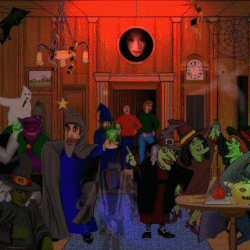 Funny Haloween Costume for Warlock (Wicca)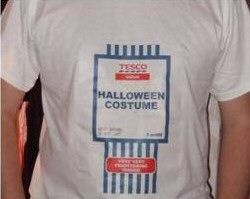 Sick Pumpkin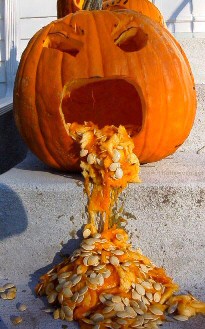 Please send us your funny haloween pictures
See more funny Halloween jokes, also clean pumpkin jokes
• Home •
Clean Halloween jokes
•
Funny Halloween pictures • Pumpkin
jokes •
Jack-o-Lantern
•
Short Halloween stories
for kids •
Halloween games for kids •
Animations •
Graveyard humour
•
Funny Halloween stories
• Halloween cats • Ghost
story • Coven of witches •
Trick or Treat