Everyone has their favourite tipple at Samhain, see our pumpkin beer, witches
brew and Dracula's cocktail.
Pumpkin Beer for Halloween
We have come across a pumpkin beer which sounds just the job for a
Halloween celebration. This is apparently a seasonal Harvest Time Pumpkin
Ale, brewed by 'Big Boss'.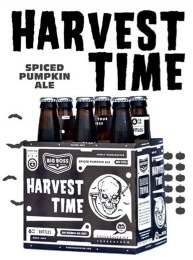 Will and Guy can reveal that the quote on the beer reads: "Harvest Time
Pumpkin Ale is a subtly-spiced, fall ale brewed with real pumpkin that will
evoke memories of holidays and family."
Although some brewer's only use pumpkin spice in their pumpkin ale, Big
Boss uses real pumpkin as well as a blend of spices. Though they have not
revealed their blend of spices to us, we think it is likely something with
some form of cinnamon, nutmeg, or allspice.
Guy Drank 'One Over the Eight' Pumpkin Ales?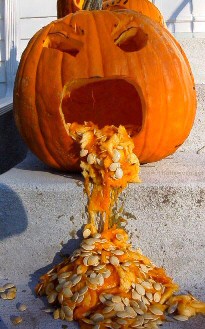 For the morning after, why not try one of Harry Cradock's cocktails?
We can recommend his 'Corpse Revivers'.
Funny Drinks at Halloween
- Witches Brew
Witches make wicked brews especially at Halloween. Think of
Shakespeare's Macbeth.
Round about the caldron go;
In the poison'd entrails throw.
Toad,
that under the cold stone,
Days and nights hast thirty-one
Swelter'd
venom sleeping got,
Boil thou first i' the charmed pot!
Double, double toil and trouble;
Fire burn and caldron bubble.
But Remember: NO
Drinking
and Flying After a Witches Brew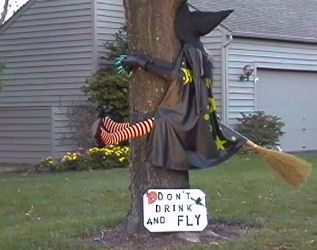 Halloween Chandelier
Schnapps is the official spirit of Halloween, by decree of Samhain.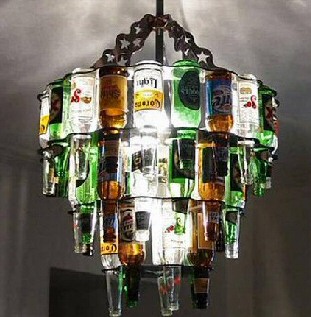 An elevator makes ghosts happy because it lifts their spirits.
Pub Names Can Provide Protection at Halloween
Masons building a church in the Middle Ages, says Will, would have stayed
probably at a local inn and many pubs took ecclesiastical names upon
completion of the place of worship.
The ones rebuilding St Bride's church after the Great Fire of London
[1666] stayed, for example, in the Old Bell in Fleet Street. Bells were believed to have magical powers, protecting against evil
spirits and lightning.
Get In The Spirit
Of All Hallows With Spooks Ale
Ghostly Guest Beer in UK Pub
Ale drinkers in the Duke of Buckingham, Old Portsmouth, UK are being
challenged to try something spooky this Halloween - if they dare.
The eerily tasty Spooks Ale from Shepherd Neame will be available in
bottles and cask from mid-October. The Official Ghost Brew of All
Hallows, Spooks Ale offers a rich and spicy taste, with a fruity and
biscuity aroma. According to the blood-spattered, parchment-like label, the
4.7% abv beer contains "Gall of Shepherd, Slip of Neame, Silver'd in the
Kent's Moon Dream."
Shepherd Neame is used to ghostly goings-on, as one might expect from
Britain's oldest brewer. Spectral sightings at the historic Faversham
brewery have included a feline phantom walking through reception and a
ghostly group of monks haunting an old malt kiln.
Before today's urban noise, bells ringing out to summon the faithful to
prayer or sounding curfew would have been far more noticeable. No wonder
names like Bell, Old Bell, Six
Bells and Eight Bells are so often seen.
The Bucket of Blood
There is also a pub called the Bucket of Blood in Cornwall. Now the
only pub in England with the name, the Bucket of Blood refers to an episode
some 200 years ago when the landlord went outside to draw water from the
well. Pulling up the pail, he found the water to be bright red, as a corpse
has been thrown down the shaft.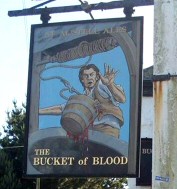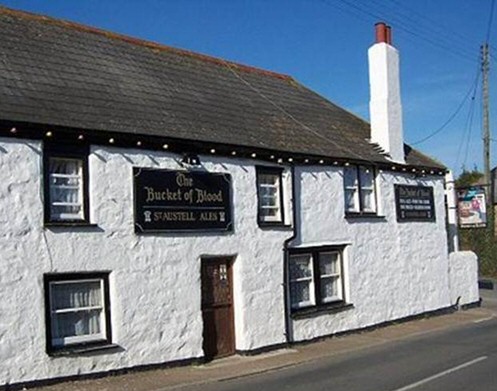 It is claimed to have been a revenue officer who was investigating
smuggling activity, though the truth will never be known. The famous
incident is featured on the pub sign, which creaks menacingly on its pole
beside the small, whitewashed cottage. The pub looks much the same as
it has for centuries; inside, the bar-room is low-ceilinged and is cosy.
Now there's a pub to have a drink at Halloween say Will and Guy.
The Bell Inn
One room at this pub at Castle Hedingham, Halstead, Essex, UK, is said to
be haunted by a young girl with black hair that has been known to suddenly
whip the bedclothes from people staying in her room.
There could also be the ghost of an old man who knocks on the bedroom
doors.
The Bell Inn has a 300-year-old history.
The Leaky Cauldron and Harry Potter
The Leaky Cauldron is a pub and inn for wizards, located on the Muggle
street of Charing Cross Road in London, offering food, drinks and rooms to
rent. It was founded by Daisy Dodderidge (1467-1555) in 1500 "to serve as a
gateway between the non-wizarding world and Diagon Alley." The current
barman and innkeeper is a wizard named Tom.
On the main floor, the inn
has a bar, several private parlour rooms, and a large dining room. On the
upper floors, there are a number of rooms available; Harry has stayed in
Room 11 which has a talking mirror and windows that allow him to look out
onto Charing Cross Road. People often stay at The Leaky Cauldron when they
come up to London on shopping trips.
The pub serves as a way of entering into Diagon Alley from the Muggle
world for Muggle-borns and their parents (both of whom, until the first
letter from Hogwarts, have no magical knowledge or means of entering). The
rear of The Leaky Cauldron opens onto a chilly little courtyard where a
brick (found by counting three up and two across) is tapped three times.
JJK Rowling has revealed that Hannah Abbott becomes the landlady of the
Leaky Cauldron, and lives above the pub with her husband Neville Longbottom,
when he is not teaching Herbology at Hogwarts.
Halloween Cocktails to Wet Your Palate
The Dracula Cocktail

Will and Guy have selected this cocktail from an old 'Bar Guide' found on
our office bookshelves. It is not recommended for minors but only for adult
ghouls and ghosties; witches and warlocks.
Will, of course, is a warlock as he was born on Halloween.
2 oz white rum
½ tsp grenadine
1 oz lemon juice
4 oz cranberry
cocktail
couple dashes Angostura bitters
Shake well with ice, pour
into a tall glass.
Add more ice if necessary.
Will and Guy's Halloween Punch
This blood-red punch is perfect for a Halloween party. We suggest that
for an adults' version add some gin or vodka.
Ingredients
500ml/18fl oz cranberry juice
1.5 litres/2½ pints lemonade
3 limes, juice only
A large handful gummy worms
Preparation method
Pour all of the ingredients into a large glass bowl and mix until
well combined.
Drape the gummy worms.
More Funny Drinks at Halloween
Goblin Ghoulade
This is so easy to make and we like especially the tart cranberry juice
and sweet black raspberry liqueur can make any cocktail look like blood. For
some added effect, an "eyeball" made of radish and blueberry is added on
top, warning visitors of what can happen to them if they leave your party
early.
Ingredients
1 oz. Vodka
1 oz. Black raspberry liqueur. The French make liqueurs
using 'mure', blackberry which we favour.
1 oz. Lime juice
1 oz.
Cranberry juice
1 Radish
1 Blueberry
Preparation:
Pour all
ingredients in a cocktail shaker and shake. Strain drink into a martini
glass. To create the eyeballs, peel 1 radish per glass and leave some red
skin to form veins. Hollow out center of radish and place a small blueberry
to form the eye. Serve eyeball floating or on a drink skewer.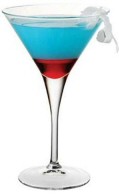 A Blue Satan
Guy thinks this is possibly the simplest cocktail of all to make:
1 ½
oz gin
½ oz blue curacao
1 oz lemon juice
Add tonic or soda to
taste
Shake with ice and serve chilled and up in a cocktail glass.
Garnish with a floating lemon or orange slice.
See our funny Halloween
pictures »
Footnote:
Please send us your
funny Halloween drinks.
See more funny Halloween stories
•
Halloween stories •
Funny Halloween drinks
• Halloween 'Trick or
Treat' •
Halloween stamps
•
Halloween clean jokes •
Short Halloween stories •
Halloween ghost stories •
Halloween fashion
•
Halloween pictures
•
Funny Halloween sayings •
Halloween history •
Halloween poems