Will and Guy have started a collection of amusing Halloween images.
More Funny Halloween Pictures
Halloween Turkey's Revenge at
Thanksgiving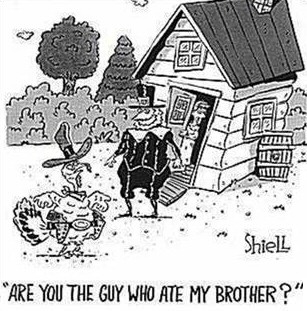 Black Sheet!
Witch Parking - Halloween
Cartoon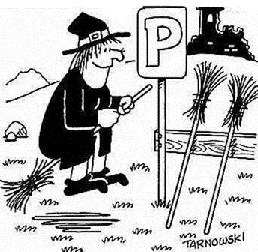 Jack PumpkinHead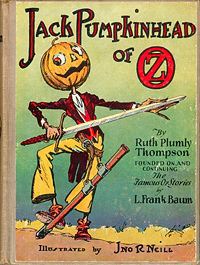 Halloween - The Name Behind the Funny Pictures
Pretty much everyone agrees with the position of Halloween in the
calendar, namely All Hallows Eve, October 31st. Halloween pictures and
images fall into three major categories.
Symbols of death: ghosts, skeletons, haunted houses and graveyards.
Symbols of evil: witches, goblins and black cats.
Symbols of harvest: pumpkins, Jack-o-Lanterns, scarecrows and corn
dollies.
Other variations on the name include:
Hallow E'en - Ireland
Hallowtide or Hallowe'en - Scotland
Nos Galen-gaeof - Wales (The Night of the Winter Calends)
Feralia - Roman
Samhain - Celts
The Feast of All Soula, also Feast of the Sun.
Not A Halloween Cartoon - More a Postage Stamp
Belgian Halloween Postage Stamps
This example shows three things associated with the celebration of
Halloween: a particularly splendid looking witch, a black cat and flying
bats. These stamps were first put on sale in Belgium in 2004.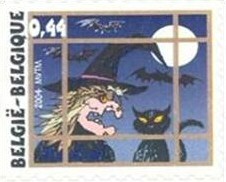 Halloween Myths
Halloween is the third biggest holiday for retail sales
While Americans spend an average of $75 on Halloween, they spend
more on merchandise for Christmas, Mother's Day, Valentine's Day and Easter.
I find it hard to believe, but even Father's Day sales outstrip those of
Halloween.
Psychic Predicts Campus Murders at Halloween
This an
interesting phenomenon because it repeats every 3 years. The gist of
the myth is that a psychic on a radio or obscure T.V. show predicts that a
madman is going to murder students and Halloween. There is no truth in
this myth which started in 1968, it's neat because after 3 years each campus
will have a new batch of students who have never heard of the hoax.
A suicide was mistaken as a Halloween decoration
The incident occurred just before Halloween in 2005 in Frederica
Delaware. Unfortunately this is a true story. Indeed it illustrates
the problem with dismissing all hoaxes and myths, because about 25% turn out
to be true.
The Cost of Halloween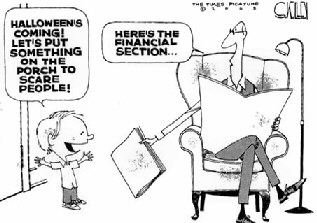 See more funny Halloween
pictures »
Footnote:
Please send us your
funny Halloween cartoons.
See more funny Halloween jokes, also clean pumpkin jokes
• Home •
Clean Halloween jokes
•
Funny Halloween pictures • Pumpkin
jokes •
Jack-o-Lantern
•
Short Halloween stories
for kids •
Halloween games for kids •
Animations •
Graveyard humour
•
Funny Halloween stories
• Halloween cats • Ghost
story • Coven of witches •
Trick or Treat