Every football team has its fashion leader, or what Guy would call a poser. While they cannot wear their flashy clothes on the pitch, the true football fashion worshiper can express himself through his
haircut. Enjoy our PowerPoint Presentation over 60 different hairstyles.
Abel Xavier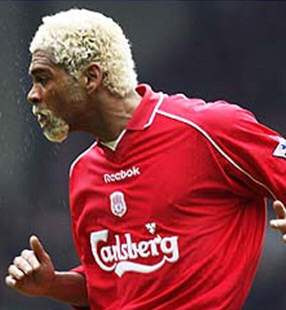 Edgar Davids and Roberto Baggio - Exchange tips on hair-grips.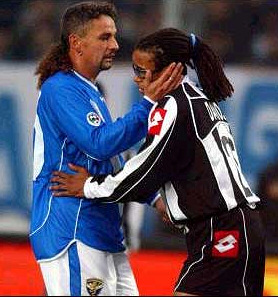 Carlos Vaderama - Like many of these, a great player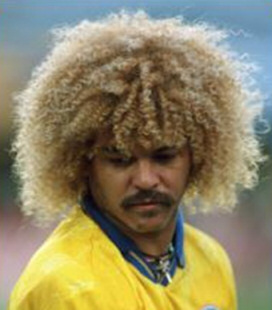 David Beckham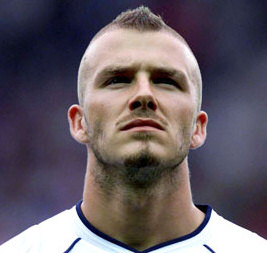 For distinctive haircuts, David Beckham has been one of the best, or one of the worst depending
on your point of view.
Free PowerPoint Presentation of Footballers' Haircuts
Footballers' Haircuts (Right click, Save Target As)
See our Top 10 Funny
Hairstyles
How to Create a PowerPoint Presentation
Making presentations in PowerPoint is satisfying, moreover, it's easy to get
started.
The PowerPoint program is intuitive to learn and easy to create your own PPT
slides and build them into a slide show. If you have
Microsoft Office you may find that you already have PowerPoint along with Word
and Excel.
One way to begin is simply to open any example presentation. Just
download one of our free PPT files and open it with PowerPoint. As you examine the slides, so it will become obvious how
to add pictures and titles, if you do get stuck, ask the wonderful built-in 'Help'. To
make an amazing slide show requires these skills;
Imagination - Think an idea, then build a themed slide set
Artistic - An eye for a good picture
Wordsmith - Choose a catchy title for each slide
Humour - Your viewers will appreciate a funny PowerPoint Presentation
PowerPoint mechanics - Actually, this is the easiest skill of them all, the
program is so intuitive.
Good luck with creating your PowerPoint Presentation
Will and Guy
Footballers Haircuts - Complete list of those featured in the PowerPoint Presentation
Emmanuel Petit
Joao Alves de Assis Silva
Harry Kewell
Rigobert Song
El Haj Diouf
Peter Marinello
Malcolm MacDonald
Stan Bowles
Patrik Berger
Andriyk Voronin
Cobi Jones
Paul
Walsh
Bobby Charlton
David Seaman
Abel Xavier
Ronaldo
Ronaldinho
Umit Davala
Ralph Coates
Charlie George
Pat Jennings
Andy Gray
Kevin Keegan
Roberto Baggio & Edgar Davids
Barry Venison
Carlos Valderama
Ahn Jung Hwan
David Beckham
Alan Biley
Alan Little
Christian Wilhelmsson
Glenn Hoddle
Djibril Cisse
Clint Mathis
Taribo West
Christian Ziege
Charlie Nicholas
Chris Waddle
Tommy Caton
Rio Ferdinand
George Berry
Kazuyuki Toda
Rodney Fern
Freddie Ljungberg
David James
Yao Aziawonou
Paul Gascoigne
Gerry Francis & Mick
Flanaghan
Steve Bruce
Leonardo Cuellar
Ruud Gullit
Noel Brotherstone
Ferdinand Coly
Kevin Beattie
Alexei Lalas
Rudi Voller
Alfie Conn
Graham French
Ivan Campo
Paul Breitner
Remi Moses
Mark Hately
Jason Lee
Rene Higuita
Tony Daley
Craig Johnson
Kenny Burns