It has to be said that researching this topic is tempting fate, but just
as flames can be mesmerising, so we Will and Guy find funny fire safety
pictures hypnotic.
Electrical Safety
Pictures
Five Favourite Funny Safety Fire Jokes
How is it that one careless match can start a forest
fire, but it takes a whole box to start your barbecue?
A fireman had two sons. What did he name them?Hosea and Hoseb
Bryan calls the fire department and says, 'Yes, I
have just had my front yard landscaped, I have a nice new flower bed, a
new fish pond with a fountain and a new rose garden.''Very nice
too,' Martin, the fire-fighter says, 'but what does that have to do with
the fire service?'

'Well, it's like this,' Bryan answers, 'the
house next door is on fire and I don't want you to trample my front
yard.'

When the employees of a restaurant attended a
fire safety seminar, they watched a fire official demonstrate the proper
way to operate an extinguisher.'Pull the pin like a hand
grenade,' he explained, 'then depress the trigger to release the foam.'

Later an employee was selected to extinguish a controlled fire
in the parking lot. In her nervousness, she forgot to pull the pin. The
instructor hinted, 'Like a hand grenade, remember?'

In a burst
of confidence she pulled the pin, and hurled the extinguisher at the
blaze.

Fire investigators on Maui, Hawaii, USA,
have determined the cause of a blaze that destroyed a $127,000 home last
month: a short circuit in the homeowner's newly installed fire
prevention alarm system.'This is even worse than last
year,' said the distraught homeowner, 'when someone broke in and stole
my new security system.'
More Funny Fire Safety
Pictures

Every Little Helps? Too Little too Late?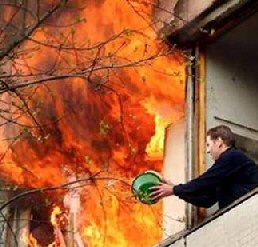 Legendary weather forecaster Sonny Elliot of WWJ 950, once told of a man
who had two wooden legs:-
His house caught fire. A neighbour called 911 and firemen
responded. They saved the house but the man burned to the ground.
Fire Safety: The Right Way ..........And The Wrong Way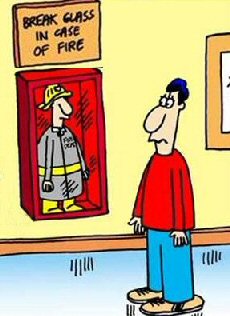 Fire Guard?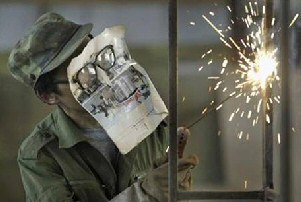 Fire Prevention Delegates
Sitting through fire safety and prevention programs can make anyone nod
off. So the instructor tried to lighten the mood by going around the
room asking where all the guests were from.
'Burnt Mattress, Arkansas,' called out the friend sitting next to me.
'Burnt Mattress?' said the instructor, suppressing a laugh. 'I've heard
some unusual town names before, but never that one. Where's it located?'
My friend shot back, 'Right above Hot Springs.'
Over lunch Martha said she hadn't the heart to tell the group that she
was from Firetown, Connecticut.
Allegedly a true story.
On a more serious note... get advice from the experts for
safety, liability and property risk
Funny Fire Safety Poster from Takanawa, Tokyo, Japan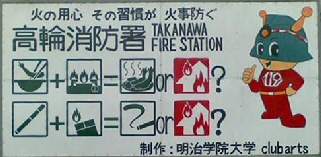 If fire-fighters fight fire, what do freedom fighters fight?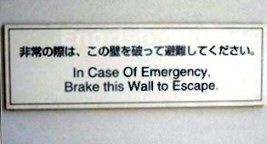 Strange, Bizarre and Hilarious Call Outs to the Fire Brigade
Funny Firefighter Reports from Middle England As told to Will and Guy, we
can bring to you these examples of bizarre 'phone calls to the Fire Stations
of England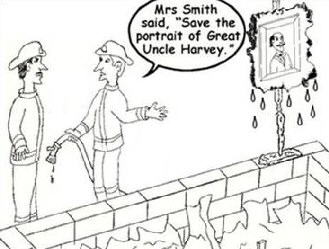 A toddler who stuck his head in a toilet training seat
A child who trapped his finger in a plughole
A person who accidentally choked themselves on a dog lead
Our favourite - A woman called 999 [USA 911] and reported that she
had shut herself inside the cupboard she had been building
Firefighters used hydraulic cutting equipment to release a child who
was wedged in playground equipment
A staggering 49 people also dialed 999 to have rings removed from
their fingers.
Last New Year's Eve the fire service attended after a drunken man
got trapped in a pair of handcuffs.
One man managed to drive to the fire station despite accidentally
impaling his foot with a garden fork while a husband needed rescuing
after jamming his toe in his bath tap.
Neil Mayne, a firefighter for nearly 30 years informed us, 'You do get
some strange ones. We've got all sorts of equipment to help free people,
from the big jaws of life we use to pull mangled cars apart to smaller
cutters for delicate work in sensitive areas.'
Fireman Obeys Orders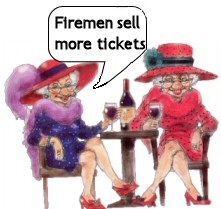 Two ladies were discussing the merits of policeman and fireman's
functions.
Edna: Why is it that fireman always seem to have bigger balls than
policeman?
Joyce: Why, it's because they sell more tickets.
The Place: 'Burning Bush' The Date: 1233 BC.
Moses Meets the
World's First Fire Prevention Officer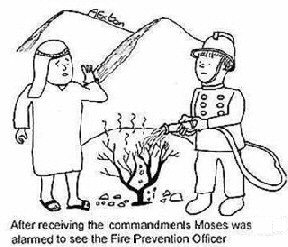 Joking aside... If you have suffered an
accident at work then help may be at hand.
The Latest Fire Safety Notice - Do Not Twitter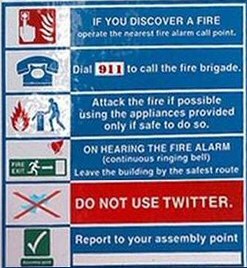 Footnote:
Please send us your funny fire safety pictures.