The idea of this piece of fun is to match file extensions to job titles.
For example: .tiff = Marriage counsellor
Here are others file extension that we have linked to
occupations:

.api = Comedian
.asp = Snake-in-the-grass
.bin = Refuse collector
.doc = Fixer
.chk = Chess champion
.dic = Private eye
.exe = Hang man
.fav = Boot licker
.gem =
Jeweller
.ico = Office pin-up
.inf = Filing Clerk
.ins = Insurance agent
.mad = Psychiatrist
.mam = Midwife
.mapi = Planning officer
.mov = Removal company
.mpg = Car salesman
.png =
Table Tennis Champion
.ppt = Punch and Judy operator
.pub = Alcoholic
.qt = Strong silent type
.rat = Spy
.snd = Disk Jockey
.sys = Sister


.tiff = Marriage guidance counsellor
.wav =
Cheerleader
.wiz = Magician
.wri = Secretary
.zap = Company hatchet man
Best of all, invent your own file extensions and send them to me!
Here Are More Funny File Extensions
.bak = Chiropractor
.arf = Dog trainer
.bat = Baseball
.bat.uk
= Cricketer
.c = Optometrist
.mov = Removal Firm
.txt = Book,
magazine, or newspaper publisher.
Above list kindly sent in by Tom Schunk
How To Recruit Computer Engineers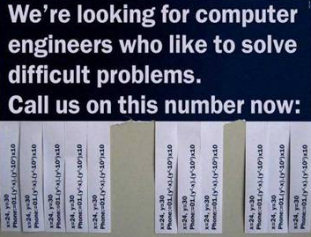 See more short computer jokes, clean videos and funny pictures
•
Short computer jokes
•
Windows 8 jokes • Idiot
•
Funny computing career
•
Computer gender
• Funny
computer jokes •
Windows 7 jokes
•
Funny computer virus •
Windows •
Computer coffee
• Computer Home •
Computer husband •
Funny keyboard pictures •
Computer one-liners • Home