Athletic
Pigs Ham It Up at Olympics in China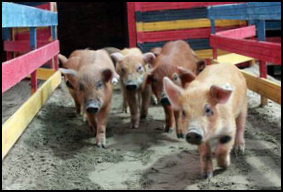 Preparation for the Pig Olympics
In preparation for the XX1X Olympiad
in Beijing, in 2008, the Chinese organised 'Pig Olympics'. Pigs can't
fly, but they can run, swim and dive, as proven by contestants in the Pig Olympics.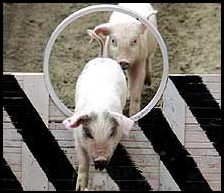 Thousands of
locals have made their way to Hongkou District's
Heping Park to watch some 20-pig athletes from Thailand take part in sporting events over the past month. The four-legged athletes battle it out in
running, hurdles, jumping through a hoop, swimming and diving every day at 10am and 1pm.
About 1,500 people show up at the park every day to watch the games, most of whom are groups of primary students,
said Yang Ying, office manager of the Bluesea Broadway Co Ltd, the event's
organizer.
'These lovely pigs are of a special species that is good at sports by nature, 'she said.'
They started receiving
training soon after they were born and became professional athletes one year later.'
See more on

animal olympics.
Gold Medallist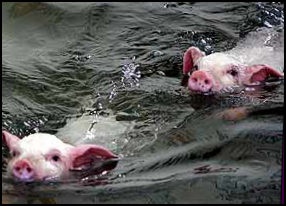 Tan Yizhou, an 8-year-old who hung the gold medal onto one of the champion porkers, said he would no longer take it
for granted that all pigs are stupid and lazy.'
It's
incredible. I never thought that a pig could be so clever, dexterous and versatile, 'he said. The games take place in May every year.
Pigcasso

Smithfield the pig is a 'Pigcasso' A pot-bellied pig, named Smithfield, who
paints pictures, has become a hit for his canvases of abstract expressionism.
Smithfield's proud owner Fran Martin, 54, sells them for £8 over the internet,
reports The Metro newspaper.
Ten-year-old Smithfield, who holds the paintbrush in his mouth, has now
become a celebrity across America. He trots out at charity events and has
appeared on Oprah Winfrey's TV show. Fran, from Virginia, remarked, 'Smithfield
is a very clever pig. He's done hundreds of paintings.' Scientists say pigs are
colour blind but Fran reckons Smithfield can tell the difference. She added, 'He
likes blue best. He definitely picks up the blue brush more frequently than any
other.'

Here above we see the multi-talented 'Pigcasso' playing the drum.
Pigmobile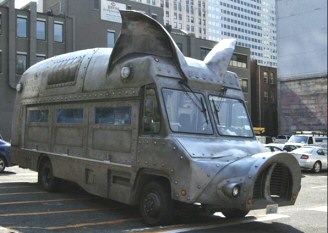 Footnote:
I like pigs. Dogs look up to us. Cats look down on us. Pigs treat us as equals.
Sir Winston Churchill
See more funny pigs stories
•
Funny Pigs Story •
Pig Olympics •
Pigs Football •
Pigs and Tiger Cubs
•
Animals Index •
Funny swine flu pictures
• Donkey jokes •
Farmer jokes
•
Buffalo •
RSPCA and Cows •
Funny cow pictures •
Pigmobile •
Home