Notice to Dog Owners -
And their Dogs!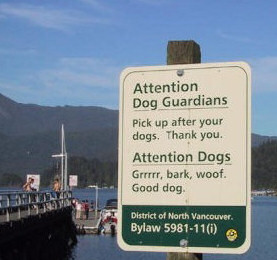 See more funny pictures of dogs
Dogs - Please Shut The Gate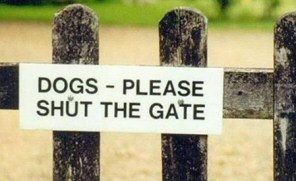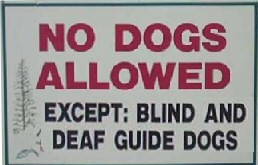 Guide Dogs
The above funny dog signs remind me of a malapropism I heard when teaching. The head-of-year had a brand new charity project. In assembly he proudly announced:
'We are going to have a collection for blind dogs for the
guides'.
No Dogs Allowed - More Funny Dog Signs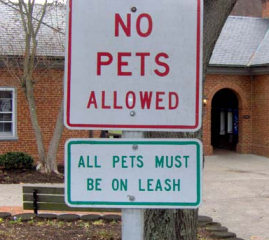 If a Dog Were Your Teacher
You Would Learn:
When loved ones come home, always run to greet them
Never pass up the opportunity to go for a joyride
When it's in your best interest: practice obedience
Stretch before rising
On warm days, stop
to lie on your back on the grass
On hot days, drink lots of water and lay under a shady tree
Never pretend to be something you are not
Delight in the simple joy of a long walk
See more funny no dog signs
SINGLE BLACK FEMALE seeks male companionship, ethnicity unimportant. I'm a very good looking girl who LOVES to play. I love long walks in the woods, riding in your
pickup truck, hunting, camping and fishing trips, cosy winter nights lying by the fire. Candlelight dinners will have me eating out of your hand. Rub me the right way and watch me respond. I'll be at the front
door when you get home from work, wearing only what nature gave me. Kiss me and I'm yours. Call (404) 875-6420 and ask for Daisy.
Over 15,000 men found themselves talking to the Atlanta Humane Society
about an 8-week old black Labrador retriever dog.
Men are so easy....
Doggy Paddle?
Was there
ever two better pictures of pure relaxation.
True Dog Story
A dog owner is having to chain up his pet to stop him hopping on to the bus and going to the pub. Gary Kay's terrier Ratty regularly got on the bus on his own to go to the Black Bull pub, in Hull Road, York.
Ratty made the trip to the pub, where he was fed sausages by a barmaid, twice a week, reports the York Post. His outings came to an end when the pub went upmarket and banned animals from the
premises. But now Gary, from Dunnington, York, says Ratty has found a new local - the Rose And Crown Pub, in Lawrence Street. He believes Ratty has been getting off the bus at the Black Bull on his own,
crossing the road and turning up at the Rose and Crown.
'I've had to start chaining him up because, although he can get to the pub on his own he can't get home,' said Gary. [Not an uncommon occurrence
say Will and Guy] 'I've no idea how he is doing any of this or how he crosses the road. This dog just has a mind of his own.'
Even Bloodhounds Have Their
Limits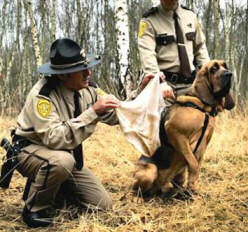 They say every dog has his day. Well the reverse is that every dog has
his limits. That look on the blood hound's face says it all
Popular Names For Dogs
Brandy
Lady
Max
Rocky
Sam
Heidi
Sheba
Ginger
Muffin
Misty
Duke
Pepper
Coco
Prince
Charlie
Daisy
Buddy
Buffy
Rusty
Sandy
Selected From "The Book Of Lists" by David Wallechinsky and Amy Wallace
Footnote:
Please send us your funny dog signs.