Here is an everyday story of country folk - with a difference. Follow the journey and see the adventures of an ordinary Mitsubishi pickup. Free video at the end of the picture sequence.
Interesting facts about cows.
1)
Farmer leaves his pickup to mend a water trough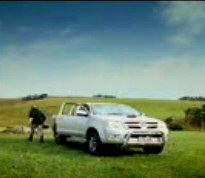 2) Meet the stars of the odyssey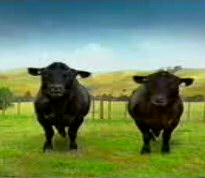 3) Cow
Drives Car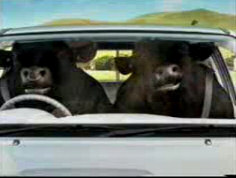 Are you impressed that they are wearing seat belts? You'll see why
in a minute.
4) Old habits die hard, the cows stop at a cattle grid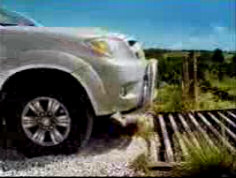 5) They decide to fly the cattle grid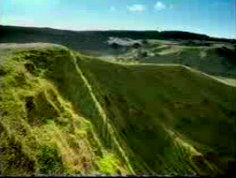 Play the cow car ride video, and see a happy ending.
N.B. With some browsers you need to click twice on the Play arrow

to start the video.
N.B. Help for Mozilla browsers
Interesting Facts About Cows
Cows really do give more milk when they listen to music in the milking
parlour. Ask your government for a grant to study the effect of
music on
milk production. Then make your fortune by inventing an iPod for cows so
they can listen to music as they graze!
In the Indian language, the literal translation of the Sanskrit word for
'War' is, 'we want more cows'
It would take a huge herd of around 2,500 cows to supply the 20,000 Wilson
footballs that the NFL needs for each season's games. However, no cows die
when the English soccer season kicks off. The reason is that soccer
footballs are made from synthetic materials.
Bamboozle the innumerate. Tell them that it takes 20 pints of milk to
make one pint of butter. Then ask them how many gallons of milk would it
take to make a gallon of butter? (Naturally, the answer is 20 gallons.)
Cow Stuck in a
Washing Machine
The RSPCA was called to rescue the heifer called 'Spinner' from a field
at Higher Fraddon, St Columb, Cornwall, England. The cow had to be freed
after getting her head stuck in a fly-tipped washing machine drum.
The lucky cow escaped injury after her ordeal; but the animal charity
warned today that fly tipping can cause animals harm. 'It is one of the more
unusual things we had had to rescue an animal from,' said RSPCA spokeswoman
Jo Barr. 'Young cows are quite curious, and she probably thought there was
some food inside the drum,' she added.
A member of the public spotted the frustrated 'Spinner' trying to free
herself from the metal drum. RSPCA inspector David Hobbs rescued the heifer,
and she has since returned to her herd unharmed.
Lesson: Keep your nose out of things that do not concern you.
Will and Guy hope that 'Spinner' has found the 'Energy Saving Setting'.
See more funny car crashes videos
•
Car videos •
Parking tight spot •
Wheelclamp revenge •
Car dominoes •
Gimme car
•
Car recovery •
Who drives car? •
Miracle tyre •
Cow driver •
Dog driver •
Clean Car
•
Car crashes •
Car video Russia •
Russian roads •
Bolivian road •
Funny Volkswagen
•
Bollards •
Car flip •
Car wheelie •
Car crash •
Push start •
Nissan Qashqai •
Home