Here is our collection of amusing words of warning on Christmas goods.
Some of the humor is the result of mis-translation, while other examples are
down to poor proof reading.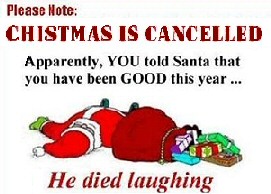 Will and Guy's Top
Ten Hilarious and Funny Christmas Warnings
This product not intended for use as a dental drill.
Television
advert warning on a DIY electric rotary tool.
This product is not to be used in bathrooms.
On a bathroom heater
given last year to Will's Aunt as a Christmas present.

Christmas Lights Warning:
For indoor or outdoor
use only.
Not suitable for children aged 36 months or less.
On a Christmas
card for a 1 year old.
Do not use if you cannot see to read the information in the
information booklet.
In the information booklet.
Do not place this product into any electronic equipment.
On the
case of a chocolate CDs in a Christmas gift basket.
Caution: The contents of this bottle should not be fed to fish.
On a bottle of Christmas shampoo for dogs.
Keep out of reach of children and teenagers.
On a can of spray
foam used to decorate glass at Christmastime.
Warning: Do not climb inside this bag and zip it up. Doing so will
cause injury and death.
A label inside a protective bag containing
fragile Christmas presents which measures 15cm by 15cm by 12cm.
Battery may explore or leak.
On a battery found in a Christmas
present.
Funny Christmas Warning On
Label Jose Cuervo Especial
Silly Warnings On Christmas
Presents
If you think last Christmas was bad, it could have been worse - as these
funny facts from the
United Kingdom prove. I cannot help wondering if other areas of the world are more accident prone or less? Another thought, how does Christmas compare with other times of the year?
One hundred and 42 people were injured by not removing all pins from
new shirts.
A label on a Christmas present: Hair dryer: 'Never use hair dryer while sleeping'
On average 3 people die each year by testing if a 9v battery works on their tongue.
Hospitals reported 4 broken arms last year after cracker pulling accidents.
23 people have died in the last 3 years believing that Christmas decorations were chocolate.
Do not use house paint on face. Seen on TV in a Visa
commercial.
Stridex
Foaming Face Wash - May contain foam.
See more silly Christmas warnings on
presents
On the BOTTOM of a Tesco's Christmas Tiramisu dessert
'Do not turn
upside down' [........... too late]
Funny Christmas Warnings
A Government website has warned parents that a visit to see Father Christmas could be 'terrifying'
for small children.
Pantomimes may also be too scary and traditional party games could have youngsters in tears.
The advice for teachers detailed on the website said, 'Younger children in particular have a wide range of fears. For very young children, Father Christmas can be terrifying. Make sure that fearful children are
near an exit. Trips to the pantomime can cause alarm, so the same planning applies.'
Margaret Morrisey, from the National Conference of PTAs, is reported to have said, 'It is so sad that we have become so politically correct that we are trying to remove the magic of Christmas.'
The advice has been taken off the website and the Department for Education said, 'This is not Government policy. It does not reflect our views.'
Footnote
I could not find the above reference on the website. Could it be that common sense has forced them to remove the article?
See more funny warning signs
Funny Signs In Christmas Shops
At a Music Store in Nottingham, UK : Out to lunch. Bach at 12:30.
Offenbach sooner.
In a dry cleaner's shop in Portsea, Portsmouth, UK: Drop your
trousers here.
In a department store in Vancouver, Canada: Bargain
Basement Upstairs.
In a restaurant in Norfolk, Virginia, USA: Customers who find our
waitresses rude ought to see the manager.
In a restaurant window just outside Brixham, Devon, UK: Don't stand
there and be hungry, come in and get fed up.
In a health food shop window in Los Angeles, USA: Closed due to
illness.
In a pub in West Sussex which is non-smoking: If we see smoke, we
will assume you are on fire and take appropriate action.
In a Laundromat, seen in Portland, Oregon, USA: Automatic Washing
Machines: Please remove all your clothes when the light goes out.
Final Christmas Word of Warning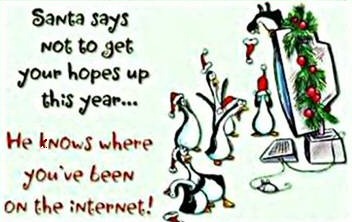 See more Christmas warnings
»
Footnote:
Please send us your funny Christmas
warnings.