Here is Will and Guy's selection of amusing Christmas trifles.
Will and Guy's
Top Ten Funny Christmas Trivia
"Wassail" comes from the Old Norse "ves heill" - to be of good
health. This evolved into the tradition of visiting neighbours on
Christmas Eve and drinking to their health.
A traditional Christmas dinner in early England was the head of a
pig prepared with mustard.
According to a 1995 survey, 7 out of 10 British dogs get Christmas
gifts from their doting owners.
During the ancient 12-day Christmas celebration, the log burned was
called the "Yule log". Sometimes a piece of the Yule log would be kept
to kindle the fire the following winter, to ensure that the good luck
carried on from year to year. The Yule log custom was handed down from
the Druids.
During the Christmas buying season, Visa cards alone are used an
average of 5,340 times every minute in the United States.
After "A Christmas Carol," Charles Dickens wrote several other
Christmas stories, one each year, but none was as successful as the
original.
Although many believe the Friday after Thanksgiving is the busiest
shopping day of the year, it is not. It is the fifth to tenth busiest
day. The Friday and Saturday before Christmas are the two busiest
shopping days of the year.
Charles Dickens' initial choice for Scrooge's statement "Bah Humbug"
was "Bah Christmas."
Christmas trees are edible. Many parts of pines, spruces, and firs
can be eaten. The needles are a good source of vitamin C. Pine nuts, or
pine cones, are also a good source of nutrition.
In Britain, the Holy Days and Fasting Days Act of 1551, which has
not yet been repealed, states that every citizen must attend a Christian
church service on Christmas Day, and must not use any kind of vehicle to
get to the service.

Christmas Trivia from Around the
World
Ukraine: An artificial spider and web are often included in the decorations on Ukrainian Christmas trees. A spider web found on Christmas morning is believed to bring good luck.
(Because it kills flies in Champagne!).
A traditional Christmas bread called
'kolach' is placed in the centre of the dining table. This bread is
braided into a ring, and three such rings are placed one on top of the other with a candle in the middle of the top one. The three rings symbolize the Christian Holy Trinity.

Canada: Father Christmas has his own personal zip code
[postcode]; it is the alphanumeric number: H0H 0H0. (Ho-Ho-Ho) In this way
people who write to Santa know that their letter will arrive safely. It has
been his personal code since 1982 and Will and Guy have learned that this
address receives some 1 million letters from all over the world each year.
Apparently, each letter received will be answered in the same language in
which it is written, which, on its own must be a mammoth task.
New Zealand: Santa's address in New Zealand is: Santa
Claus Santa's Workshop The North Pole 0001. To contact Santa online go to
www.nzpost.co.nz/christmas
Australia: Santa can be contacted at Santa Claus, North
Pole 9999 and last year he received some 90,000 letters.
See more Christmas card trivia.
UK: Santa can be reached by including the following
postcode: SAN TA1
USA: Towns in the United
States with Christmassy names are: Santa Claus, Arizona and Indiana; Noel, Missouri and Christmas, Arizona and in Florida.


Venezuela: In Caracas, the capital, it is customary for the streets to be blocked off on Christmas Eve so that the people can roller-skate to church.
UK: It is a British Christmas tradition that a wish made while mixing the
Christmas pudding will come true only if the ingredients are stirred in a clockwise direction and each family member has a stir of the mix. Furthermore, a traditional Christmas dinner in medieval England was
the head of a pig prepared with mustard.
Norway: on Christmas
Eve all the brooms in the house are hidden because long ago it was believed that witches and mischievous spirits came out on Christmas Eve and would steal their brooms for riding.


Japan: Sending red Christmas cards to anyone in Japan constitutes bad etiquette, since funeral notices there are customarily printed in red.
Syria: Christmas gifts are distributed by one of the Wise Men's camels.
Christmas in Korea
Young ladies skating in Mother Claus costumes in Yongin, Gyeonggi
Province, South Korea. Aren't they lucky to have ice and probably snow
too. Incidentally, South Korea is the only East Asian country to
recognise Christmas with a national holiday.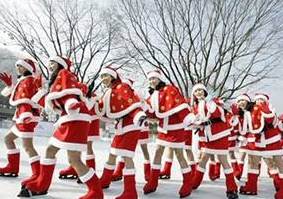 See more Christmas traditions
around the world.
Chrismukkah - An Funny Alternative View At
Christmastide
Continuing the current trend of large-scale mergers and acquisitions, it
was announced today at a press conference that Christmas and Hanukkah will
merge. An industry source said that the deal had been in the works for about
1300 years.
While details were not available at press time, it is believed that the
overhead cost of having twelve days of Christmas and eight days of Hanukkah
was becoming prohibitive for both sides. By combining forces, we're told,
the world will be able to enjoy consistently high-quality service during the
Fifteen Days of Chrismukkah, as the new holiday is being called.
Massive layoffs are expected, with lords a-leaping and maids a-milking
being the hardest hit. As part of the conditions of the agreement, the
letters on the *dreydl, currently in Hebrew, will be replaced by Latin, thus
becoming unintelligible to a wider audience.
Also, instead of translating to "A great miracle happened there," the
message on the dreydl will be the more generic "Miraculous stuff happens."
In exchange, it is believed that Jews will be allowed to use Santa Claus and
his vast merchandising resources for buying and delivering their gifts.
One of the sticking points holding up the agreement for at least three
hundred years was the question of whether Jewish children could leave milk
and cookies for Santa even after having eaten meat for dinner. A
breakthrough came last year, when Oreos were finally declared to be Kosher.
All sides appeared happy about this.
A spokesman for Christmas, Inc., declined to say whether a takeover of
Kwanzaa might not be in the works as well. He merely pointed out that, were
it not for the independent existence of Kwanzaa, the merger between
Christmas and Chanukah might indeed be seen as an unfair cornering of the
holiday market. Fortunately for all concerned, he said,
Kwanzaa will help to
maintain the competitive balance.
He then closed the press conference by leading all present in a rousing
rendition of "Oy Vey, All Ye Faithful."
*dreidel or dreydl is a Jewish
top used in games.

In pictures: 20 Guinness world records with a Christmas theme
Christmas Card Trivia
The first Christmas greeting by SMS was a simple 'Merry
Christmas'
Only one in 100
Christmas cards sold in Britain in 2006 contained any religious imagery or
message, a recent survey has shown
In 2004, the German post office gave away
20 million scented stickers free to make Christmas cards smell like a fir
Christmas tree, cinnamon, gingerbread, or a honey-wax candle
This is the very first commercially produced
Christmas card. It was drawn in 1843 by John Calcott Horsley of Torquay, England, at
the request of Sir Henry Cole
An average
household in America will mail 28 Christmas cards each year and see 28 eight
cards return in their place
As early as 1822, the postmaster in
Washington, D.C. was worried by the amount of extra mail at Christmas time.
His preferred solution to the problem was to limit by law the number of
cards a person could send. Even though commercial cards were not available
at that time, people were already sending so many home-made cards that
sixteen extra postmen had to be hired in the city
During the Christmas
buying season, Visa cards alone are used an average of 5,340 times every
minute in the USA
The first Christmas stamp was released in Canada in 1898 and
not Austria in 1937 as some claim.
The traditional flaming Christmas pudding dates back to 1670 in
England, and was derived from an earlier form of stiffened plum porridge
Christmas became a national holiday in America on June, 26, 1870
The
twelve days of Christmas are the days between Christmas Day and Epiphany
[6th of January] and represent the length of time it took for the wise men
from the East to visit the manger of Jesus after his birth
The Christmas
tree displayed in Trafalgar square in London is an annual gift to the UK
from Norway since 1947. The Norwegian spruce given is a token of
appreciation of British friendship during World War II from the Norwegian
people
English Puritan leader Oliver Cromwell banned Christmas between
1647 and 1660 because he believed such celebrations were immoral for the
holiest day of the year
Will and Guy have researched and found a particularly interesting
survey result from Canada.
Apparently, when it comes to gather around the tree this holiday season,
most Canadians prefer to give (87%) gifts than to receive them (13%),
according to a new Ipsos Reid poll conducted on behalf of World Vision
Canada. While six in ten (58%) say the recent changes in the economy have
caused them to re-evaluate this year's Xmas spending or traditions, the
majority of Canadians continue to hold charitable gifts in high regard.
Some More Christmas Facts
More than 22 billion Barbie dolls have
been sold since its launch by Mattel.
The Pokemon craze saw 1000 product licences up for grabs from Nintendo.
Totally sales reached $18bn.
Christmas Trivia - Names
Will and Guy Reveal the Top Names for Christmas Babies
Festive monikers have been given to almost 73,500 babies since 2000, with
Joseph the most common, followed by Holly and Faith. Other popular choices
include Sparkle, Sherry, Jesus and Happy.
A spokeswoman for online
parenting site Bounty.com, which compiled the list from its database of
registered baby names, told us, 'The Christmas period influences parent's
choices when naming babies born at this time. And what better time of year
to take inspiration from than the season of goodwill? But with children
already named Sparkle and Santa among us, it may not be long until we bump
into an "Elf" or "Tinsel" at the local supermarket!'
Top 25 festive first names
Joseph 28,223
Holly 21,312
Faith 5,183
Nicholas 3,440
Gabriel 3,429
Angel 2,894
Christian 2,567
Hope 2,196
Mary
1,824
Emmanuel 693
Joy 430
Ivy 396
Noel 336
Star 263
Robin 119
Berry 40
Brandy 36
Sherry 32
Winter 31
Jesus
21
Happy 14
Sparkle 5
Santa 5
Rudolph 3
Claus 3
Out-and-About Xmas Trivia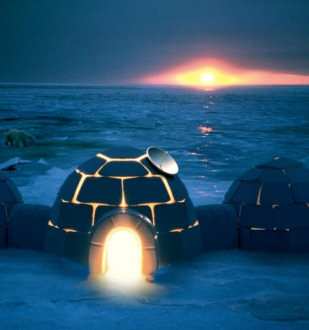 Christmas at the North Pole - Looks inviting?
See Santa
Claus! »
Footnote:
Please send us your funny Christmas trivia and
interesting facts.
See more Christmas warnings and funny stories: