Here is Will's collection of amusing Christmas trees, both real and
artificial.
Will's Funny Christmas Tree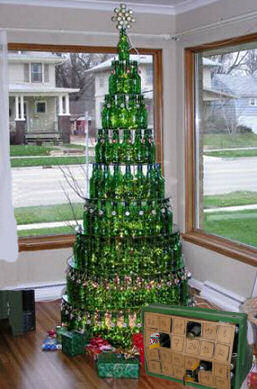 I see that Will even has an
advent calendar underneath his Christmas tree.
Will's Upside-down Christmas Tree!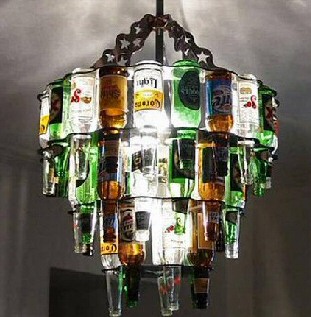 Will's Fridge at Christmas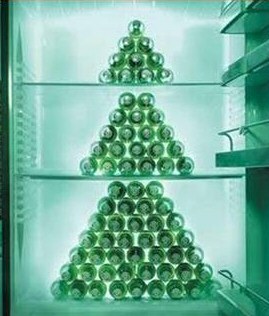 Guy thought this was a funny Christmas tree in a shop window.
Then
he put on his spectacles.
Will's Christmas Carol
I wish you a Merry Christmas
And a Happy New Year,
A stocking full
of presents
And a fridge full of beer.
Early January: Will Drives His Christmas
Tree to the Bottle Bank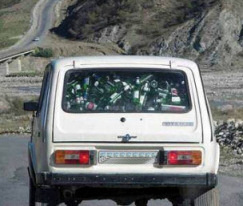 Footnote:
Please send us more pictures of funny
Christmas trees.
Two Funny Looking Christmas
Trees From Moscow (Left) and Venice (Right)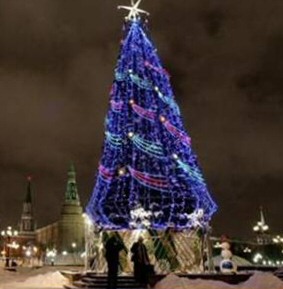 Artificial Christmas Tree Recall
November
2010, Liverpool,
England: The Merseyside Food Inspection Agency (MFIA) has issued a warning about artificial Christmas tree made in Korea. The problem concerns the Ringo beatle which infests
timber's bark and may
escape and attack people's skin and lay eggs in their hair.
A MFIA spokesperson said, 'The trees should have been treated with Rollingus stone which makes the Ringo beatle listless and curl up.
However, this batch of artificial trees are untreated, consequently, this beetle can cause hysteria in teenagers and flashbacks in older people. Strangely, the illness affects females more
seriously than males'.
The affected model is the 'Sergeant Pepper' and the batch number is FAB4. In December MFIA issued a recall notice for these artificial Christmas trees. Anyone who bought
a 'Sergeant Pepper' tree in November should return it to the shop
from where they purchased it and ask for a refund. To help with
Beatle identification, the MFIA has released the following funny
Christmas tree picture: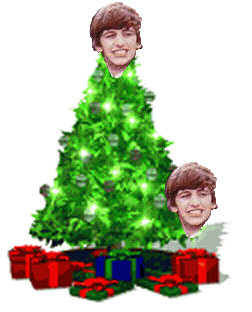 Above is an identification
guide to help with the recall of artificial Christmas trees.
See more Christmas tree stories.
Interesting Chocolate Christmas Tree
Six metre high Christmas tree made not out of wood, but 60kg of chocolate
The Christmas Pudding Tree
A couple's front garden in Yeovil, Somerset, UK has become a tourist
attraction thanks to a giant Christmas pudding crafted from conifer trees.
The couple are now starting to receive Christmas cards from well-wishers
they have never even met.
Mrs Holley, 65, told us, 'We had cards just addressed to "the Christmas
pudding house" in Yeovil, but the postman knows where to deliver them.'
Following media coverage last year, Mrs Holley said a coach party of
'tinsel and turkey' holiday-makers diverted to the quiet residential
cul-de-sac, to see the bush, and members of a local running club sidetracked
from their usual route to see the 20ft feature.
This year, an Australian woman visiting relatives in Bristol made a trip
to Yeovil to view the pudding, after seeing it on the internet from her home
down under.
The decoration came about after their granddaughter suggested the fir
trees looked like a Christmas pudding.
'The children from the school love it. People say it's something
different,' said Mrs Holley
Mr and Mrs Holley are hoping their two
children and their partners, along with three grandchildren, will join them
for Christmas dinner when a real Christmas pudding will be served.
Will and Guy think that their name - Holley - is so appropriate for
Christmas.
Christmas Tree Goes
Through the Roof
A father has filled his house with a giant 35ft Christmas tree cut
from the New Forest in Southern England after his son was disappointed
with last year's decorations.
At first glance it looks as if the massive tree has burst straight
through the roof of the six-bedroom house in Carbery Avenue. Greg Howe
has painstakingly cut the £250 [$375 USD] tree into three sections with
the huge trunk in the living room, the middle section in a spare bedroom
and the top perched on a flat part of the roof.
Greg Howe enlisted the
help of several friends and the fire brigade to get the star on top of
the huge tree at his Bournemouth home. It is thought that in the
interests of safety the star is, in fact, a smoke detector.
Will and Guy have learned that this funny looking Christmas tree is decorated with some
160 baubles and approximately 2000 led lights and is already proving a
winner in the area and with Mr Howe's children.
From the
Ridiculous to the Sublime Christmas Tree
In 2006, Soo Kee, a jeweller from
Singapore, built this Christmas tree (right). It has a forest of nearly 22,000 diamonds and almost 4000 crystal beads and has been valued at $1 million USD.[£490,000GBP].
See here for an
enlarged photo of the Christmas tree which does the decorations justice.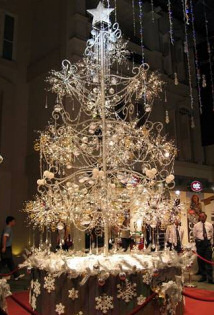 The Nicest Present by Joanna and Karl Fuchs
Under the tree the gifts enthrall,
But the nicest present of them all
Is filling our thoughts with those who care,
Wanting our Christmas joy to
share.
To you, whom we're often thinking of,
We send our holiday joy and
love.
Upside-down Xmas Tree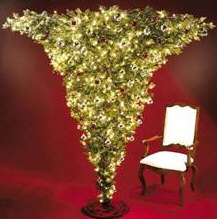 The
benefit of the upside-down
Xmas tree is
so that you can get more presents under the tree. Note the size of the chair so that you can get an idea of the scale.
Ode To the Christmas Tree Angel
The time had come around again it was time to get our tree
In the car
we piled us boys, my sister on mum's knee
Out into the country, dad drove
for miles and miles
When at last he found the place, we could not contain
our smiles
Dad headed to the tall pine trees, his sharpest axe in hand
Dutiful
behind him trailed his merry little band
At last he spied the one he
sought, a sapling straight and tall
"This will please your mum" he said,
indeed it pleased us all
With swift clean strokes he had in no time cut it down
We placed the
tree atop the car and headed back to town
The decorating of the tree this
year would be supervised by Mum
The final piece, "The Angel" would be
placed by the youngest one
This year my baby brother would be helped by sis and me
But as we
lifted baby up we tripped and fell into the tree
Tangled in the trimmings
we rode the tree as down it came
Mid tears and cries right through the
lounge room windowpane
I carried on tradition with my children every year
But when it came to
"Angel" time up came a nagging fear
Of breaking glass and angels wings
and the message that it sent
To place my tree in a great big pot in
reinforced cement!
See more
funny Christmas trees »
Footnote:
Please send us a picture of your funny
Christmas tree.
See more funny Christmas pictures of trees and snow:
∗ Large
artificial Christmas trees ∗ Santa sculptures ∗
Christmas Trees Around the World
∗
Cute Christmas trees
∗ Funny Christmas trees
∗ Unusual Christmas
trees ∗ Snow plough
∗ Funny Christmas pictures ∗ Animated Christmas
Cards ∗
Funny Christmas cartoons
∗ Home