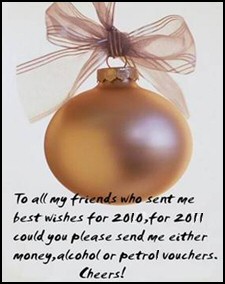 Will and Guy have a funny quote for every occasion. We are
confident that you will find 2 or 3 witty quotations for a Christmas
Day, Boxing Day or a New Year's Eve get-together.
Funny Christmas Quotes
About Santa
'I once bought my kids a set of batteries for Christmas with a
note on it saying, toys not included.' Bernard
Manning
'I stopped believing in Santa Claus when I was six. Mother took
me to see him in a department store and he asked for my autograph.'Shirley Temple
'Let me see if I've got this Santa business straight. You say he
wears a beard, has no discernible source of income and flies to
cities all over the world under cover of darkness? You sure this guy
isn't laundering illegal drug money?'
Tom Armstrong
'Santa Claus wears a Red Suit, he must be a communist. And a
beard and long hair, must be a pacifist. What's in that pipe that
he's smoking?'
Arlo Guthrie
Why is Christmas just like a day at the office?
You do all the
work and the fat guy with the suit gets all the credit.

Anonymous
You know you're getting old, when Santa starts looking younger.Robert Paul
Who's the bane of Santa's life?
The elf and safety officer.
Catherine Tate
'Santa Claus has the right idea. Visit people once a year.' Victor Borge
See more funny Santa quotes.
General Hilarious Christmas Quotes
Here are more festive sayings by the famous.
'The Supreme Court has ruled that they cannot have a nativity
scene in Washington, D.C. This wasn't for any religious reasons.
T hey couldn't find three wise men and a virgin.'
Jay Leno
'Never worry about the size of your Christmas tree. In the eyes
of children, they are all 30 feet tall.'
Larry Wilde
'Merry Christmas, Nearly Everybody!'
Ogden
Nash
Christmas is a time when kids tell Santa what they want and
adults pay for it. Deficits are when adults tell the government what
they want and their kids pay for it.
Richard Lamm
Anyone who believes that men are the equal of women has never
seen a man trying to wrap a Christmas present.
'A Christmas shopper's complaint is one of long-standing.'
Anonymous
The Constitution only guarantees the American people the right
to pursue happiness. You have to catch it yourself.
Benjamin
Franklin
Christmas is a time when everybody wants his past forgotten and
his present remembered.
What a wonderful life I've had. I only wish I'd realized it
sooner.
Colette
Funny
Thanksgiving Quotes
Amusing Quotes from Christmas
Movies
Here are some famous Christmas quotes from the movies. As
usual, we have a mixture of happy and sad quotes.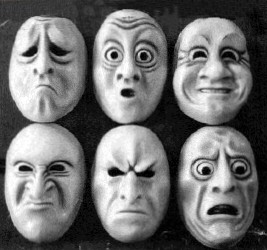 Aren't we forgetting the true meaning of Christmas?
You know... the
birth of Santa.
Bart Simpson
Snowman: Did you hear about the church that
burned down?
Statler, Waldorf: Holy smoke!
Muppets
Doris: Would you please tell her that you're
not really Santa Claus, that there actually is no such person?
Kris Kringle: Well, I hate to disagree with you,
but not only is there such a person, but here I am to prove it.
'Miracle on 34th Street' (A quote from one of the best Christmas movies)
Look, Daddy. Teacher says every time a bell rings, an angel gets
his wings.
It's A Wonderful Life
Charlie, stay away from those things. They're reindeer, you
don't know where they've been. They all look like they've got key
lime disease.
The Santa Clause
Rats. Nobody sent me a Christmas card today. I almost wish there
weren't a holiday season. I know nobody likes me. Why do we have to
have a holiday season to emphasize it? Charlie Brown Christmas
Movie Quote
Everyone has a photographic memory. Some just don't have film.
See more funny quotes.
Ten of the Best Christmas Movies
Christmas In Connecticut (1945) - Barbara Stanwyck
It's A Wonderful Life (1946) - Frank Capra [Best Christmas
Movie]
Miracle On 34th Street (1947) - Kris Kringle
Scrooge (1951) - Alistair Sim
White Christmas (1954) - Bing Crosby Classic
A Charlie Brown Christmas
Mister Magoo's Christmas Carol
A Christmas Story (1883) - Bob Clark
Joyeux Noel (2005) - WW1 Football Game in the Trenches

Olive the O

ther Reindeer
Christmas Quotes: Angels
Do not neglect hospitality, for through it some have unknowingly
entertained angels. Hebrews
We are like children, who stand in need of masters to enlighten
us and direct us; and God has provided for this, by appointing his
angels to be our teachers and guides. Saint Thomas Aquinas

We shall find peace. We shall hear angels, we shall see the sky
sparkling with diamonds. Chekov
These things I warmly wish for you: Someone to love, some work
to do, A bit o' sun, a bit o' cheer, And a guardian angel always
near. Irish Blessing
True friends are like angels. They are precious and rare, and
false friends are like leaves, found everywhere.
See more about Christmas
angels.
Inspirational
Rather Than Funny Christmas Quotations
Here are delightful quotations to help us appreciate and reflect on
Christmas.
'There has been only one Christmas -- the rest are
anniversaries.'
W. J. Cameron
'Christmas is the keeping-place for memories of our innocence.'
Joan Mills
'Christmas waves a magic wand over this world, and behold,
everything is softer and more beautiful.'
Norman
Vincent Peale
'Peace on earth will come to stay, when we live Christmas every
day.'
Helen Steiner Rice
'The best
of all gifts around any Christmas tree: the presence of a happy
family all wrapped up in each other.'
'I wish we could put up some of the Christmas spirit in jars and
open a jar of it every month.'
Harlan Miller
'Remember, if Christmas isn't found in your heart, you won't
find it under a tree.'
Charlotte Carpenter
'There has been only one Christmas - the rest are
anniversaries.'
W.J. Cameron.
'A Christmas candle is a lovely thing; It makes no noise at all,
But softly gives itself away; While quite unselfish, it grows small.'Eva K. Logue
'I heard the bells on Christmas Day
Their old, familiar carols play,
And wild and sweet the words repeat
Of peace on earth, goodwill to men! - Longfellow
'I will honour Christmas in my heart, and try to keep it all the year.'Charles Dickens
Those who can laugh without cause have either found the true
meaning of happiness or have gone stark raving mad.
Norm
Papernick
'He who has no Christmas in his heart will never find Christmas under a tree.'Roy L. Smith.
More
Inspirational Quotes for Christmas
Please send us your favorite funny Christmas quotes.