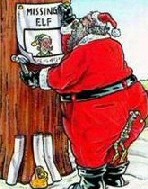 Here is Will and Guy's collection of funny Christmas
caricatures, and
clean joke
pictures.
Bottom Line - No work for the Real Elves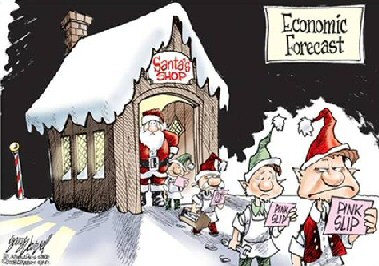 Elf and Safety Course for Santa Claus

Father Christmases are being sent on health and safety courses in the UK
so they don't hurt themselves while balancing children on their knees.
Will and Guy have discovered that classes will include the correct
posture to adopt in their chairs as excited youngsters queue to reel off
their Christmas lists. Santa will also be taught how to lift heavy presents
without doing himself an injury.
Dozens of the one-day courses are being staged by the Chartered Institute
of Environmental Health. A spokeswoman stressed, 'Of course there's only one
Santa - but hundreds of stand-ins work in stores in the run-up to
Christmas.'
More Christmas Cartoons and Joke Pictures
More Silliness With Santa's
Elves
Santa's elves are actually subordinate Clauses. When they are making
toys, they sing "Love Me Tender." That's why we call them Santa's little
Elvis.
A group of elves have banded together and started a rebellion to protest
the terrible working conditions. They call themselves the Santanistas. They
just want higher elf esteem.
They think that all the work they do getting ready for Christmas is just
like a day at the office. They do all the work but the fat guy in the suit
gets all the credit. Not only that, but anytime he wants to, Santa could
give them the sack.
Disappointment
f his
s Your Neighborhood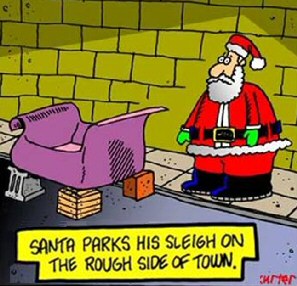 See more funny pictures of Santa's sleigh
Slow Burning
Christmas Comic Strip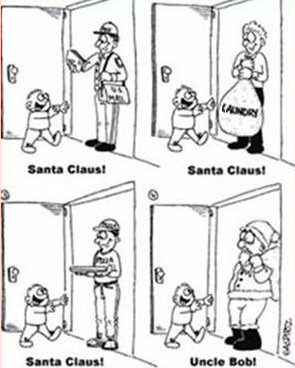 Guy had to read the four cartoons again before I got this
visual joke.
Rudolph the Red-nosed Reindeer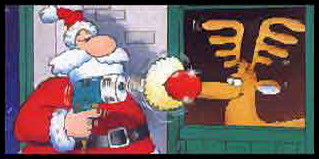 What a marvellous Christmas cartoon, I just cannot get this picture of
Rudolph having his nose buffed out of my mind.
See more funny cartoons of Rudolph
Well-bad Snowman Cartoon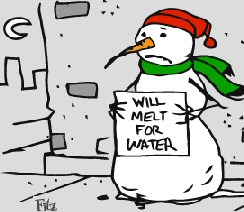 Merry Christmas From Will and Guy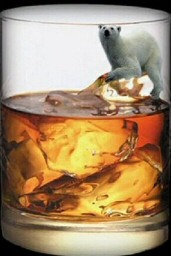 See more funny cartoons of snowmen
One More Funny Christmas Cartoon Picture
See more Christmas warnings
»
Footnote:
Please send us your clean
but funny Christmas cartoons
See more amusing Christmas pictures and funny cartoons: