Here is Will and
Guy's collection of clean but funny stories for boys and girls of all
ages. We have
chosen tales that you could tell around the fire side at Christmas time.
Funny Christmas Stories for Children
A Funny Story Of
Santa and the Two Sisters
Daisy and her thirteen-year-old sister, Mia, had been fighting a great
deal during the last year. This often can happen when you combine a
strong-willed two-year-old, who is sure she is always right, with a young
adolescent.
Daisy's parents, trying to take advantage of her newfound interest in
Santa Claus, reminded the two-year-old that Santa was watching and he was
unhappy when he saw children argue and fight. This had little impact on
little Mia who really didn't understand.
'I'll just have to tell Santa about your misbehaviour,' the mother said
as she picked up the phone and dialed. Mia's eyes grew big as her mother
asked, 'Mrs. Claus?' [it was really Daisy and Mia's aunt as Santa's real
line was busy] if she could put Santa on the line.
Mia's mouth dropped even further open her mother described to Santa
[Mia's uncle] how the two-year-old was acting. When her mother told Mia that
Santa wanted to talk to her, she reluctantly took the phone.
Santa, speaking in a deep voice, explained to Mia how there would be no
presents Christmas morning to children who fought with their sisters. He
would be watching, and he expected things to be better from now on.
Mia, now even more wide eyed, solemnly nodded to each of Santa's remarks
and silently hung the phone up when he was done. After a short while, the sister's mother [trying hard not to laugh at
being so clever] asked Mia, 'What did Santa say to you, darling?'
In almost a whisper, Mia, sadly but matter-of-factly stated, 'Mummy,
Santa said he won't be bringing any toys to Daisy this year.'
Funny Face
The funniest face
looked out at me
From a silver ball
On the
Christmas Tree.
At first I thought
It was Santa's elf,
But I
looked again and
It was just myself.
See more children's Christmas
poems.
Santa and the Poor Daughters:
A Lovely Tale for Christmastime
Baron Derbyshire was a kindly nobleman whose life was extremely hard. His
beloved wife had died of an illness leaving the him and his three daughters
in utter despair.
After losing all his money in useless and bad inventions the family had
to move from their castle in Yorkshire, England, into a peasant's cottage,
where the daughters did their own cooking, sewing and cleaning. When it came
time for the daughters to marry, Baron Derbyshire became even more depressed
as his daughters could not marry without dowries, money and property given
to the new husband's family.
One night after the daughters had washed their clothing they hung their
stockings over the fireplace to dry. That night Saint Nicholas, knowing the
despair of the father, stopped by the nobleman's hovel. Looking in at the
window Saint Nicholas saw that the family had already gone to bed. He also
noticed the daughters stockings. Saint Nicholas was profoundly moved and he
took three small bags of gold from his pouch and threw them one by one down
the chimney whereupon they landed in the stockings.
The next morning when the daughters awoke they found their stockings
contained enough gold for them to get married. Baron Derbyshire was able to
see his three daughters marry, and he lived a long and happy life.
Don't Try This at Home!
Pastor Tony is walking down the street on Christmas eve when he
notices a Larry, a small boy, trying to press the doorbell of a house
across the street.
See how this
funny children's story ends....
The Golden Box: A Beautiful and Inspiring Christmas
Fairy-tale for Children
Once upon a time, a man punished his five-year-old daughter for using up
the family's only roll of expensive gold wrapping paper before Christmas.
Money was tight, so he became even more upset when on Christmas Eve, he saw
that the child had used the expensive gold paper to decorate a large shoebox
she had put under the Christmas tree.
Nevertheless, the next morning the little girl, filled with excitement,
brought the gift box to her father and said, 'This is for you, Daddy.' As he
opened the box, the father was embarrassed by his earlier overreaction, now
regretting how he had punished her.
But when he opened the shoebox, he found it was empty and again his anger
flared. 'Don't you know, young lady,' he said harshly, 'when you give
someone a present there's supposed to be something inside the package.'
The little girl looked up at him with sad tears rolling from her eyes and
whispered, 'Daddy, it's not empty. I blew kisses into it until it was all
full.'
The father was crushed. He fell on his knees and put his arms around his
precious little girl. He begged her to forgive him for his unnecessary
anger.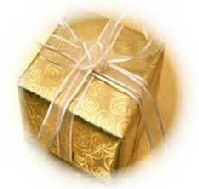 An accident took the life of the child only a short time later.
It is
told that the father kept this little gold box by his bed for all the years
of his life. Whenever he was discouraged or faced difficult problems, he
would open the box, take out an imaginary kiss, and remember the love of
this beautiful child who had put it there.
See more stories for
children.
The Legend of Poinsettia:
A Children's Xmas Story from Mexico

Dr. Joel Poinsett, who was the first ambassador to Mexico, brought the
bright red star-shaped flower to the United States. Hence, it was names as
Poinsettia. It is also known as "Flame Leaf" or "Flower of the Holy Night".
The legend related to this delightful Christmas flower is Mexican too.
However, it must be remembered there are two versions of the story. In one
version, the two small children of the story are known as Maria and her
little brother Pablo; while in another version, two cousins are mentioned by
the names of Pepita and Pedro.
Will and Guy think that whatever their names, this story needs
re-telling.
There was once a brother-sister pair who were very poor. They lived in a
small village and had barely enough to eat two full meals a day. As
Christmas time approached, festivities, parades and parties in the village
attracted the children. The gaiety of the season in itself was wonderful.
Moreover, a large manger scene was being set up in the village church and
all the children were eager to go to Baby Jesus and give him their best
present.
Mario and Pablo also wanted to give presents to the Holy Child. While all
children were discussing what they thought was best for the baby and what
they would buy as the gift for Him, Mario and Pablo knew that they had no
money at all to buy any present and had nothing that they could give as a
gift to the child.
They were determined to go to church and see the boy child. So, on
Christmas Eve, Maria and Pablo set out for the village church a little
earlier than the others to attend the service.
Since they had nothing to give to the child, they thought of picking some
weeds that were growing along the roadside so as to make a soft bed for Baby
Jesus and to decorate his crib. While they were still decorating the crib of
the Baby, other children arrived. Now, children can be very cruel when it
comes to teasing and making fun of others; Mario and Pablo were almost in
tears for shame and helplessness when a miracle occurred.
Suddenly, the weeds burst into bright red petals that looked like stars
and were so beautiful that everyone was awestruck with their beauty.
Everybody realised and said that a gift of love is dearer to Jesus than the
most expensive presents that money could buy.
Ever since that day, Poinsettia flowers have become favourites for
Christmas decorations.
See Christmas Traditions Around
the World
Here Are More Stories From Our Christmas Website for Children
Saying a Prayer for
His Christmas Meal
Lee, A seven-year-old boy, was asked to say thanks for the Christmas
dinner. The family members bowed their heads in expectation. Lee
began his prayer, thanking God for his Mommy, Daddy, brothers, sister,
Grandma, and all his aunts and uncles. Then he began to thank God for the
food.
He gave thanks for the turkey, the stuffing, the Christmas pudding, even
the cranberry sauce. Then lee paused, and everyone waited ... and waited.
After a long silence, the young fellow looked up at his mother and asked,
"If I thank God for the Brussels sprouts, won't he know that I'm lying?"
See more Christmas jokes for kids.
Christmas
Tale: Children's Letters to Santa
Carole Slotterback, a psychology professor at the University of Scranton,
analysed over 1,000 letters addressed to Santa Claus. The results were
as moving as they were surprising
Some of the letters were scrawled, while others were written in best
handwriting, furthermore 'Dear Santa' letters were written in every shade of
ink. Curiously, many gave Santa not only their addresses, but also
their phone numbers, and parents' cellphone all to make sure the Main Man
knew how to find them at Christmas.
Carole reported that the letters "touched me in so many different ways".
"Some are just absolutely a stitch, and others are some of the saddest
things I've ever read," she said.
One kid asked to be an elf. Another made a list that included Pokemon
cards, a camera and a microscope. But about every third item, the child
wrote: "NO clothes". And then there was the one written in careful cursive
on bright pink paper, in which Santa was asked for perhaps the greatest gift
of all, a mom.
"Not just for me but my daddy, brother and granny ... my daddy works so
hard and then he comes home to cook and clean and it should be easier," the
letter read. The child drew a five-cent 'stamp' on the envelope before
dropping it into the mailbox.
Overall, about 5% of letters had "family requests", such as for a sick
grandpa to get better, or for Mom and Dad to stop fighting.
She suggested parents ask to see their kids' wish lists, because they
might be surprised at what is - and what's not - on it. Requests are often
"simpler kinds of things than you might think," Slotterback said.
But she noted a surprising lack of social niceties in the correspondence,
unless the child was asking for a pet. A boy who asked for a golden
retriever used "please" 16 times, she said. The next-highest use came from a
girl who wanted a horse.
Slotterback cited other research that found people who expect their
requests to be fulfilled - like a boss asking an employee to do something -
are less likely to say please. Perhaps likewise, she said, kids expect Santa
to come through.
Still, she said, "you'd think if you were asking for a lot of presents,
you would throw in a 'please' or a 'thank you.'"
Not a Funny Christmas Children's Story
Grinch Handcuffs Santa's Writing Hand
Zillions of children worldwide will be crestfallen this year because
Santa does not reply to their Christmas present letters. In another
case of officialdom getting above itself, of Jobsworths ruling the roost,
the US Postal Service have abandoned the time honoured tradition of replying
to children's letters to Santa. What happened in 2008 was a registered
sex offender, infiltrated Operation Santa. Why not weed out the
guilty, praise the innocent, and keep the letters coming to the children?
But don't let the evil

Grinch handcuff Santa's writing hand.
Background: Santa's reply service began in 1954 in the Alaskan village of
North Pole, where volunteers open and respond to stacks of mail addressed to
Santa. All their reply letters come with the famous North Pole
postmark.
North Pole mayor Doug Isaacson is outraged that the scheme is affected by
a sex offender's actions on the east coast. The postal service began
tightening its policies in 2006, and now prohibits its volunteers from
accessing children's surnames and addresses. Instead, it blanks out
the last name and address on each letter and replaces them with codes that
match computerised addresses known only to the post office.
Funny Christmas
Statistics to Make Children Smile
There are currently 78 people named S. Claus living in the
USA, and
one Kriss Kringle.
December is the most popular month
for nose jobs.
The weight of Santa's sleigh loaded with one Beanie
Baby for every kid on earth: 333,333 tons [approx. says Guy].
Number
of reindeer required to pull a 333,333 ton sleigh: 214,206, plus Rudolph.
To deliver his gifts in one night, Santa would have to make 822.6
visits per second, sleighing at 3,000 times the speed of sound.
At
that speed, Santa and his reindeer would burst into flames
instantaneously thinks Will.
The average British child will open 18
presents on Christmas morning, worth £330 [$600USD] according to a
survey.
Of the presents received, one in 10 will be broken by the New
Year, only 40% will make it to March and just a quarter will be intact
by next Xmas.
In total around 46 million of kids toys, worth £870m will
be thrown away worldwide.
Christmas Children's Songs
Funny Christmas Nursery Rhyme

Christmas is coming,
The goose is
getting fat,
Please to put a penny in an old man's hat.
If you
haven't got a penny,
A half-penny will do,
If you haven't got a
half-penny,
God bless you!
This children's nursery rhyme has a meaning say Will and Guy. It is
to remind people to connect their Christmas fayre with the belief that
we should give to charity, each according to our means; if we are unable
to give then we can give our blessing.
A Child's Christmas Eve Dream
Last night I had a lovely dream about Christmas
Last night I had a
lovely dream,
But strange as it could be,
For on the hill beside our
house
Stood a great Christmas tree.
It glowed with lighted candles,
High at the top, a star,
And 'round
it, dancing in a ring,
Children from lands afar.
There were polite, little English girls,
Swiss boys with funny skis,
Dutch children in queer wooden shoes,
Joined hands with shy Chinese.
Turkish lads is tussled fez,
Tots from France and Greece and Poland,
Laughing as the children do
In the safety of a free land.
Perhaps my dream's a prophecy
Of Christmases to be,
When little
children everywhere
Can sing because they're free.
I surely wish with all my heart,
This day of Jesus' birth,
That
peace and love and happiness
Soon cover all the earth.
Author Unknown
A Parents Night Before Christmas
Twas the night before Christmas when all through the house
I searched for
the tools to hand to my spouse.
Instructions were studied and we were
inspired,
In hopes we could manage "Some Assembly Required."
The children were quiet (not asleep) in their beds,
While Dad and I
faced the evening with dread:
A kitchen, two bikes, Barbie's town house
to boot!
And, thanks to Grandpa, a train with a toot!
We opened the boxes, my heart skipped a beat....
Let no parts be
missing or parts incomplete!
Too late for last-minute returns or
replacement;
If we can't get it right, it goes in the basement!
When what to my worrying eyes should appear,
But 50 sheets of
directions, concise, but not clear,
With each part numbered and every
slot named,
So if we failed, only we could be blamed.
More rapid than eagles the parts then fell out,
All over the carpet
they were scattered about.
"Now bolt it! Now twist it! Attach it right
there!
Slide on the seats, and staple the stair!
Hammer the shelves,
and nail to the stand."
"Honey," said hubby, "you just glued my hand."
And then in a twinkling, I knew for a fact
That all the toy dealers
had indeed made a pact
To keep parents busy all Christmas Eve night
With "assembly required" till morning's first light.
We spoke not a word, but kept bent at our work,
Till our eyes, they
went bleary; our fingers all hurt.
The coffee went cold and the night, it
wore thin
Before we attached the last rod and last pin.
Then laying the tools away in the chest,
We fell into bed for a
well-deserved rest.
But I said to my husband just before I passed out,
"This will be the best Christmas, without any doubt.
Tomorrow we'll cheer, let the holiday ring,
And not have to run to the
store for a thing!
We did it! We did it! The toys are all set
For the
perfect, most perfect, Christmas, I bet!"
Then off to dreamland and sweet repose I gratefully went,
Though I
suppose there's something to say for those self-deluded...
I'd forgotten
that BATTERIES are never included!
- Anonymous
See more Christmas stories
for kids
Footnote:
Please send us your funny children's Christmas story.