Humour is a fickle animal. Will, and I have chosen examples of humour simply because they amuse us.
Today we have a much richer selection of medium for comedy than our grandparents. That said, the slapstick humour has stood the test of time.
On this page Will and Guy have funny pictures of cats
combined by clever animation to produce entertainment. We love the numerous antics show on this funny cat video clip.
1) Cats Video Clip - Climbing Trouser Leg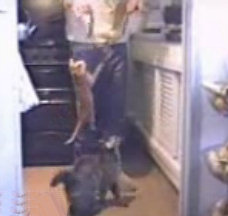 2) Cat Video Clip - Cat
Meets boy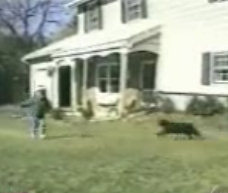 3) Funny Cat Video Clip - Fish Bowl What happens next? Check out the video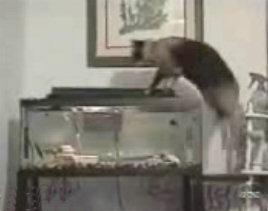 4) Cat Takes on Bear - Who Wins?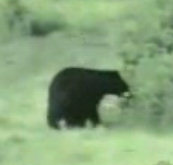 Funny Cats VideoSee What Happened. You will be amazed at the cat's antics.
A Very British Cat


'A Good Ratter' PM's spokesperson tells Will and Guy.
The four-year old tabby, called Larry, was at London's Battersea Dogs
and Cats Home before moving in to the UK Prime Minister's home.
The arrival follows weeks of speculation about potential pest control
measures after a large black rat was seen scuttling past No 10.
A Downing Street spokesman informed us that the former stray was a
'good ratter'.
Former Downing Street Cats Include :
1920s - Rufus of England
1930s and 1940s - Munich Mouser
1970s - Wilberforce
1989 to 1997 - Humphrey
2007 - Sybil
2011 - Larry
See more funny cat stories.
Funny Cat Pictures
Catfish? No, cat fish!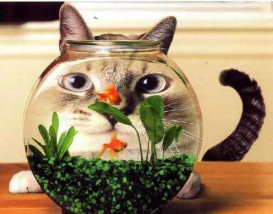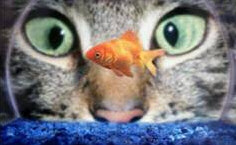 Every
cat picture tells a story.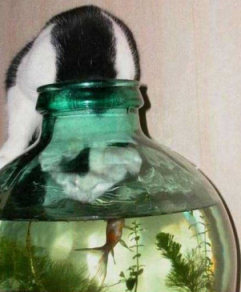 Let us hope that only lovers of funny cat pictures browse these pages and there are no goldfish aficionados around.
Clever Cat Video
See more cat videos »