The cats' motto: No matter what you've done wrong, always try to make it look
as if the dog did it.
Funny Cat Dog Pictures
My What a Big Tongue You Have!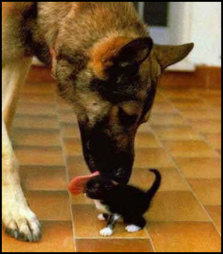 Funny Cat Dog Pictures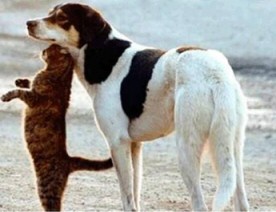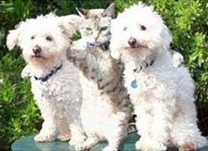 What Have We Here? Puppies or Kittens?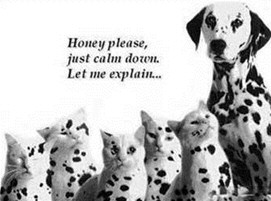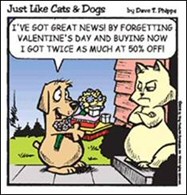 Remember The Cats Motto
No matter what you've done wrong, always try to
make it look as if the dog did it.
Cat Walks Through the Valley of
Death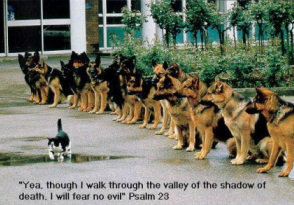 Differences in Cat and Dog Diaries
Dog's Daily Diary:
8:00 am - Dog food! My favourite thing!
9:30 am - A car ride! My favourite thing!
9:40 am - A walk in the park! My favourite thing!
10:30 am - Got rubbed and petted! My favourite thing!
12:00 pm
- Lunch! My favourite thing!
1:00 pm - Played in the yard! My favourite thing!
3:00 pm - Wagged my tail! My favourite thing!
5:00 pm - Milk bones! My favourite thing!
7:00 pm - Got to play ball! My
favourite thing!
8:00 pm - Wow! Watched TV with the people! My favourite thing!
11:00 pm - Sleeping on the bed! My favourite thing!
Cat's Diary:
Day 683 of my captivity:
My captors continue to taunt me with bizarre little dangling objects. They dine lavishly on fresh meat while the other inmates and I are fed hash or some sort of dry nuggets.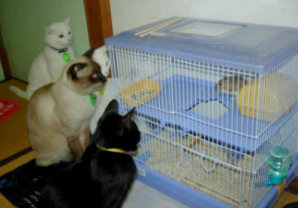 Although I make my contempt for the rations perfectly clear, I nevertheless must eat something in order to keep up my strength.
The only thing that keeps me going is my dream of escape.
In
an attempt to disgust them, I once again vomit on the floor. Today I decapitated a mouse and dropped its headless body at their feet. I had hoped this would strike fear into their hearts, since it
clearly demonstrates what I am capable of. However, they merely made condescending comments about what a "good little hunter" I am. The audacity!
There was some sort of assembly of their accomplices
tonight. I was placed in solitary confinement for the duration of the event. However, I could hear the noises and smell the food. I overheard that my confinement was due to the power of "allergies." I must
learn what this means, and how to use it to my advantage.
Today I was almost successful in an attempt to assassinate one of my tormentors by weaving around his feet as he was walking. I must try this
again tomorrow - but at the top of the stairs.
I am convinced that the other prisoners here are flunkies and snitches.
The dog receives special privileges. He is regularly released - and seems to be
more than willing to return. He is obviously retarded!
The bird has got to be an informant. I observe him communicating with the guards regularly. I am certain that he reports my every move. My captors
have arranged protective custody for him in an elevated cell, so he is safe.... for now.
More Funny Cat & Dog Pictures
Cats and Dogs At War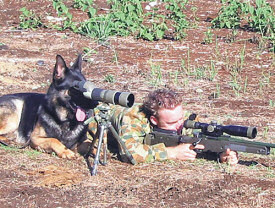 Cat and Dog at Peace?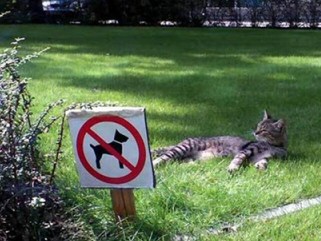 Cat or Dog? Whose Side Are You On?
If you're much like a cat, there's something to learn from the dogs:
loyalty, courage, and an unconditionally loving and positive attitude, for
example.
If you're much like a dog, there's something to learn from the cats:
independence, dignity, mutual respect and being yourself, for instance.
If you aren't at all like a cat and not at all like a dog, then we think
there may well be something you can learn from both.
Funny Cat and Dog Video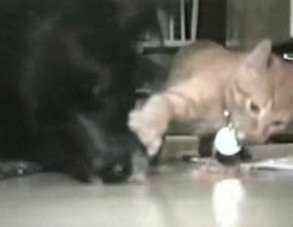 See the cat and dog fight video.
Cat in the Dog House?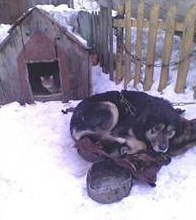 Possession is 9/10 of the law. Is that a cat I see in the dog house?
Surely it couldn't be a fox?
Cat Jokes
What does a kitty like to eat for breakfast?
Mice Krispies.
Why don't cats play poker in the jungle?
Too many cheetahs.
What is a cat's way of keeping law and order?
Claw Enforcement.
Finally, Dog and Cat - A Picture of Co-operation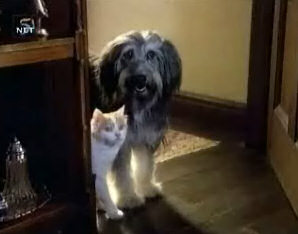 See how this cat and dog
foil a robbery.
A Cat in an Empty Apartment by Wislawa Szymborska
To die - you can't do this to a cat.
How is the cat supposed to live
in an empty apartment.
Climb up the walls.
Rub against the furniture.
Everything seems the same,
but somehow it is different.
Seems not
moved,
but somehow drawn apart.
And the lamp is off in the evenings.
Footsteps are heard on the staircase,
but it's not them.
The hand
placing fish on the saucer-
not the one it was.
Something doesn't
begin
at its usual time.
Some things don't happen as they should.
Someone was here for long,
then suddenly vanished
and keeps not being.
Each wardrobe's been looked into.
The shelves have been run through.
The carpet's been wedged and checked under.
Even the ban's been broken
and the documents scattered.
What is there left to be done.
Sleeping
and waiting.
Let him just come back,
let him just show up.
He'll
surely learn
not to treat a cat this way.
He'll be approached
as if
casually
really slowly
with paws very resentful.
And no squeaking
jumping at first.
Footnote:
Please write to Will and Guy if you have funny
cat dog pictures.
Joke of the Day Email
Get a clean joke delivered to your inbox every
day, no strings attached, just part of our service. Free
subscription to
our Funny Joke of the Day email.
We have over 1,500 pages of funny pictures, clean jokes, stories and amusing videos. Please use the Search below to find a topic of particular interest:
Thought of the Day Subscription
Our offer is to email you an inspirational
'Thought of the day'. Your subscription is completely free of cost and there
are no adverts. Sign up for our 'Thought of
the Day'.