Will and Guy's collection of funny car safety pictures, also featuring,
lorries, vans
and bikes.
Safety Technologies Tested to the Limit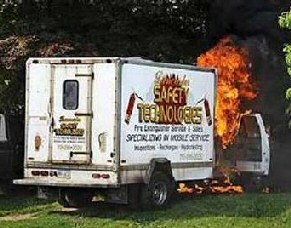 Funny Car
Safety Picture - Drive Carefully!
Perhaps the car should have been a black model. I guess this was literally an accident waiting to happen. A car just had to crash into one of those 'Thank you for driving carefully'
signs.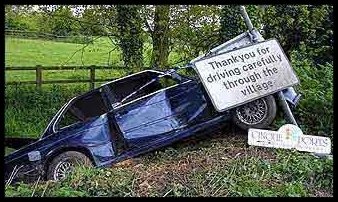 James McGregor writes in saying the
car is a BMW 325i Coupe (otherwise known as the 'Individual'), manufactured
between 1992 and 1993.
The eagle eyed amongst you may also spot CinQue Ports on the signpost. The original CinQuePorts were, Sandwich, Dover, Hythe, Romney and Hastings. Two more towns, Rye and Winchelsea were later added.
Naturally, the country is England.
Original Car Safety - Red Flag Act - UK 1865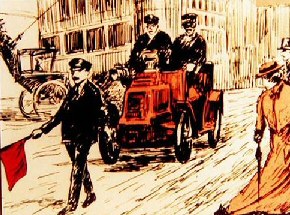 The Red Flag Act was the popular name for the Locomotive Act of 1865, in
the UK which put severe restrictions on the steam carriages then being
developed.
They were limited to 4 mph (6.4kph) in the country and 2 mph in
towns, and they had to be preceded by someone on foot, at least 60 yards
(55m) ahead, carrying a red flag. See etching to the right.
Amusing Car Safety Trivia
The first person to be killed in an automobile accident in the USA was
Henry H. Bliss, a 68-year-old real estate broker. On September 14,
1899, in New York City, Mr Bliss stepped from a streetcar, turned to assist
a woman passenger, and was hit by a cab.
The Travellers Insurance Company probably issued the first accident
policy in the United States to James Bolter of Hartford, Connecticut, in
1864. The policy covered Mr Bolter for his walk from his job at the
Post Office to his home on Buckingham Street. Cost of the premium: 2 cents
per annum.
Concealed Entrances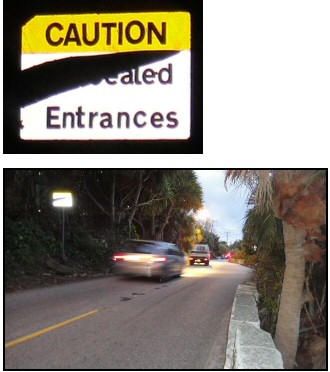 Pictures of poor car safety in Bermuda kindly sent in by Jayne West
More Funny Car Safety Pictures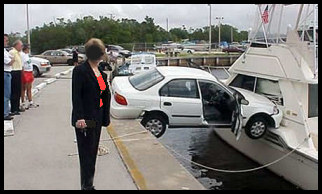 Maybe This Sign Fooled The Above Driver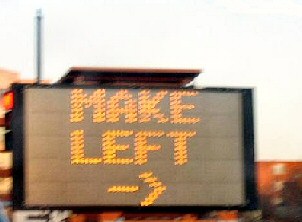 It's signs like this make that for unfunny car safety incidents.
Ten Fabulous, Funny, Car Safety Facts

In 1771 the first accident involving a motor vehicle
took place in Paris when Cugnot, the French inventor's steam tractor hit
a low wall in the grounds of the Paris arsenal.
Police women were used for traffic control duties for the first time
in Paris in 1964. Delhi, India, introduced women traffic police in 1989.
The world's first car number plates were issued by the French police
in 1893.
In 1895 John Henry Knight was convicted and fined for using a
motor-tricycle on the highway. He was probably the first motorist to
appear in court.
In 1902 Tar was first used on a Macadam surface to prevent dust in
Monte Carlo. It was the idea of Dr. Guglielminetti, a Swiss gentleman.
At first the tar was brushed in cold, but soon it was applied hot.
The Motor Car Act of Britain came into force on 1st January 1904. It
required that all cars be registered and carry a number plate, and all
motorists to have a driving licence. But there was no driving test to
pass and the licence was obtained by filling up a form and paying the
fee at a post office. The act made dangerous driving an indictable
offence.
The World's first traffic lights were installed in Detroit, USA in
1919. The first traffic lights in Britain were installed in
Wolverhampton during 1928. However, they were not installed in London
until 1932.
The pedestrian crossing was instituted in Britain in 1934. The roads
were marked by dotted lines. On the pavement there were striped Belisha
beacon light poles named after Britain's Minister of Transport L. Hore-Belisha. The Zebra crossing with black and white stripes was
developed after the Second World War.
Box junctions, marked with yellow cross-hatching, were introduced in
London during 1964. The aim was to prevent traffic blocking junctions
when it could not proceed and this was successful.
The first recorded motor-car accident in Britain, resulting in the
death of the driver, occurred in Grove Hill, Harrow-on-the Hill, London,
England on 25th February 1899.
Funny Car Safety Signs from France
Ever since then France has been putting up funny road signs. The most
notorious are the 'Toutes Directions' (all directions). For total
confusion these signs are often placed next to another sign offering Autre
Directions (other directions).
Brussels is home of the European Parliament and in true paralysis by regulation,
they have not only have 'Toutes Directions' signs, but also a second sign
translated into Dutch.
The latest French offering looks like a man trying to extinguish a monster
cigar. Officially, this funny looking sign means - 'You can launch your
canoe here'.
More Funny Vehicle Safety
Pictures
Lorry Safety Campaign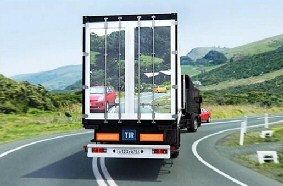 Lorries Passing on Narrow Track in Bolivia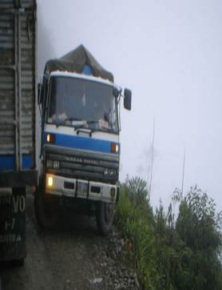 Forget car safety, check out these
lorry drivers in Bolivia
Footnote:
Please send us your funny car safety pictures.