Attention to detail is one of the vital life skills. Nowhere is
this more important than in cake decoration. A small mistake and
you can 'blow' your profits. A big mistake with one squirt of the
icing cones and you can wreck your
reputation as a cake topper.
Funny Cake Pictures
Will and Guy have established that most of these cakes were made by
professionals who had been asked to write specific messages on them. We
are most grateful to Hannah Baker for drawing our attention to the funny
cake toppers, thus
enabling this page to be written.
Funny Cake - Underneath
This cake order was for poor Suzanne who was obviously leaving the
business. The person who ordered the cake told them to write: "Best
Wishes Suzanne" and underneath that, write "We will Miss you". They
couldn't even spell 'underneath' correctly!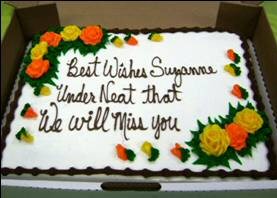 Above is the cake that was delivered - amazing, even hilarious.
On reflection, Will and Guy think really rather sad.
Triplets?
The woman involved here was expecting triplets. So the order was for
"congratulations" to be written on it three times. This was the result.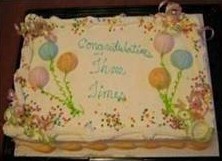 Congratulation
Who are these people we ask?
Here, the customer required the word, 'congratulations' to be
written. You will observe that the cake maker has written it twice since
the word requested was a plural.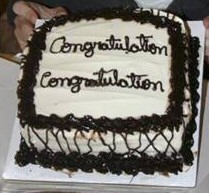 We have nothing to add.
More Amusing Cake Toppers
Having received these amusing cakes, Will and Guy decided to research
further the idea of cakes as a humorous item.
The Bride Was a Picture
Chidi Ogbuta, 35, from Texas, had a 5ft cake made into a life-sized model of
herself to renew her vows after 10 years of
marriage to her husband Innocent.
The $5,000 cake took weeks to make and required 2 gallons of amaretto,
50lbs of sugar, 200 eggs and weighed a whopping 400lb. It needed four men to lift it into the wedding venue.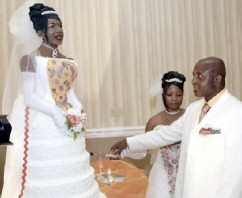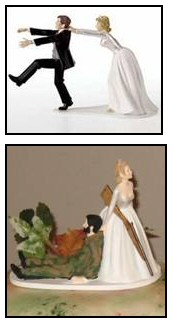 Here are several examples of funny cake toppers
A very funny wedding cake figurine topper.
A version of a 'shotgun' wedding cake topper (See below right).
Three Wedding Jokes NOT found on Cakes
I think men who have a pierced ear are better prepared for
marriage. They've experienced pain and bought jewellery. (Rita
Rudner)
At the wedding reception, one woman said to another, 'Aren't
you wearing your wedding ring on the wrong finger?'
The other
replied, 'Yes, I am, I married the wrong man.'
The most effective way to remember your wife's birthday is to forget
it once.
A cake for a sporting person - Serve with odour eaters?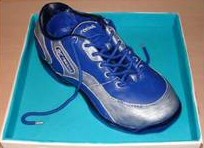 A splendidly example of a funny pirate cake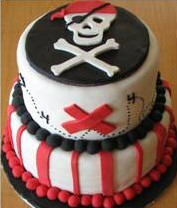 Prince Charles 60th Birthday Cake - Zany Bus Pass Topper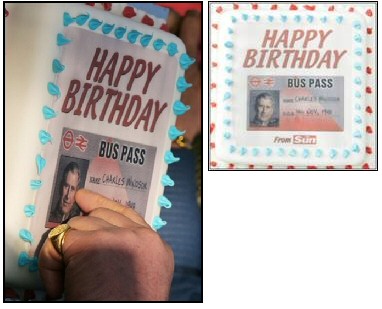 Cake for a Fast Food Lover
Has to be a NY Mets fan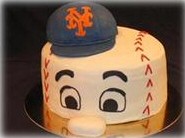 Thank to Robyn for identifying the hat on this cake topper.
A fine example of lager cake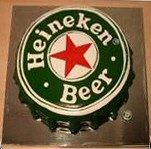 This is a particularly good example of the cake topper's art. We
sure thought this was a photograph of a bottle top.
Who Ate All The Pies?
1. Funny Wedding Cake Amuses Guests
Newlyweds Emma and John Kent tucked into a four-tier pork pie wedding
cake after trotting down the aisle. Mr Kent, 42, of Lincoln, laughed, 'I had
no idea it had been made but it was fantastic.'
The 10kg pie cost £150
$226 USD] which is some £500 [$753 USD] less than a traditional wedding
cake; it also took almost eight hours to construct.
2. Simon Says, 'My Cake Is Bigger Than Yours'
Simon, the pie man from Fladbury, Worcestershire, England, may have just
completed the world's first five-tier pork pie as a unique variation on the
traditional wedding cake.
Mr Simon Taylor, owner of Fladbury Pies and Sausages, was commissioned to
make the replica cake in the classic recipe of his famous pork pies for a
wedding.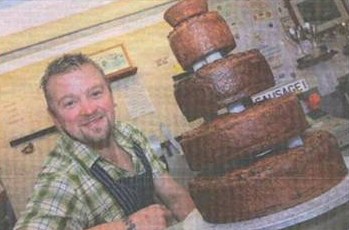 The award-winning pie-maker has made big pork pies before, and while
other couples have had similar pork pie wedding cakes, this is possibly the
world's first five-tier example. Will and Guy can reveal that, 'We are
famous for our pork pies. We have won awards for them and people come from
miles to try them. It's just a bit of fun. We have made big pork pies but
have never been asked to make a tiered pork pie before. It was made to the
same recipe of our smaller pies, but still looked like a wedding cake.'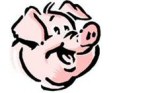 The cake, or pie was made at the request of Russell Powell, from
Peopleton, who married long-time partner Belinda Jane Twine.
Meanwhile....
Porky Pig says, 'See
our Swine Flu Joke page'
A Funny Cake Story
Mrs Sara Bryce decided to bake a cake for the Presbyterian Church
Ladies' Group who were holding a homemade cake sale in Madison,
Wisconsin, but she had forgotten to do it until the very last minute.
Sara remembered it on the morning of the sale and after rummaging through
her kitchen cabinets, she found an angel food cake mix and quickly made it
while drying her hair and dressing and helping her son Clint get ready to go
to Scout camp.
When Sara took the cake out of the oven, the centre had dropped flat and
the cake was terribly misshapen. Sara thought, 'Oh no, there's no time to
bake another cake.' This particular cake was so important to Sara
because she did so want to fit in at her new church, and in her new
community of new friends having only moved to Madison two months earlier.
A creative body, Sara searched her home for something which would build
up the centre of the cake. Eureka. She found it in the bathroom: a roll of
toilet paper! She pushed it quickly into the cake and then covered it
beautifully with white icing. Not only did the finished product look
beautiful, it looked absolutely perfect!

Before leaving home take the cake to the church bazaar and then travel to
work, Sara woke her daughter, Louise, and gave her some money and specific
instructions to be at the sale the minute it opened at 9:30am. She was
to buy that cake and bring it straight home. However, when Louise arrived at
the sale, she found, to her horror, that the attractive "perfect cake" had
already been sold. Louise seized her mobile phone and called her mother.
Sara, was horrified; she was beside herself, everyone would know, what
would they think? She would be ostracized, talked about behind her back and
worse - ridiculed.
That night Sara lay awake thinking about people pointing their fingers at
her and talking about her. So the very next day, Sara promised herself
that she would try not to think about the cake and she would attend the
fancy luncheon at the home of a friend of a friend and try to have a good
time.
...(vidFL2)
She did not really want to attend because the hostess was a snob who,
more than once, had looked down her nose at the fact that Sara was a single
parent and not from the founding families of Madison, but having already
agreed to go she could not think of a believable excuse to stay home.
The meal was elegant, the company was definitely upper crust, 'classy' as
they say in Britain; and to Sara's horror, the cake in question was
presented for dessert.
She felt the blood drain from her face when she saw the, now decorated,
cake. She started out of her chair so as to tell her hostess all about it,
but before she could get to her feet, the Mayor's wife said, 'What a
beautiful cake.'
Sara, who was still stunned, sat back in her chair when she heard the
hostess [who was a prominent church member] murmur, 'Thank you, do you know,
I baked it myself.'
Sara smiled broadly and thought to herself, 'God is good.'
Wedding Cake
Surprise: A True Funny Story
A newlywed couple have been awarded £310 GBP [$500 USD] compensation
after finding their wedding cake was made of polystyrene.
Bride, Aimee West bought the three-tier sponge cake decorated with white
and dark chocolate icing and flowers for their reception near Llanelli,
Wales. But just before she and new husband Tony cut through a layer of
chocolate white polystyrene was found underneath.
Creative Cakes, which said there had been a mix-up, was told to
compensate the couple by a small claims court.
Pi Pie!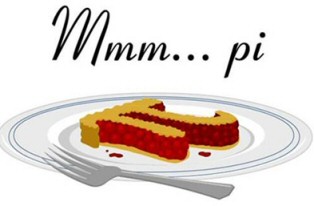 Picasso Cake
Picasso's abstract painting style makes for a striking
centerpiece, beautifully illustrated by this three layer cake inspired by
"Woman with Wristwatch". This cake is beautifully hand painted by Chocolaz
Artisan Cakes.
Photo via Chocolaz Artisan Cakes
Yet Another
True, Strange and Funny Cake Story
An elderly man has been hurt fighting over the last piece of cake at
an 'all-you-can-eat buffet' held in a restaurant in Novate Milanese, Milan,
Italy.
Niccolo Bruno, the victim, seized the cake and another pensioner, Alfredo
Mancini, who was attempting to grab the same piece of cake, stabbed Bruno in
the hand with a knife while they were at the food counter.



The guilty man then tried to flee out of the restaurant but was arrested
by the police. Bruno was hospitalised after the incident but Will and Guy
have been able to find out that he is now quite well.
Footnote.
Please send us your 'funny cake toppers and stories