Our greatest hope is that these signs will inspire you to look out for
strange signs in your neighbourhood, or on your travels.
Truck Abut Dexter
- Strange Sign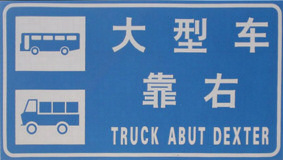 Well, they got the word 'Truck' right, but what does 'Abut Dexter' mean? Guy consulted our in-house Latin expert, who pointed out that Dexter means 'on the right hand' in Latin. In practice this
meant that Guy bought an Italian teacher a drink in the pub, in return the teacher gave him a translation of Dexter. Incidentally, Guy had to endure a lecture on the true meaning of 'Sinister' - on the
left hand.
'Abut' had us stumped, but fortunately the bar-maid chipped in that that Abut obviously means 'about'. Thus at great expense, Will and Guy can tell you that 'Truck Abut Dexter' means, 'Only trucks can be
about in the right hand lane'.
Museum Rules - Daft Sign
Please strictly abide by our rules, and welcome to our museum!
Parking for Icelanders?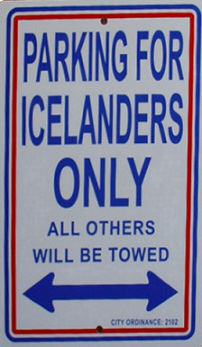 Will and Guy wonder, how do you spot an Icelander?
Re-located to April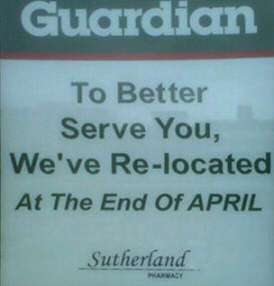 The above picture certainly provokes more questions than it answers. Could it be a matter of the tense of the verb Should it be, 'We WILL re-locate at the end of April'? Alternatively is April a person? Logically,
April would be an address, but there was no April avenue, street, or even an April road in this town. Mysterious.
Free PowerPoint Presentation of Funny But Strange Signs
Free Download of Funny But
Strange Signs (Right click, Save Target As)
Contents of Strange Funny Signs
Strange and funny signs
Now that is really helpful
Don't sit on..............what?
Where on earth would one find a lightening bolt?
Don't drop litter
Rather a long winded way of requesting that you do not drop your litter. Sign found in France
Lose a finger? In that case I will not feed him
Mind your head
At first this doesn't appear funny, but, when travelling up the escalator you are distracted by the sign and........................bump your head.
Which way now?
Take no notice of this sign Why is this sign there at all?
No parking or at least, limited parking Think I'll park elsewhere.
Most unfair Be warned
How do they do that?
Pay attention now
Makes sense really
Mental Health Sign
Fishing I love clarity in a sign
Speed Limit 25mph Today I will drive slowly
Truck Abut Dexter What does this mean?
Museum Rules - You will be tested on this during your visit
Rather a lot to take in
Modern Technology
Relocation sign in shop window -But where have you gone?
Caution - No Brainer?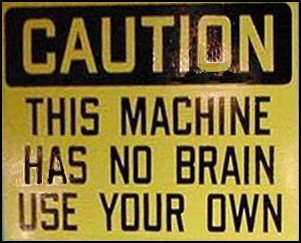 See more funny warning
signs.
Funny Drunk Sign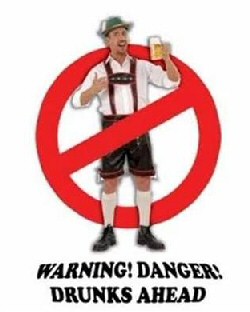 No Dogs Allowed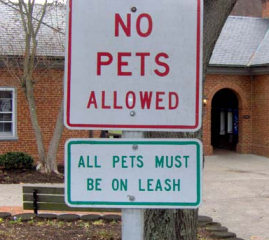 Danger Deep Excavations!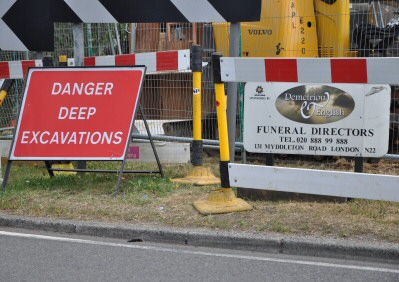 Above picture kindly snapped and sent in by Peter Dane. A combination
of two adjacent signs photographed in July 2010 on the roundabout at the
junction of Waterfall Road, Hampden Way/Morton Road London N14.
Strange Road Sign: Push Button For.....?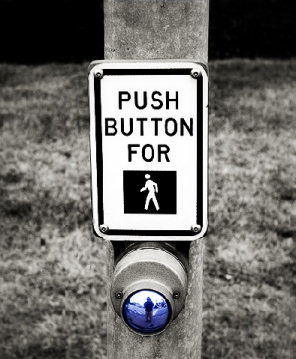 This is a truly perplexing road sign: 'Push Button For'. What would you get if I pressed that blue button?
(Picture Right)
Beware Moose Crossing!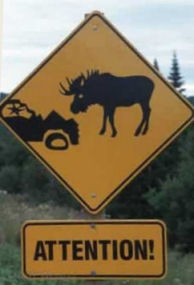 How to Create a Funny PowerPoint Presentation
Making presentations in PowerPoint is satisfying, moreover, it's easy to get
started.
The PowerPoint program is intuitive to learn and easy to create your own PPT
slides and build them into a slide show. If you have
Microsoft Office you may find that you already have PowerPoint along with Word
and Excel.
One way to begin is simply to open any example presentation. Just
download one of our free PPT files and open it with PowerPoint. As you
examine the slides, so it will become obvious how to add pictures and titles, if
you do get stuck, ask the wonderful built-in 'Help'. To make a funny slide show requires these skills;
Imagination - Think of an funny idea, then build a themed slide set
Artistic - An eye for a good picture
Wordsmith - Choose a catchy title for each slide
Humour - Your viewers will appreciate a funny PowerPoint Presentation
PowerPoint mechanics - Actually, this is the easiest skill of them all, the
program is so intuitive.
Good luck with creating your funny PowerPoint Presentation
Will and Guy