Here is our collection of amusing bus pictures and funny stories, with
special thanks to Dave who drove many of them.
Bus
On Crumbling Bridge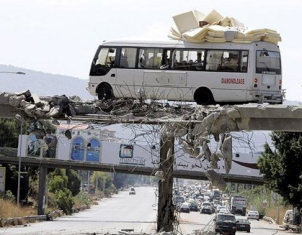 Crumbling bridge, or crumbling bus?
Where
Did the Bridge Go? How Did the Bus Get Stuck There?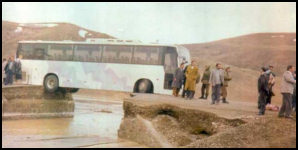 One Unlikely Explanation of the Funny Bus On the
Bridge
Darragh O'
Malley was driving his lorry when he saw a bridge with a
sign saying 10 foot max. headroom. He slowed down wondering if he could drive under it or not.
'A shure I'll give it a go,' he thought only to find that his lorry got stuck underneath it.
Darragh
sat back in his seat, poured out a cup of tea and lit a cigarette. A policeman arrived a short time later and knocked on the cab door which Darragh immediately opened.
'What do you think you are doing?'
demanded the policeman in a sharp tone.
'Sure I'm having me tea break,' replied Darragh.
'And what do you work at?'
enquired the policeman.
'Agh shure, I deliver bridges,' smiled Darragh.
More Funny Bus Pictures
Following our digression to report on disappearing bridges, we return to our
theme of amusing bus pictures.
Dave's First Day Bus Driving
First the passengers and Dave try a push start the bus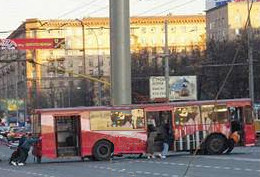 Then Dave sends for the relief bus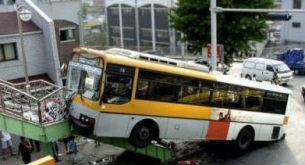 An then, the second relief bus ends up in the drink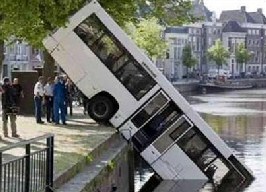 Plan B: Dave
Starts Door-to-Door Bus Service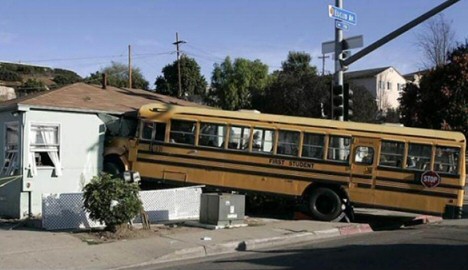 School bus pickup, a bus stop too far?
Final Solution - Dave
Pawns His Bus!
Following a failed respray Dave take his bus to the pawnbroker.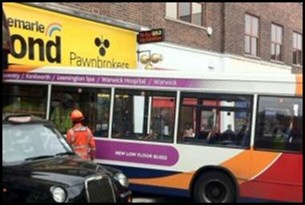 Incidentally do know why the pawnbroker's symbol is 3 balls? It's
2:1 that you won't get your goods back.
New Role for Old London Routemaster Bus
In June 2007 a British couple decided to incorporate public transit into their wedding, arriving to the ceremony by bus, and then taking the all the guests along to the reception. Beth Knowles eschewed
centuries old tradition by arriving for her nuptials on an old-style London Routemaster bus.
The bride opted not for a chauffeur-drive car, and instead walked down the aisle of the red
double-decker with her father Peter and six bridesmaids.
Beth tied the knot with husband, Alan Creedon, 30, at Heron House register office in Manchester city centre.
New 2012 Routemaster Bus
Final designs for London's "new Routemaster bus" have been unveiled.
The double-decker uses green technology to be 40% more efficient, it has two
staircases and an open platform enabling people to "hop-on hop-off".
London Mayor Boris Johnson said the new bus for the capital would be
"iconic" and "beautiful". A spokesman for Transport for London hoped the
bus, which has three doors to speed up boarding, would be in service in
2012.
The new bus design mimics some of the features of the iconic red London
Routemaster bus and is scheduled to come into service in 2012
While the new bus design mimics features of the iconic red London
Routemaster bus, it also has a "glass swoop" at the back and "an asymmetric
design for the front-end completes the futuristic look".
Dave Again -
He Tries a New
Bus Route!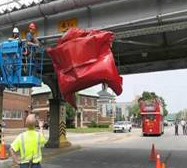 Can You Believe It?
A New York City bus driver stopped his bus because a passenger coughed. The Transit Authority acknowledges something strange happened on the X10 Express bus from Staten Island.
Wall Street banker Michael Goga told the New York Post that he cleared his throat and coughed. The driver told him he had to get off the bus, because he didn't want germs spread.
See more tales of Jobsworths
Old Fashioned Busses
Motor Bus by: A.D. Godley
WHAT is this that roareth thus?
Can it be a Motor Bus?
Yes, the smell and hideous hum
Indicat Motorem Bum!
Implet in the Corn and High
Terror me Motoris Bi:
Bo Motori clamitabo
Ne Motore caedar a Bo--
Dative be or Ablative
So thou only let us live:
Whither shall thy victims flee?
Spare us, spare us, Motor Be!
Thus I sang; and still and still anigh
Came in hordes Motores Bi,
Et complebat omne forum
Copia Motorum Borum.
How shall wretches live like us
Cincti Bis Motoribus?
Domine, defende nos
Contra hos Motores Bos!
Kindly sent by Geoff Foster
Funny Charabanc
Will and I think that funniest bus ever invented was the charabanc, here is an
old photo.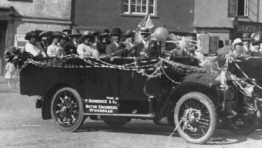 What's remarkable with the old charabancs is how many people they held for an
excursion. When they arrived at their destination, and all the passengers
disembarked, the inevitable picnic made the feeding of the 5,000 seem like a
slimmer's convention.
Omnibus --> Autobus
The first buses were called 'Omnibus', a word derived from the Latin meaning 'for all'. To this day the
Europeans still refer to this mode of transport as Autobus rather than plain
bus.
Chinese Bus Company Chooses Innovative Way
To Slow Down Their Drivers

An omnibus company in China has launched a new "drive safely" campaign,
by hanging big bowls of water next to their drivers. The Longxiang
Public Bus Company in Changsha, Hunan province, says drivers must drive
gently to avoid spilling any water. Bus drivers are expected to ensure
the bowls are still full when they finish their shift Will and Guy have
discovered.
The company warns drivers that CCTV footage will be studied to make sure
they do not top up the bowls with water.
We have learned that, 'Passengers often complain that sudden braking and
bad driving makes them really uncomfortable on the buses,' from a spokesman
of the company. 'So by hanging bowls of water in the driver's cab will
discourage them from making any jolting starts, sudden braking or bad
turns.'
Will and Guy would like to see this idea introduced into the UK.
How to Catch a Number 54 Bus
A country boy called Norman was visiting London, England, for the first time. He wanted to see Big Ben and the Houses of Parliament. Unfortunately, he couldn't find it by himself, so he asked a police constable for directions.
'Excuse me, officer, how do I get to Parliament Square?'
The policeman replied, 'Wait here at this bus stop for the number 54 bus. It'll take you right there.' He thanked the officer and waited at the
bus stop - see picture opposite.
Three hours later the police officer returned to the same area and, amazingly, Norman is still waiting at the same bus stop.
The police officer got out of his car
and said, 'Excuse me, sir, but to get to Parliament Square, I said to wait here for the number 54 bus and that was three hours ago! Why are you still waiting?'
Norman replied disarmingly, 'Don't worry,
constable, it won't be long now...The 45th bus just went by.'
[Funny how one story reminds you of another...]
Mike and Jimmy Take a Bus Ride
Mike and Jimmy were walking home from town after a night of bar-hopping.
They had no money to get a taxi and were staggering all over the place when
they found themselves outside the bus depot on Danube Road.
Mike had an idea. He said to Jimmy, "Go in there and steal a bus so we
can drive home and I'll stay out here and keep a watch for the police."
So Jimmy went into the garage and was gone for about twenty minutes. Mike
was starting to wonder what was taking him so long.
Eventually Mike stuck his head around the door and saw Jimmy running from
bus to bus and looking very worried.
"Terry! What are you doing?" Mike asked.
"I can't find a number 47 anywhere Mike," Jimmy replied. "The 47 is the
only bus that stops at our house."
Mike rolled his eyes. "Ohhhh," he groaned, "How stupid can you get? It
doesn't need to be a 47 for us to get home!" He walked over to a bus. "Here,
we'll take this one," he said. "It's a number 25. It stops at the
roundabout. We can just get off there and walk the rest of the way!"
Bus Bench - But Only If
You Are Human!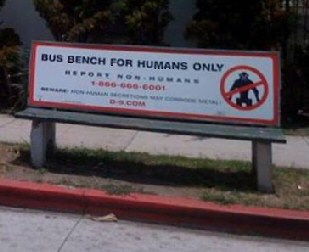 Study the small print in the photo and you can just make out 'Report
Non-Humans'.
Kritiaan Johannes kindly writes to enlighten us by saying: 'It would
appear that it is a promotional gimmick for the movie "DISTRICT 9" released
in cinemas in 2009, in which alien refugees are stranded in Johannesburg
when their mother-ship breaks down.'
Funny Bus Picture - Clever Advert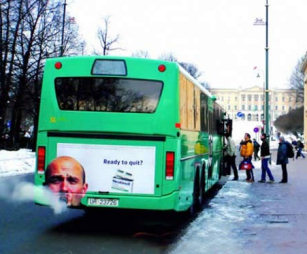 Footnote: Please send us your funny bus pictures.
See the inside of Dublin buses