Here are some amusing stories to help you prepare for the new school term.
Funny Back to School Stories
Back to the OHP
Dear All,
When I returned from my holiday, I notice from our schedule for the September weekend that during the 'Worship' day we will be looking at 'Worship and vision, multimedia in worship.' I thought the following definition taken from
the writings of St.Adrian de Plass might inform the session and stand as a warning to us all!
Overhead Projector: often referred to as an OHP. Confusion with the term OAP is a bad idea, as discovered by a
man in one of our local churches who announced the following:


'I have been going through the OAPs in our church and it has become clear to me that many of them are simply no use to us any more. They are
elderly, shabby, difficult to understand, poorly put together, old fashioned and often theologically unsound. Some of them are literally falling apart. I have weeded out a number of these redundant OAPs and I
suggest we store them in the church cupboard until the autumn. Have a look though if you wish, and feel free to take home any that you fancy, otherwise I will dispose of them on the church bonfire'.
Every
blessing
Hugh-John
The Golden Rule of Teaching - Know your Pupils
A head teacher is making his rounds of the school when he hears a terrible commotion coming from one of the classrooms. He rushes in and spots one boy, taller than the others, who seems to be making the most
noise.
He seizes the lad, drags him to the hall, and tells him to wait there until he is excused. Returning to the classroom, the head teacher restores order and lectures the class for half an hour about the
importance of good behaviour.
'Now,' he says, 'are there any questions?'
One girl stands up timidly. 'Please sir,' she asks, 'may we have our teacher back?'
Free Bus To School for Granny
A 106-year-old Norwegian woman received an offer from local authorities
for free bus rides to the school where she is supposed to attend next autumn
Will and Guy have learned. Ingeborg Thuen, born in 1897 when the Klondyke
gold rush was going strong, actually started school just before she turned
six in 1903.
Computers in the Os township near Bergen, Norway, read the '97 of her birth
year as 1997, meaning she would be starting the first grade the next autumn.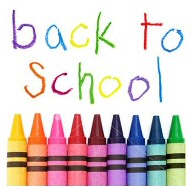 She welcomed the free ride, saying that the last time she started school,
she had to walk for an hour every morning. The letter from the township also
encouraged Ingeborg's parents to list the children she would like to have in
her class.
'Since I can already read, maybe I should skip a couple grades,' she
joked to us.
Back to School in China
Going back to school in China is no joke. A bridge is to be built in a Chinese village where children are forced to cross a raging torrent on a steel cable to get to school.
Nearly 500 children, from Maji village in Fugong town, Yunnan
province, cross the most dangerous stretch of the Nujiang River each day. They fasten themselves to the cable with a metal carabineer and a rope and slide across the 200 metre wide canyon, reports the
Beijing News.
The youngest student, A Qia, 4, has to go over by herself each day. 'I have to hand walk for about 60 metres, since my light weight makes me stop about two thirds of the way across,' she
said. The villagers say that usually four-year-old children are taken by their parents, and begin to go by themselves from the age of five.
A Pu, 5, who was stuck in the middle of the cable for nearly 20
minutes once, told reporters, 'I used to dream of having a bridge, but then I learned that my dream was too expensive.' However, officials have finally agreed to spend £35,000 on a bridge after a TV
programme was made about the children's dangerous daily journey.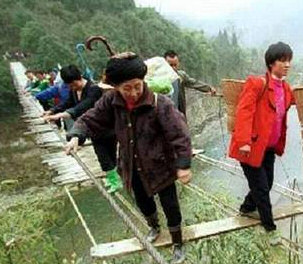 Start of School Poem
Welcome
September is here
And so is fall.
So welcome children
Welcome
all.
I hope vacation
Was real fun.
And that you're glad
School
has begun.
Doing Their Homework!
When Dad came home he was astonished to see Vic sitting on a horse,
writing something.
'What on earth are you doing there?' he asked.
'Well, the teacher told us to write an essay on our favourite animal.'
Answered Vic, 'That's why I'm here and that's why Sara's sitting in the
goldfish bowl.'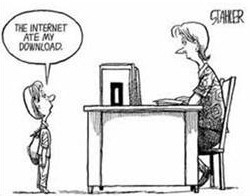 See more funny back to school
jokes »
Footnote:
Please send Will and Guy your 'Back to school stories'.
See more funny science jokes, biology, physics and
chemistry
humour.