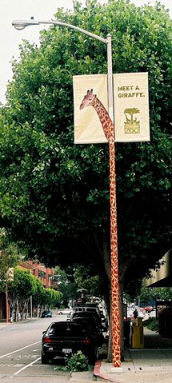 We have a wide variety of funny animal stories, furthermore, these mammalian
tales are interspersed with funny pictures and information that Will and Guy find
interesting.
Buffalo
Elephant Pictures
Elephant Stories
Elephant Video
Ferrets
Hedgehogs
Hippo and Tortoise
Leopardess and Mouse
Mole
Monkey
Lion
Otter
Pamplona Bulls
Panda
Rory and Millie
Squirrel
Tiger & piglet
Whales
Zebra
Funny
Don't Feed the Animals
More Funny Animal Pictures and Videos
Animal videos
Animal index
Cow Car Ride
Interesting facts
Lassie
Odyssey
Sean the Sheep
Dormouse Speak
Mrs Dormouse was stealing food from the kitchen with her children, when
Slats, the cat pounced. Encouraging her children to run, Mrs Dormouse shepherded
them towards the mouse hole but it was obvious she wasn't going to make it.
In desperation, she turned to face Slats the cat and shouted 'Bark, Bark'
extremely loudly.
Slats the cat skidded to a halt, turned and ran away.
Mrs Dormouse turned to her children and said, 'You see how important it is to
learn a foreign language.'
What has 12 legs, 6 eyes, 3 tails but still cannot see?
3 Blind mice.
Clever Pooch Purchases His Own Sausages

A dog owner in China says his pet is smart enough to buy himself sausages
when he's hungry. Wu Qianhe, of Chengdu City, in China, says his pooch, Lele,
barks to let him know he's feeling hungry. 'I'll drop him one yuan, and he
takes the money in his mouth and runs to the neighbouring shops, which all
know him well,' reports Qianhe.
Lele will not release the money until
he's been given the sausage, Will and Guy have established. Another
amazing animal story to come from China.
Writing In Chinese Is Easy Says Sea Lion
Zoo keepers have reportedly trained a sea lion to write in Chinese.
Staff at the Ningbo Zoo, in Gao Qian Village in Dong Qian Lake Resort
area ,China, spent three months teaching the sea lion, called Peter, reports
The People's Daily.


Now Peter can write the Chinese character
representing a "bull" and he can also sign his work with his own "sea lion"
seal.
After completing his writing, Peter, a six-year-old male, holds the
seal and stamps it on the paper as a signature, Will and Guy have
established. The zoo has informed us that Peter will demonstrate his writing
skills for tourists during the Spring Festival at the zoo.
Fabulous
and Amazing Story of Monica Meerkat

Jackie Morgan, a nurse from Mynydd
Isa, near Mold, north Wales looked out at her garden and spotted a meerkat
Strange you may well think since the meerkat is found exclusively on the
semiarid plains of southern Africa. However, Will and Guy can vouch for the
veracity of this story
Jackie Morgan says the African animal looked
'rather sorry for itself, standing upright and shivering in the morning
frost.' So she, and husband Keith, 'phoned animal rescue centres, a vet, the
Welsh Mountain Zoo and Chester Zoo, but naturally no one believed them and
most thought it a hoax and suggested it was probably a ferret
Mrs Morgan
set about catching the meerkat which she, by then, had named Monica. 'We put
some nuts out for it so it came in and we captured it in a box and took some
photos of it to send to the doubting authorities; they all phoned back
saying it was definitely a meerkat.' She added, 'We've had it sitting on our
laps and it followed me around everywhere - I think it thinks I'm it's mum.'
Chester Zoo came to Monica Meerkat's and Jackie's rescue when it collected
the animal before returning her to her rightful owner
"Park The Dog" - An
Amusing Tale
Kerry pulled into a crowded parking lot and rolled down the car windows
to make sure her Irish setter had sufficient fresh air when she went
shopping.
The dog was stretched out on the back seat, and Kerry wanted to impress
upon him that he must remain there. She walked to the curb backwards,
pointing her finger at the car and saying emphatically, 'Now you stay. Do
you hear me? Stay,' in a very firm voice.
The driver of a nearby car
gave Kerry a startled look. 'I don't know about you, lady,' he said
incredulously. 'But I usually just put my car in park.'
Cat and Tortoise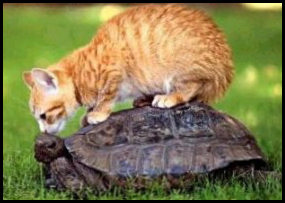 What did you say?
Please give me a ride?
See more about the
story of the cat and tortoise.
Another Tortoise with a Baby Hippo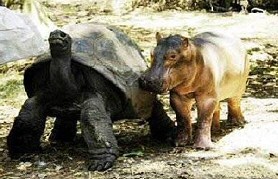 Read the story of Mzee
(tortoise) and Owen (hippo)
Where do you find a hippo?
Depends where you left him.
Elephants Have a Snack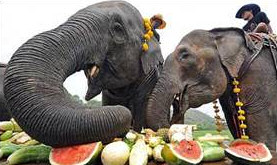 Rabbit Hunting!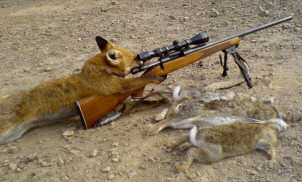 Killer Whale or Orca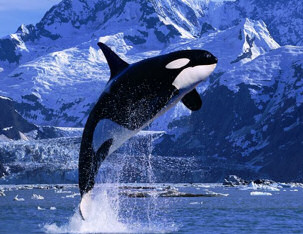 These whales feed on fish but
also otters and seals.
Panda with Cub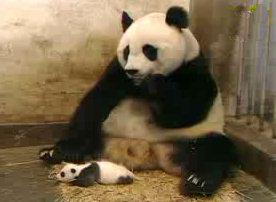 Pandas have one of the biggest contrasts between tiny baby and adult. They
gain their full size at about 4yrs old and become reproductively mature at
age 6 and live for about 25 years.
Monkey Befriends Pigeon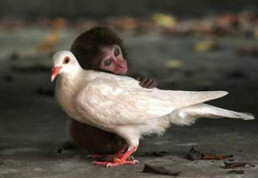 Goodbye from Guy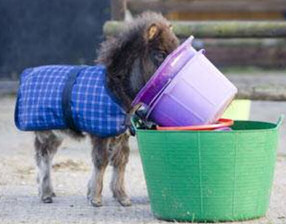 Cheerio from Will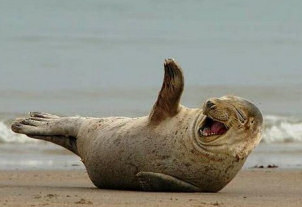 We hope that you enjoy the rest of our funny animal pictures