Here is Will and Guy's collection of amusing road-side notices featuring
a variety of animals from all over the world, for example, 'Elephant
Crossing, see picture to the right.
Funny Animal Road Signs
Unusual Camel Speed Bump Sign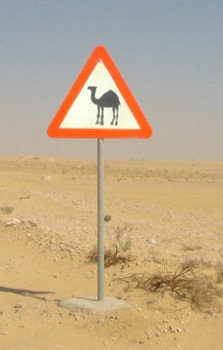 'When you come to a fork in the road, take it.'
- Yogi Berra
Speed
Limit: Children and Warthogs Have Right of Way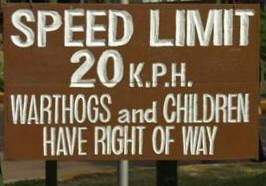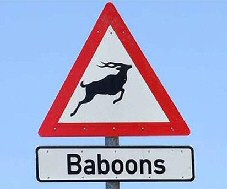 Diesel Fried Chicken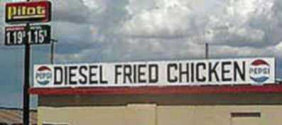 No doubt they also serve road-kill!
Beware Moose Crossing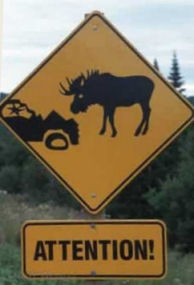 Beware: Several Stupid Dogs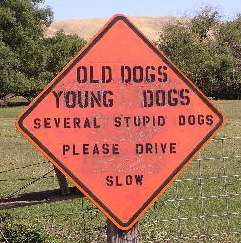 We know where to find more stupid dogs
Kangaroo Reproduction Area?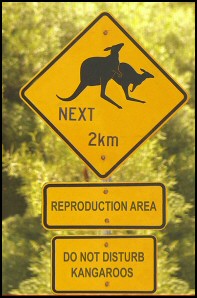 Is this funny animal road sign genuine, or it a fake? We cannot see
the join in the picture, but there are some photoshop artists out there;
what do think?
Classic Animal Road Sign:
Ducks Crossing
Daft Animal Road Sign: Bat Cave
Funny, But Not Exactly a Road Sign - Unless That's a Frozen Highway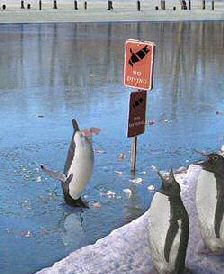 No Feeding - Beaver Eats Sign!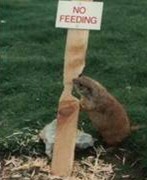 See more silly signs »
Footnote:
Please send us your funny animal road signs.
See more pictures of funny road signs, featuring
cars and street notices
•
Funny traffic signs •
Funny road signs
• Funny road signs UK •
Funny animal road signs
• Pictures of stupid signs •
Funny car pictures •
Dyslexic signs •
Funny garbage •
Funny signs
• Pointless signs •
Funny street signs •
Funny no parking signs •
Parking yellow lines
• 'No' signs