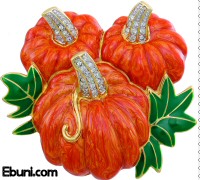 Fun Halloween Fashion
Will and Guy take a look at halloween art and fashion.
Halloween Bone-shaker Costume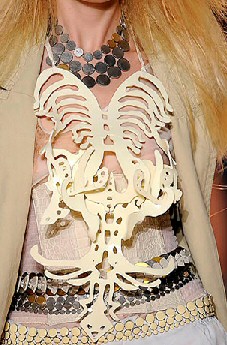 Here is a dose of macabre fashion for Halloween. Top designers gain
inspiration from the body's bones, Rodarte's Kate and Laura Mulleavy
based their spliced-and-shredded designs on exoskeletons.
Another designer, Alexa Adams said, 'Skeletons harken to the body's
natural structure.'
More Fun Halloween Fashion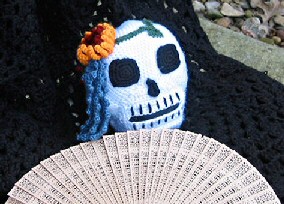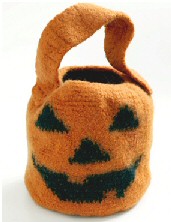 Crochet Mask
Here is a 'Sweet Satisfaction' crochet
pattern which is a skein-and-notion-holder, inspired by the sugar skulls
traditionally served for El Dìa de los Muertos.
Pumpkin Fashion Bag
45 free Halloween patterns that
you can knit or crochet such as this crochet pumpkin candy bag and the knit
skull candy bag. See more on
Pumpkin fashion
Witch Doll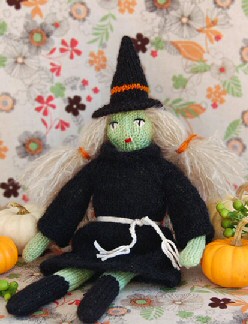 Mermaid Costume for Halloween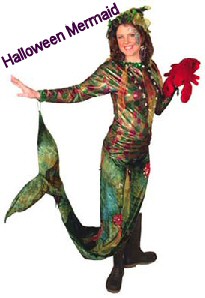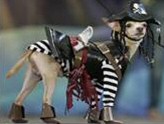 This year the top choices for Halloween costumes are: Mermaids and Indian
Jones. This surprised Will and Guy as we prefer the more traditional
ghost-sheet.
Most Creative Costume:
Mondex, a Chihuahua, wears a
pirate costume during a Halloween dog show for the benefit of an animal
welfare organization in Manila, capital of the Phillipines. Mondex won the
prize for the most creative costume. See more

Halloween fashion fancy dress ideas.
Halloween - The Name Behind the Funny Pictures
Pretty much everyone agrees with the position of Halloween in the
calendar, namely All Hallows Eve, October 31st. Halloween pictures and
images fall into three major categories.
Symbols of death: ghosts, skeletons, haunted houses and graveyards.
Symbols of evil: witches, goblins and black cats.
Symbols of harvest: pumpkins, Jack-o-Lanterns, scarecrows and corn
dollies.
Other variations on the name
Halloween include:
Hallow E'en - Ireland.
Hallowtide or Hallowe'en - Scotland.
Nos Galen-gaeof - Wales (The Night of the Winter Calends).
Feralia - Roman.
Samhain - Celts.
The Feast of All Soula, also Feast of the Sun.
Halloween Myths
Halloween is the third biggest holiday for retail sales
While Americans spend an average of $75 on Halloween, they spend
more on merchandise for Christmas, Mother's Day, Valentine's Day and Easter.
I find it hard to believe, but even Father's Day sales outstrip those of
Halloween.
Psychic Predicts Campus Murders at Halloween
This an
interesting phenomenon because it repeats every 3 years. The gist of
the myth is that a psychic on a radio or obscure T.V. show predicts that a
madman is going to murder students and Halloween. There is no truth in
this myth which started in 1968, it's neat because after 3 years each campus
will have a new batch of students who have never heard of the hoax.
A suicide was mistaken as a Halloween decoration.
The incident occurred just before Halloween in 2005 in Frederica
Delaware. Unfortunately this is a true story. Indeed it illustrates
the problem with dismissing all hoaxes and myths, because about 25% turn out
to be true.
Footnote
Please send us your fun
Halloween fashion pictures
See more funny Halloween jokes, also clean pumpkin jokes